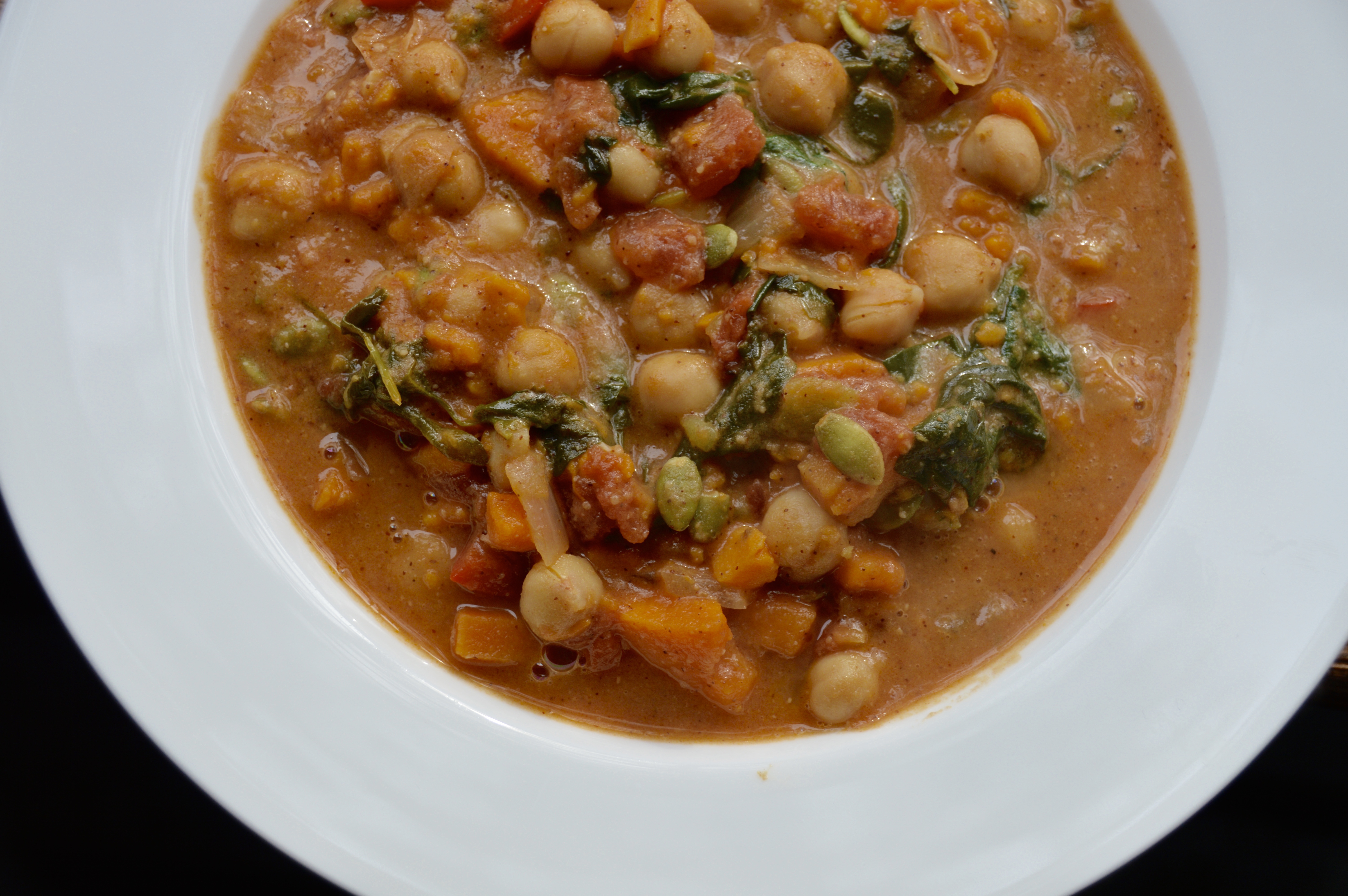 African Peanut Stew
If you love the creamy taste of peanut butter and spiciness of a traditional chili, then this is the stew for you.  I had never thought to combine these flavors before until I kept seeing different variations of this recipe pop up on everyones food blogs.
When I first tried this creamy, spicy and sweet combination, I was blown away.  The flavors work so well together, and you can always put less spice in if you're not into that.  It is a comforting dish to make this winter, and to make it all the better, it's vegan!  Not that everyone looks to be a vegan, but once in a while, cutting out all the animal stuff can really benefit the health of your body.
This stew is a combination of garlic, onion, red pepper, sweet potato, green chiles and chickpeas.  Swirl in peanut butter to the tomato based broth, then stir in fresh spinach or kale and add more flavor with fresh cilantro.
The stew surprisingly only takes 20-30 minutes, so you can make this easily on a week-night, especially if you prep your ingredients ahead of time.  Of course the longer you let this sit, the richer the flavors become, so leftovers are always a huge hit with this stew.
Full of protein, vitamins, minerals and so much more, this stew is so perfect for your healthy-recipe arsenal.  I hope you enjoy!!!
African Peanut Stew
Ingredients
Olive Oil
1 onion, chopped
6 garlic cloves, minced
1 red pepper, diced
2 small sweet potatoes, peeled and diced
1 small can chopped green chiles
1 28-oz fire roasted diced tomatoes
4 cups vegetable broth
2 cans chickpeas, rinsed and drained
½ C creamy peanut butter
salt & pepper
2-4 TBS chili powder (depending on the strength of the spice)
1 tsp cayenne pepper
1 bunch fresh cilantro, washed and torn
1 bag baby spinach or baby kale
1 C pepitas
Instructions
In a large soup pot, heat 2 TBS olive oil, then add the onion and garlic over medium heat. Cook about 3 minutes, then add the pepper and sweet potato. Stir to combine.
Add the green chiles, tomatoes, broth, chickpeas and peanut butter. Turn the heat to medium high until it comes to a low boil. Add the chili powder and cayenne, about 1 tsp salt and 2 tsp pepper. Stir to combine, then turn the heat down to medium low, cover, and let simmer for 20 minutes, stirring occasionally.
Stir in greens, cilantro and pepitas. Serve and enjoy!