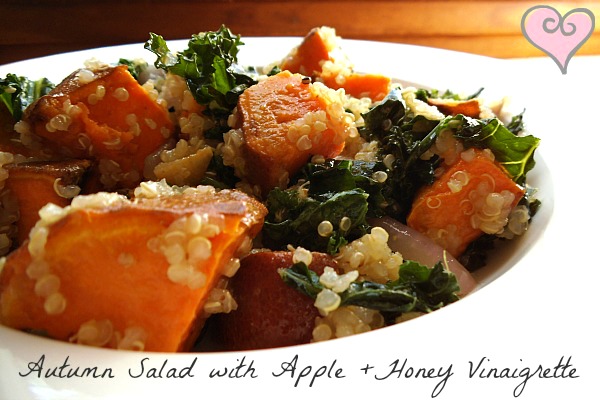 A wonderful combination of roasted sweet potatoes, nutritional quinoa, vibrant curly kale with a sweet and tangy apple & honey vinaigrette to knock your taste bud socks off.  It's a perfect addition to any fall meal.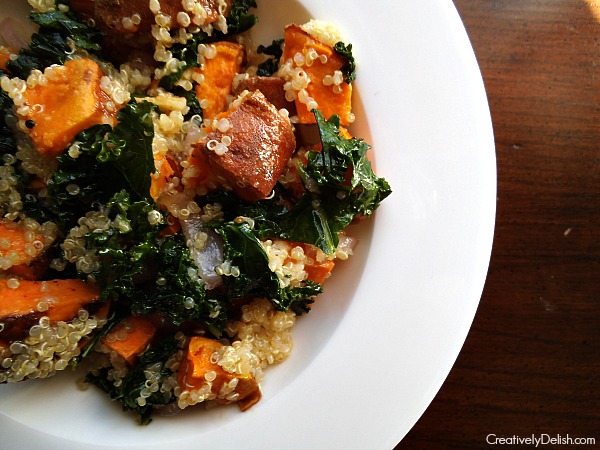 I served this salad cold and made a big batch at the beginning of the week to take with me to work, but it can also be enjoyed served warm as a great side dish for any fall meal.
The sweet potatoes are roasted to perfectly crisp yet tender perfection, with bright and vibrant wilted kale, sweet red onion and aromatic fresh garlic.  The quinoa gives it an extra boost of nutrition while also making it a complete meal.  I also tried this with some dried cranberries over the top which was a delicious addition to this recipe.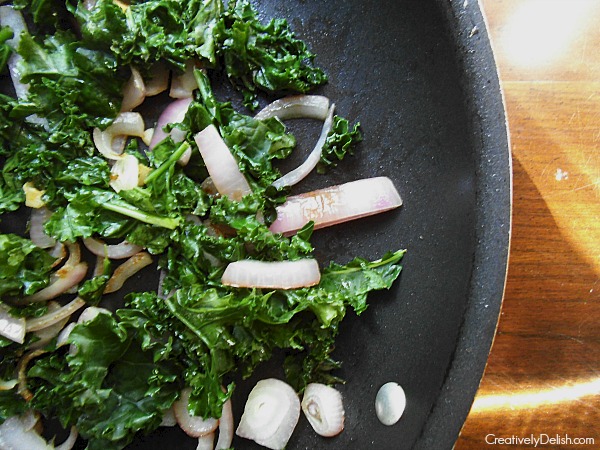 Be sure to let everything cool (even a little if serving it warm).  This recipe may take a little longer because you are cooking everything separately however it is so worth the wait.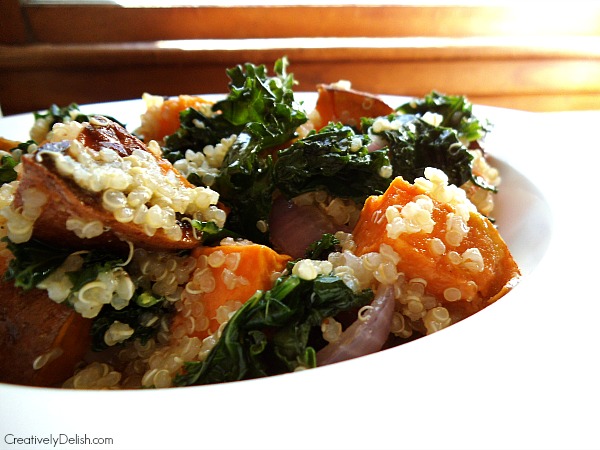 Enjoy!

Autumn Salad with Apple & Honey Vinaigrette
This may take a while with all of the steps involved, but it's so worth it. I tried a batch warm as well and it was fabulous! It would be good warm as a side dish at a dinner party. Adding dried cranberries will give it extra flavor and sweetness as well.
Ingredients
1 large sweet potato, diced into smaller pieces
½ red onion, sliced thin
1 garlic clove, minced
3-5 curly kale branches, leaves removed from the stem and torn into smaller pieces
½ C uncooked quinoa
Apple & Honey Vinaigrette:
1 clove garlic, minced
¼ C apple cider vinegar
2 TBS honey
1 TBS dijon mustard
½ C olive oil
a pinch of salt
Instructions
Preheat the oven to 400 and line a baking sheet with tin foil. Coat the potatoes lightly in olive oil and roast them for 30 minutes or until cooked through. Cool completely.
While the potatoes roast, cook ½ cup quinoa in 1 cup water. Be sure to wash and drain the grains first to get the residue off. Combine the quinoa and water together, bring to a boil, then cover and simmer until cooked through (about 15 minutes). Cool completely.
In a large pan, heat some olive oil and saute onions and garlic for 2 minutes over medium heat, then add the kale. Cook until the kale wilts slightly but still has a bursting green color. Cool completely.
Combine all the above in a large bowl and mix together.
Combine all ingredients for the vinaigrette in a jar and shake vigorously. Dress the salad with the vinaigrette. Start with only half the amount of vinaigrette first then add more if desired.