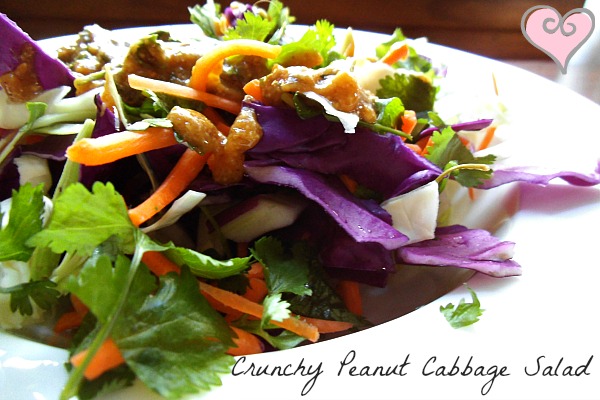 Crunchy, sweet, fresh and full of flavor – this salad has it all and more.  With it's wonderful detoxifying qualities, it's a great way to use normally boring and tasteless (in my opinion) cabbage.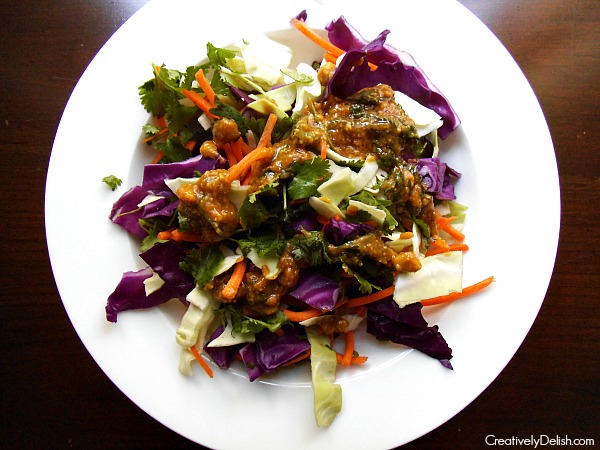 The peanut sauce is what I use for a variety of different recipes on this site, but with addition of fresh cilantro put right in to the dressing, it changes the whole dynamic, giving it a more full-bodied taste.
It is best to get the dressing to room temperature first because it will thicken up in the fridge.  I zap mine in the microwave for 15 seconds before spooning it over the salad.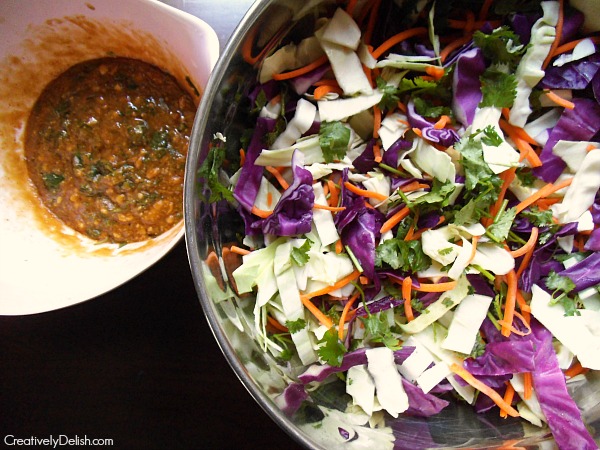 Above is how I stored the salad in my fridge.  It is best to keep everything separate so the dressing doesn't get watery at the bottom of the bowl by the weeks end and you have wilted sopping wet cabbage…yuck!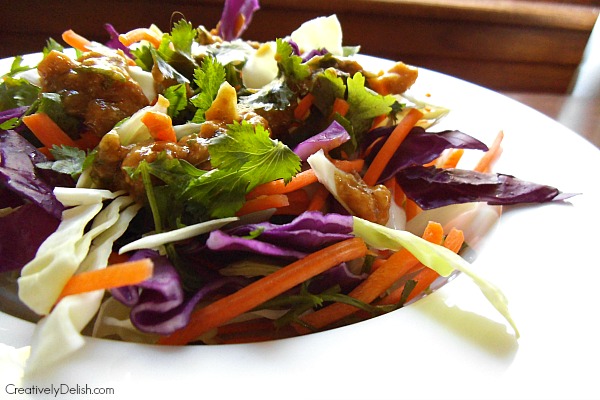 This was a staple in my lunches all week and I felt full of energy after eating it and loved every bite of it!
Remember…eat more veggies and REAL food, you'll thank me later 🙂
Crunchy Peanut Cabbage Salad
A great mix of detoxifying veggies with a sweet and tangy peanut sauce to up the flavor boost.
Ingredients
½ head of green cabbage, sliced into thin strips
½ head of red cabbage, sliced into thin strips
2 C shredded matchstick carrots
½ C chunky peanut butter
2 TBS low sodium soy sauce or tamari
1 TBS grated lemon peel
juice of 1 lime
2 TBS honey
2 tsp sesame oil
½ C shredded fresh cilantro
Instructions
Combine the first three ingredients in a large bowl and set aside.
In a smaller bowl, combine peanut butter, soy sauce, lemon peel, lime juice, honey, cilantro and sesame oil and mix together.
I recommend keeping the peanut sauce separate so the salad can last all week. Just cover tightly and dole out servings as you want them, spooning the peanut sauce over the salad and combining.