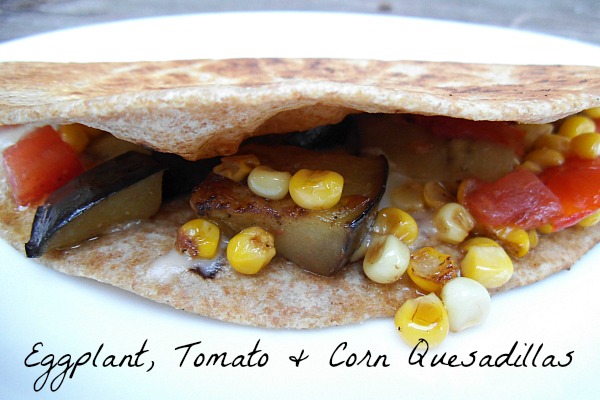 A prefect meatless Monday addition to the menu!  Sauteed eggplant combined with crispy sweet corn and sweet tomatoes folded in to a whole wheat quesadilla with local spicy cheese for an irresistible, creative way to use veggies!
Now that we have moved to Dover, it is evident that we have been missing out these past few years.  Coming from living in the city where all your neighbor gives you is a half-hearted smile and maybe a hello…it's really nice when you move to the burbs and your neighbor welcomes you by bringing over eggplant picked from her garden.
So of course when she handed them to me all I could think was, Eggplant Parm!  Although that sounds like a fantastic idea, it sounded boring and I needed to get creative.  After all, this is Creatively Delish!
I was in the mood for mexican and a good friend of mine had given us a housewarming gift of some great spices – including Adobo – so I figured I'd try it.
It was the best decision I ever made.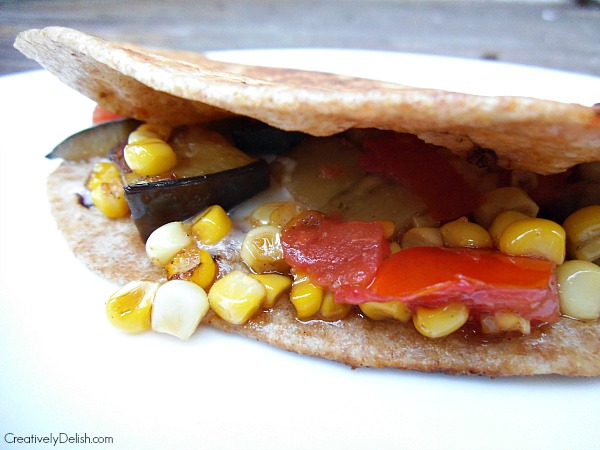 The eggplant sauteed perfectly with the adobo seasoning, and I added a garden tomato and a fresh ear of corn for some sweetness.  I let the corn cook a little longer so everything had a slight crispiness to it and it made for intense flavor and a hearty meal.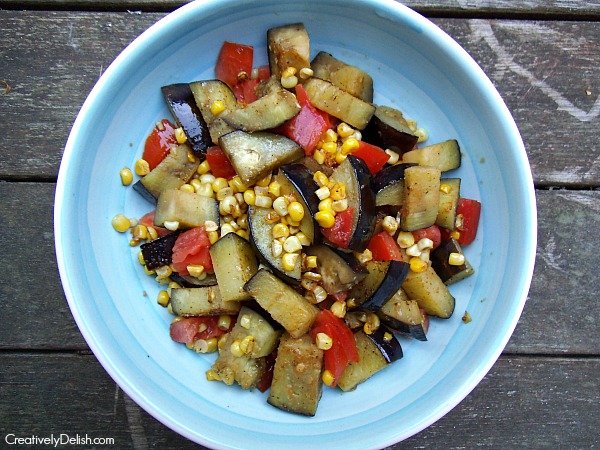 I found some whole wheat organic tortillas and shredded a block of local poblano cheddar cheese.
Even the leftovers were amazing!  And now my mouth is watering…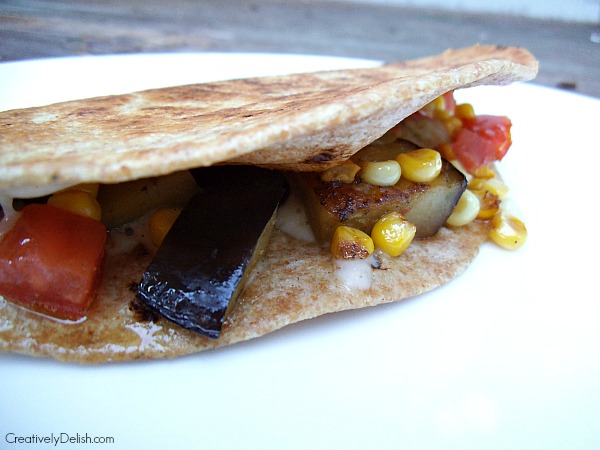 Eggplant, Tomato & Corn Quesadillas
Ingredients
4 organic whole wheat tortillas
½ C shredded cheese
olive oil
1 large eggplant, cut into small cubes
1 tomato, seeded removed and chopped
1 ear of corn, uncooked, kernals removed with a knife and put into a bowl
1 TBS adobo seasoning
Instructions
In a low heated pan, cook eggplant without any oil for 3 minutes. Let the outsides brown up a little bit before adding any oil, otherwise the eggplant will absorb all of the oil and you're left with soggy, oily eggplant.
Add the oil, adobo and corn and cook for 8-10 minutes. Sprinkle in the tomatoes to warm them, then transfer everything in to a bowl.
Prepare the quesadillas, layering first with cheese then with the veggies.
Brown each side of the tortilla over medium heat with some oil (about 4-5 minutes each side.
Serve with salsa and sour cream if you'd like