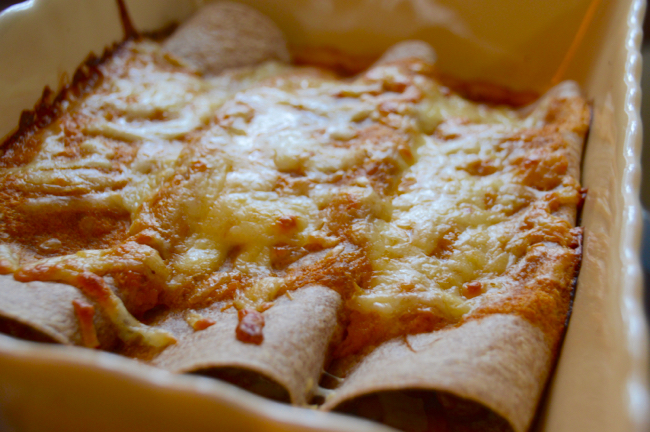 Growing up, we always had some sort of Mexican dish every week.  My Mom grew up in California and learned very early on about a proper tortilla and the fact that chopped green chiles are what happy lives are made of.  So that was passed on to me, and I can never go too long between meals without craving some Mexican.  These bean, cheese and green chile enchiladas satisfy my every craving for Mexican, and when you make them you'll see why.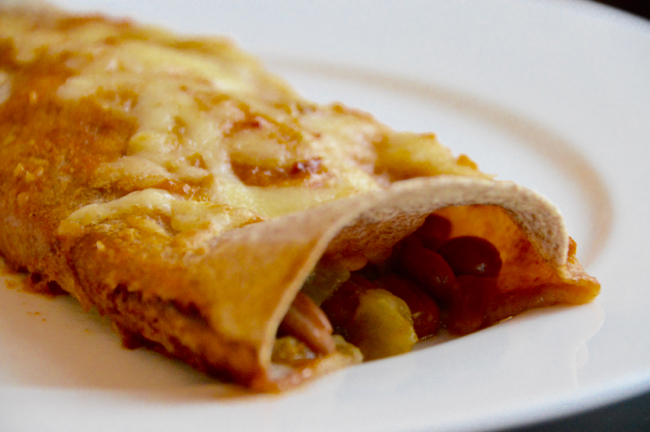 Crunchy, savory, warm and filling – that is what describes these best.  There are so many flavors that pop out at you as you enjoy this delicious dish.
I've been challenging myself to eat less meat these days, because for one thing I feel a heck of a lot better.  This dish could of course be made with some shredded chicken, but why bother when you have hearty pinto beans, shredded pepper jack and chopped green chiles?  Especially when you are using your own homemade ranchero sauce!
I used to dislike enchiladas for this very reason:  store-bought, already made enchilada sauce.  The stuff just scares me.  The whole point of a good enchilada is how fresh the ingredients are, and I have yet to find a pre-made enchilada sauce that tastes fresh, which is why making your own is way better.
The filling for these enchiladas is so easy to put together, just pinto beans, cheese and some chopped green chiles.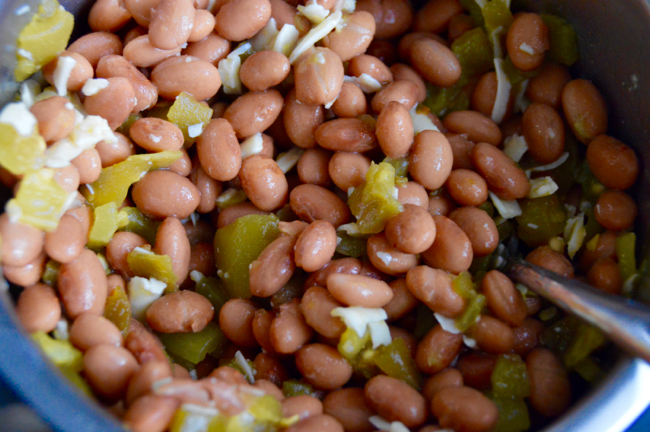 I hope you enjoy these as much as we do!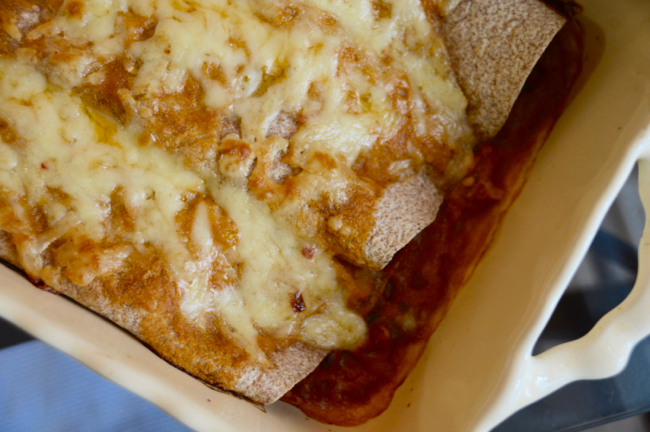 Bean, Cheese and Green Chile Enchiladas
Ingredients
2 cans pinto beans, rinsed and drained
2 cans chopped green chiles
2 C shredded pepper jack cheese
6 large whole wheat tortillas
1 C vegetable broth, low sodium
2 TBS tomato paste
1 TBS cumin
juice of 1 lime
1 onion, chopped
6 cloves garlic, chopped
Instructions
Preheat the oven to 400.
In a large saucepan, heat some olive oil and add onion, garlic and 1 can of chopped green chiles. Saute for 5-8 minutes, then add cumin, broth and tomato paste. Bring to a low boil and stir well to combine.
In a food processor, blend all ingredients together from the saucepan, then add lime juice and blend one more time. The contents are hot so please be careful!
Pour some of the ranchero sauce into a baking dish, just enough to cover a thin layer across.
In a small bowl, combine 1 cup cheese, 1 can chiles and 2 cans pinto beans. Spoon and even mixture of this into each of the tortillas, then wrap them up, placing them folded side down into the baking dish.
Pour remaining sauce evenly over the tortillas then sprinkle cheese over the top.
Bake for 20-25 minutes, or until the cheese has melted and started to bubble and brown a bit.
Serve immediately and enjoy!