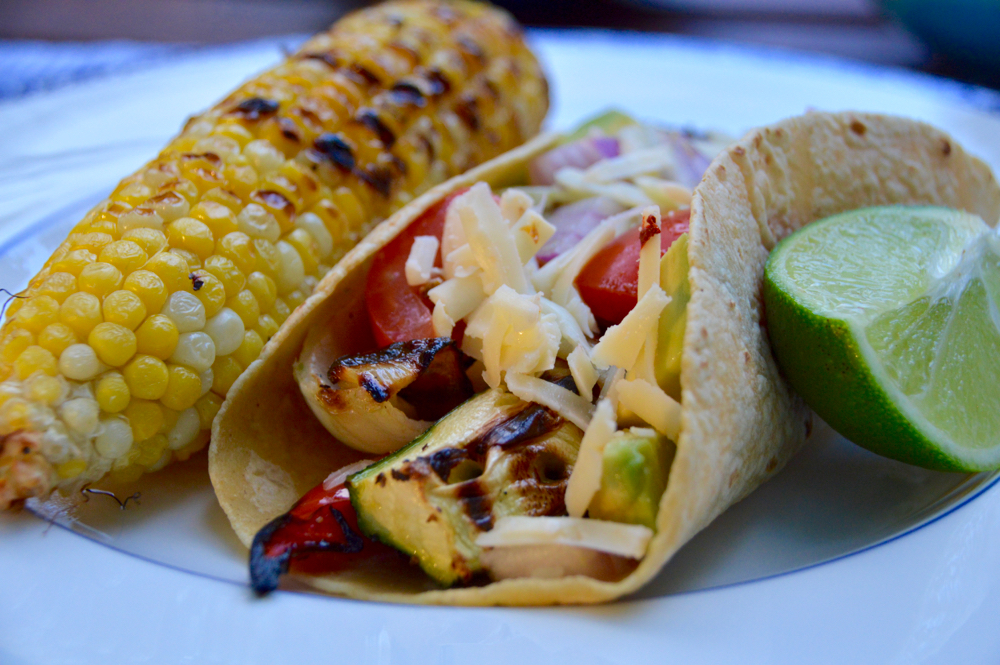 When it comes to having a BBQ when you're trying to be a vegetarian, things can get tricky – especially if you're like me and hate tofu…
We love veggies and black bean burgers, but that get's old after a while.  So instead, we opt for grilled vegetable fajitas.  I made a quick tomato-avocado salsa, grilled some corn on the cob and called it a meal, and boy was it delicious.  The next morning we fried up some eggs and had the same thing again, only a breakfast fajita instead!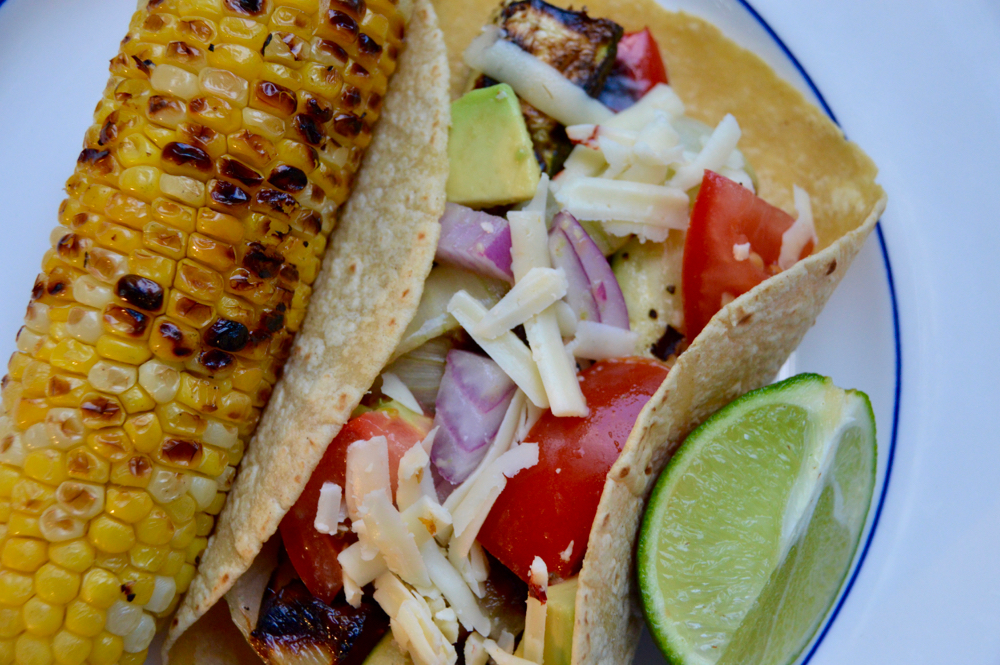 When all else fails in our house, we always end up making some sort of taco or fajita.  Corn tortillas have become a staple in our house, and the more we use them, the more versatile they become.  From fajitas to tacos to homemade chips to quesadillas to sandwiches to even using them as a thickener in soups – they rock my world.
When we can't grill outside, I usually end up roasting a sweet potato, poblano peppers and some frozen corn.  The frozen corn is out-of-this-world-delicous because it get's a little crispy and crunchy with a slight chew – perfect for all the other soft roasted veggies in the taco.  With a few slices of avocado and some chili sauce, it's quite a meal.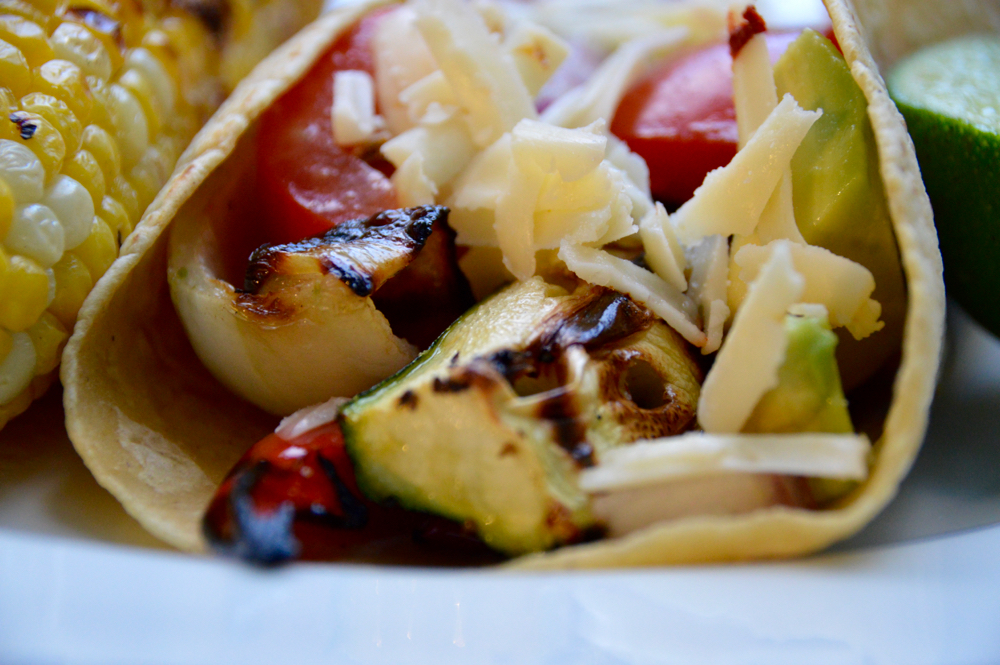 But since it's summer now in New England and we are able to grill, nothing beats grilling a sweet vidalia onion, field-grown red peppers and zucchini.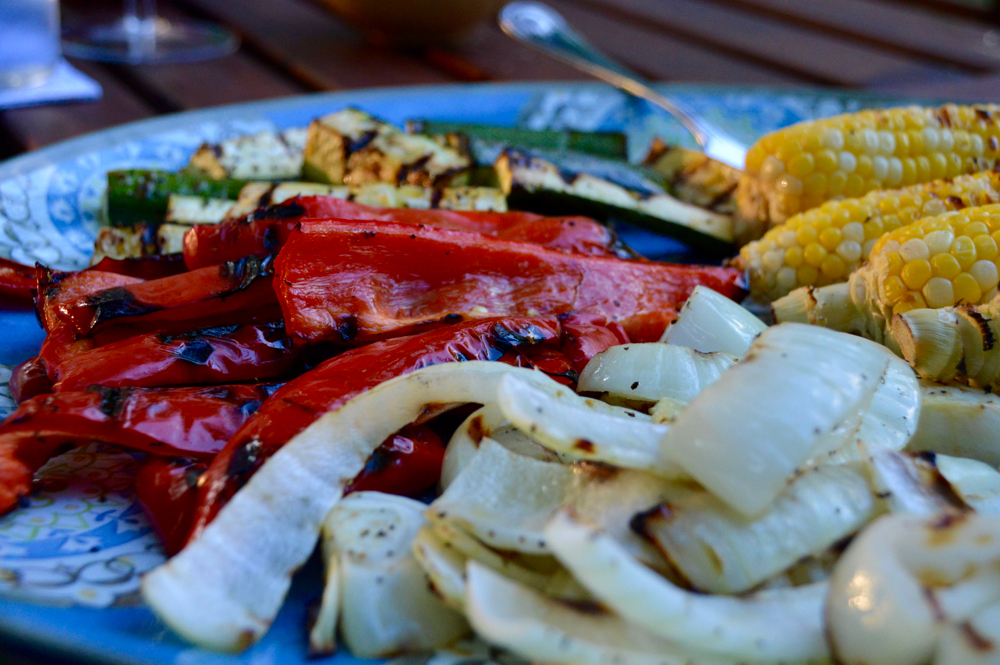 This was the combination we put together last night, and I want to share it with you because it is so easy.
For those out there who are like me, trying to be more plant-based but bored with what to cook, or if you're out there eating meat every day and just need a fresh break or change, this is a great meal to put together.
Just a little salt, pepper and olive oil.
Some corn tortillas.
Shredded pepper jack.
My quick homemade tomato-avocado salsa.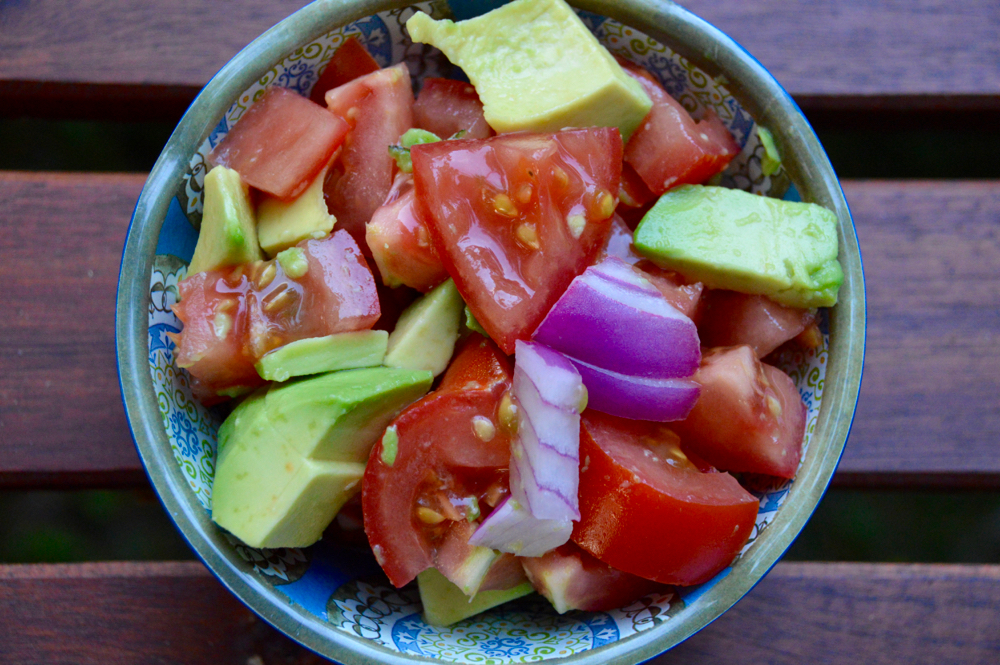 And some corn on the cob for good measure.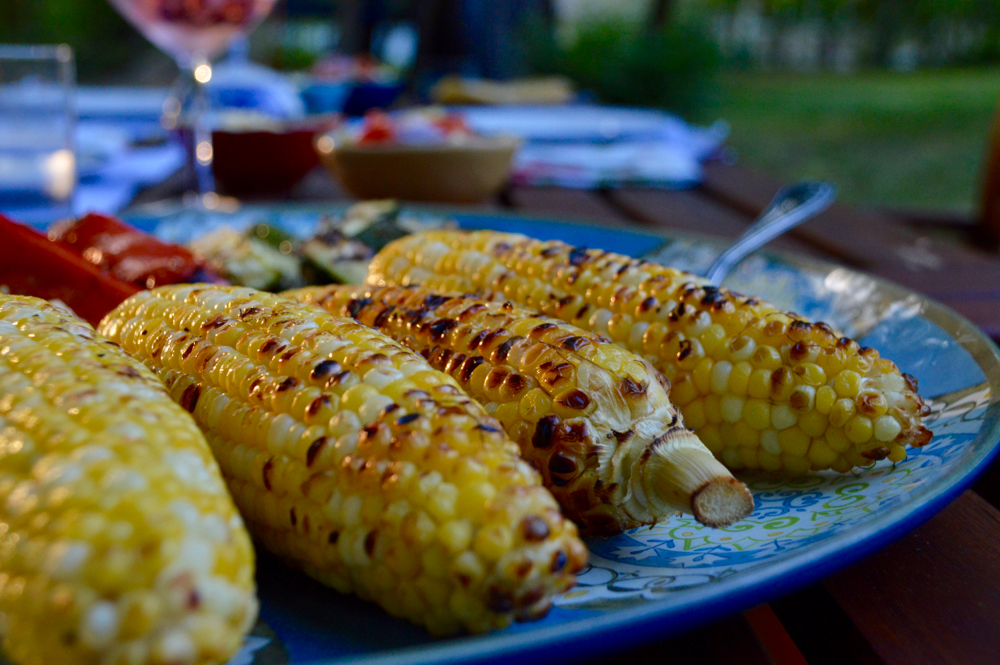 Totally easy and insanely good.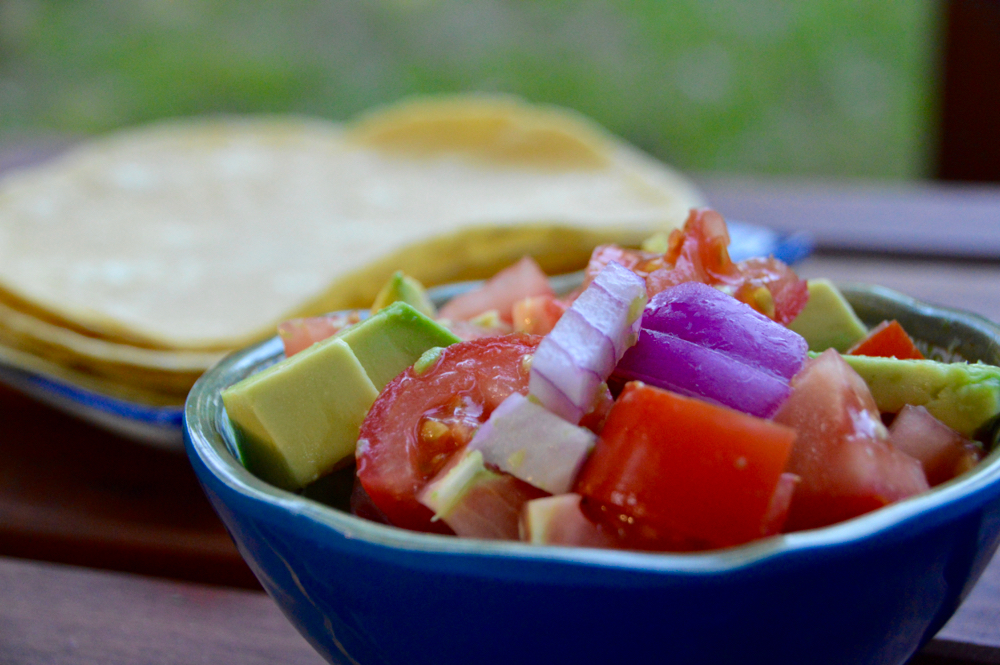 Grilled Vegetable Fajitas
Ingredients
1 large sweet vidalia onion, ends removed, cut in half, pepped and then cut into large slices
2 red peppers, sliced into long strips
2 zucchini, ends removed then cut in half then cut into quarters lengthwise
2-4 ears of corn, depending on how many you want to eat - husks removed
corn tortillas
olive oil
salt and pepper
shredded pepper jack cheese
2 plum tomatos, diced
1 avocado, pitted and diced
¼ red onion, chopped
juice of 1 lime
Instructions
Heat the grill to medium-high.
In a large ziplock baggie, place all veggies in with some olive oil, salt and pepper. Shake the bag to combine everything, then carefully place veggies on the grill. Rub some of the remaining olive oil mixture over the corn and place on the grill. Cook until there are char marks, then turn them all over. Once cooked, set aside.
While the veggies cook, prepare the salsa. In a large bowl, combine tomato, avocado, red onion, lime juice and some salt to taste. Set aside.
Heat your corn tortillas either on the grill for 30 seconds each side or in the microwave for no more than 20 seconds.
To serve, top your tortilla with some veggies, then the salsa then the cheese, and enjoy!