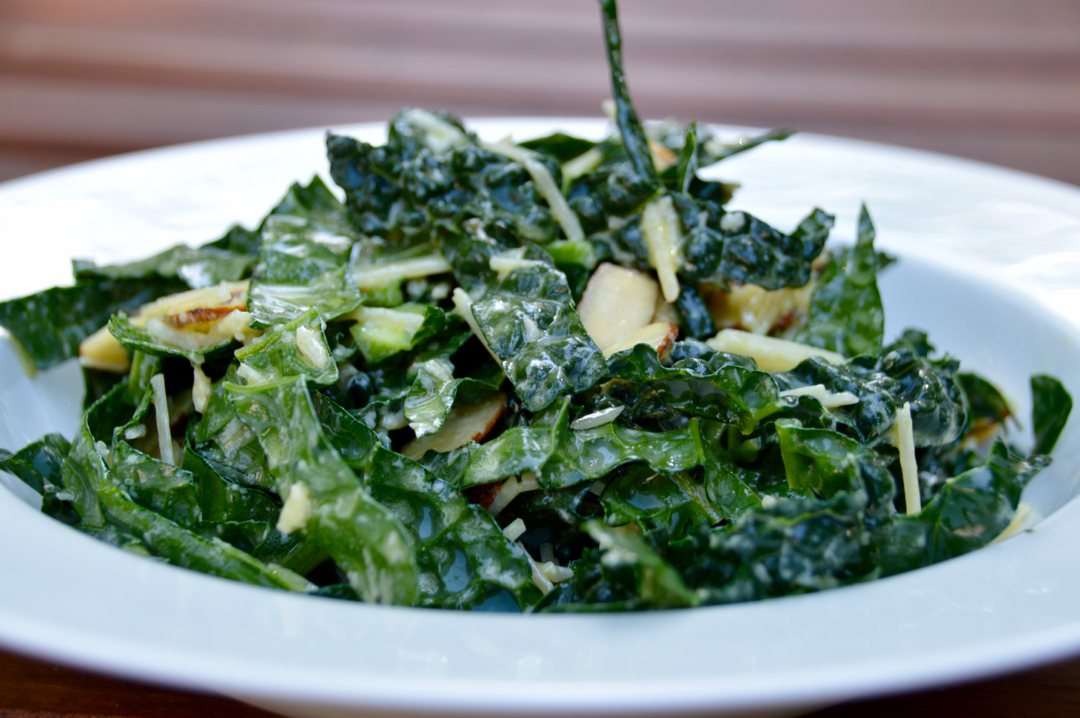 Kale Caesar Salad
This is the kind of salad that maybe you might cry over, because it's just that good.  And to know that what you're eating has so many nourishing values to it makes it that much better.
My kale caesar salad was inspired by a dining experience I had recently that I can't stop thinking about, so I made my own version!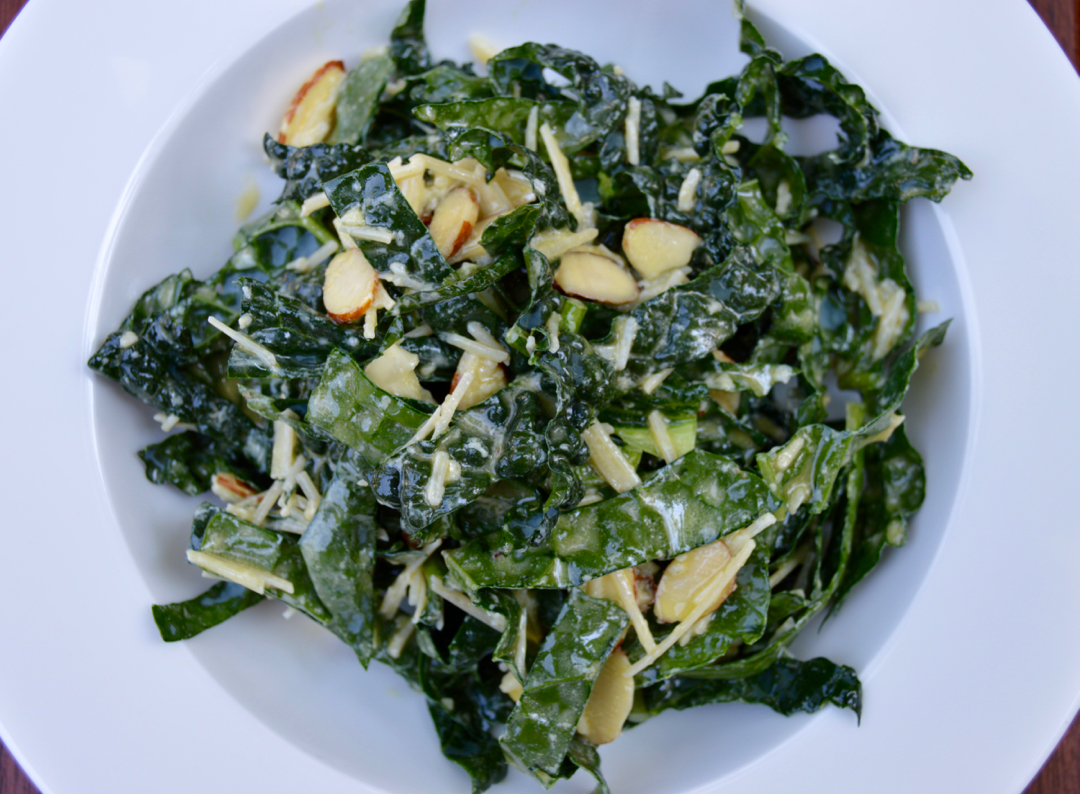 A few nights ago I was treated to one of the best meals I have ever had.  It's a place where the food comes right from the owners farm and where fish, beef and poultry are locally and sustainably sourced.  The decor is adorned with french striped napkins, twinkle light chandeliers, an open kitchen and an intimate dining experience.  This place is called The Farmhouse in Needham Massachusetts and this is where I had my first kale caesar salad experience.
To say that kale could taste this good sounds like I've gone crazy.  For most, kale isn't something many people crave, and even for me, I have a hard time with it too.  But when you add in a creamy caesar dressing, nutty parmesan cheese and crunchy almonds to the mix, it creates the most heavenly salad.
Maybe it was the fact that everything on my plate came from her farm, or that perfect marriage of tangy caesar dressing with bitter kale, but I could have ordered a dozen more of those.
To create my own version I had to do a little research.
The Kale
I knew to use lacinato kale, also known as dinosaur kale, because it is so easy to slice into thin strips and doesn't have to be massages like other types of kale.
When you use a curly green kale, you have to massage it with some olive oil in your hands for a few minutes to soften up the leaves, but this isn't quite the case with dino kale.  I like to use this type of kale to sauté as well, and if you use my recipes at all you might see it in a few others I do as well.
The Caesar Dressing

When I started in with the dressing, I knew a few things off the bat.
Caesar dressing used a lot of garlic, something to make it creamy and something to make it tangy.
The dressing at the Farmhouse definitely had a lemony-dijon taste to it as well, so I added some of that in as well.
The result?
A perfectly creamy, tangy, rich yet healthy and light caesar dressing – minus the anchovies (ick!)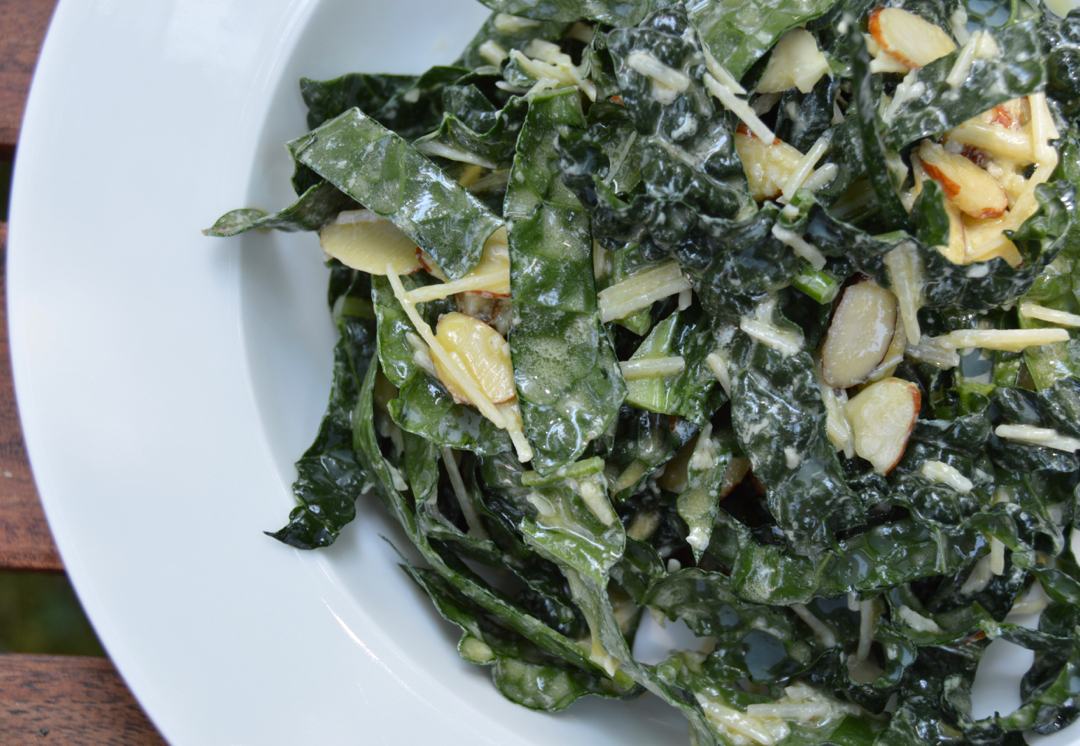 Many of the recipes I used as research called for pine nuts, but I chose sliced almonds for their nutritional value and price cut.  (Pine nuts are expensive!)
I used fresh grated parmesan cheese to top it all off, then ate the entire batch (after the photos were taken).  
I hope you enjoy my version of this beautiful, delicious kale caesar salad!
Kale Caesar Salad
When slicing the leaves of the kale, save the stems and use them in a stir fry for added crunch and nutrition.
Ingredients
1 head lacinato kale, washed, de-stemmed and sliced into thin strips
¼ C shredded parmesan cheese
¼ C sliced almonds
Optional – sliced carrot or radish would be beautiful in this as well.
Dressing:
¾ C olive oil
¼ C 0% plain greek yogurt
1 TBS lemon juice
2 TBS dijon mustard
2 garlic cloves
a little bit of salt and pepper
Instructions
Combine all dressing ingredients in a blender, and blend until smooth. You can see this is an airtight jar in the fridge for more salads during the week.
Combine kale, parmesan and almonds in a bowl.
Start with about 3 TBS dressing, mix well and add more dressing if needed.