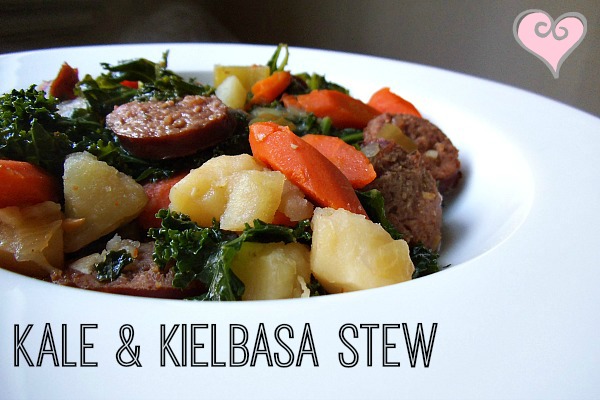 A hearty stew that makes a perfect lunch or dinner and freezes well for future meals.
It took one pan and 30 minutes of actual cooking to make this stew come alive.  The rest of the time, just leave it and forget it until you're ready to eat.  The longer you let it stew away, the better the flavors will come together.
Many people prefer chorizo in their stew because it gives a bigger dose of flavor than typical kielbasa.  I beg to differ.  This stew was perfectly balanced to allow each flavor to come alive.  The broth has spices and seasonings in it to give the stew a real kick in the pants, so I'm sure you won't be upset that there's kielbasa in there and not chorizo.
I also recommend prepping your vegetables ahead of time for an even quicker cook time.  So when it comes time to stock up on potatoes, onions, celery and carrots, just dice them up and pack them in airtight containers, freeze them, then take them out when you're ready to make a stew.  Those veggies are the perfect base for any stew, so you can be creative and try others too!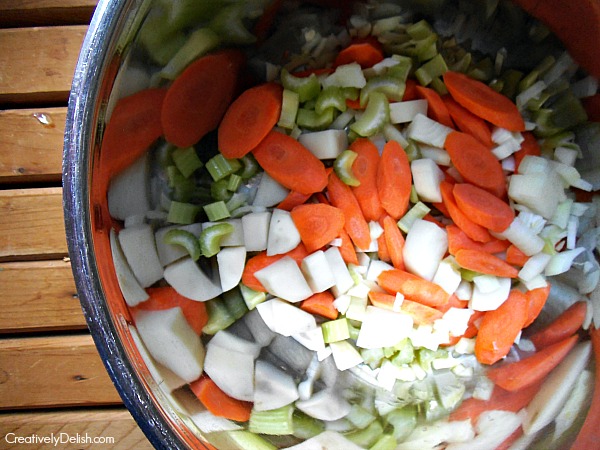 By prepping your veggies ahead of time, you can easily just throw them in the pot, add your other ingredients and cook away!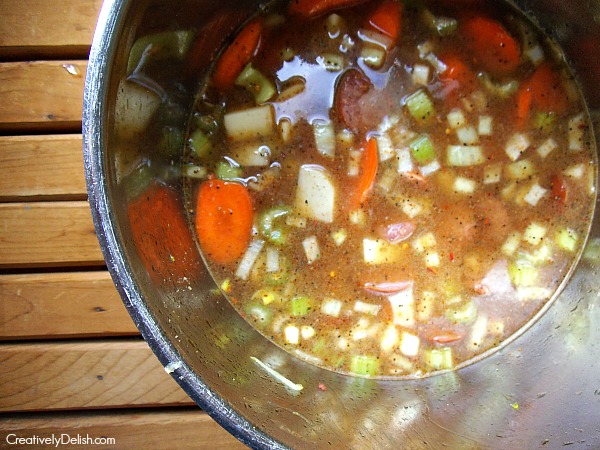 Once you've browned the kielbasa, add the broth, veggies and seasonings and let it simmer.  Once the carrots and potatoes are soft, it's ready to eat (about 30 minutes), but if you can give it more time, the flavors will be even better.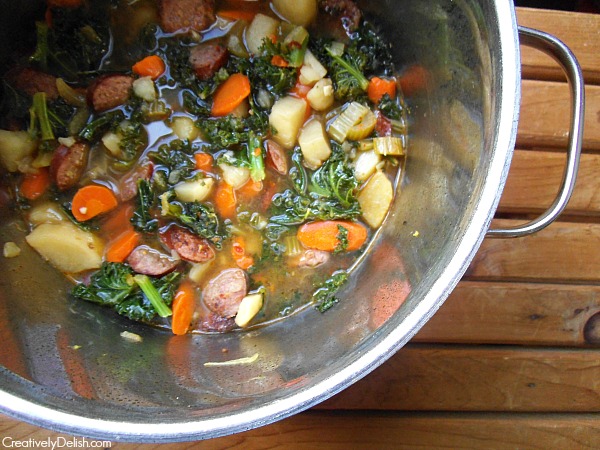 Most soups and stews I make I usually have to top with parmesan cheese with for extra flavor, but this stew needed none of that.  It was sooooo yummy – although some parm won't hurt anyone.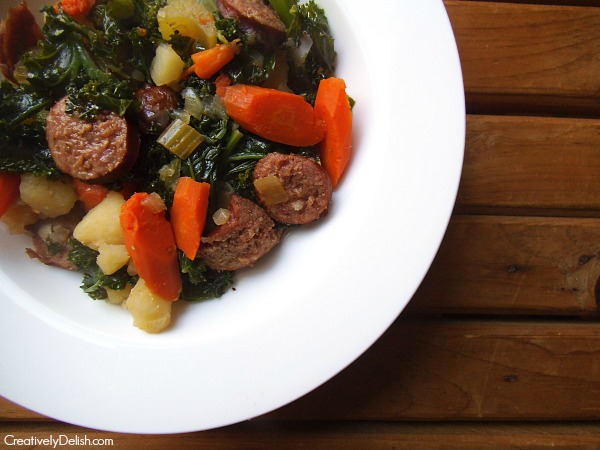 Kale & Kielbasa Stew
Ingredients
1 lb beef kielbasa, sliced into ½ inch pieces
3 small potatoes, peeled and diced
1 small onion, diced
3 garlic cloves, minced
4 large carrots, peeled and sliced into ½ inch pieces
4 celery stalks, ends removed and sliced
6-8 C low sodium chicken broth
1 tsp salt
1 TBS ground black pepper
1 TBS red pepper flakes
1 TBS olive oil
2-3 large handfuls of kale leaves, ribs and stems removed
Instructions
In a large pot, heat olive oil and cook kielbasa, stirring occasionally until edges are browned.
Add all other ingredients except for the kale. Mix together, bring to a boil then reduce to a simmer and cover for at least 30 minutes.
In the last 5 minutes of cooking, add kale to the top of the stew and cover- letting the kale steam down a bit and wilt. Stir it in once it's steamed slightly and let it cook for 5 minutes, covered.
Serve with optional grated parmesan cheese and enjoy!
:
1 Cup
:
301
:
18
:
24
:
4
:
623
:
13