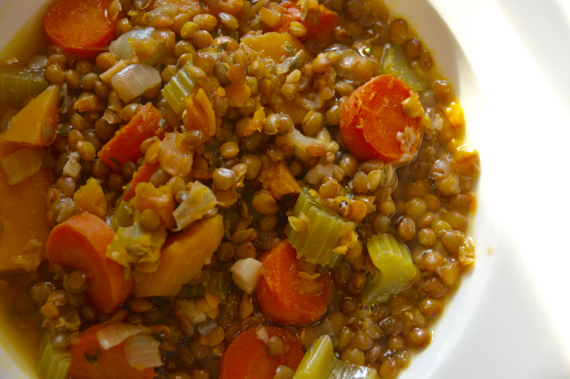 When you say the word "lentil" to people, many just pass it by and never bother to try them.  Most think they are boring and tasteless.  What people forget is that when made the right way, lentils become rich and buttery little wonders that are full of protein and fiber and will warm your heart and soul.  Hence the title of this recipe.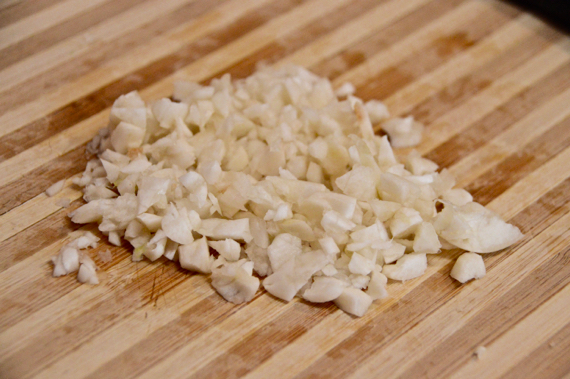 With the addition of sweet butternut squash and carrots, paired with seasonings like cumin and fresh thyme, you'll think twice the next time someone asks you about lentils.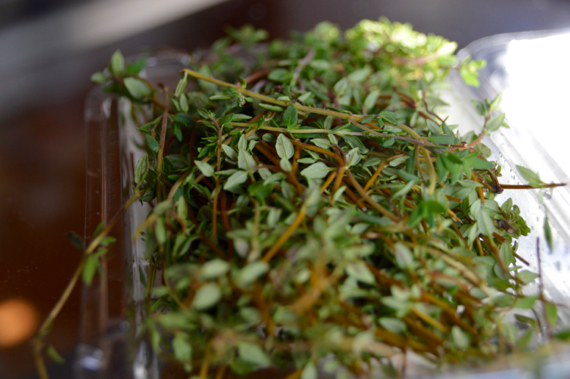 When you go shopping for the ingredients, you will find several different types of lentils.  Red, green and french lentils are most commonly found, and my secret to the rich and buttery deliciousness of this stew?  The french lentils.
Hands down, no if's and's or but's about it, french lentils are by far what makes this soup so rich and buttery.  I have tried the green lentils before and not the red, but more experiments are not needed after discovering french lentils.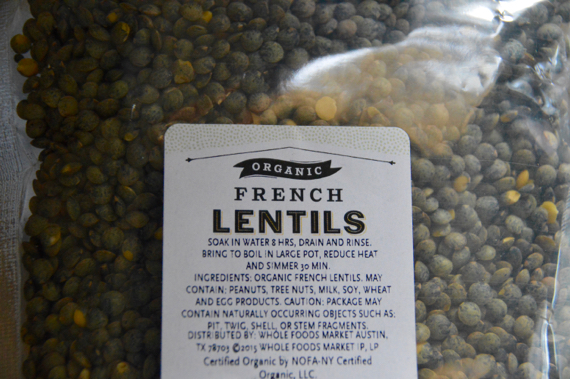 The bag says that you need to soak them for 8 hours before cooking, but that's a bunch of bologna.  I soak them for maybe an hour, then let them boil in the stew for another hour and they are perfect.
I'll never use a different kind of lentil again.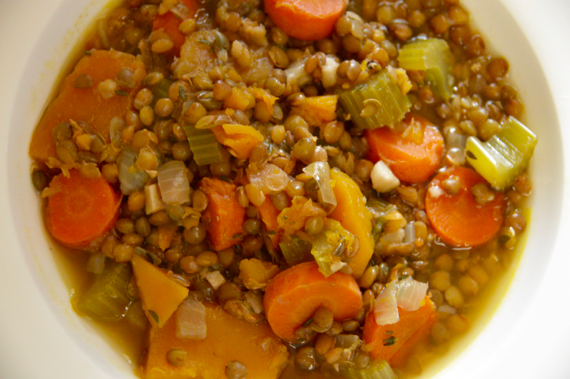 We love this with a sprinkle of parmesan cheese and some toasty bread.  It's incredibly easy and quick to throw together, and stores really nicely in the fridge or freezer.  If you plan on freezing any of it though, I don't recommend adding in the butternut squash.  Squash, along with potatoes, do not reheat well after being frozen.  I always keep this dish vegetarian, using vegetable broth instead of chicken broth, but if you prefer chicken broth, it will still taste wonderful.  Paired with some toasted sourdough bread, it's easily one of our favorites.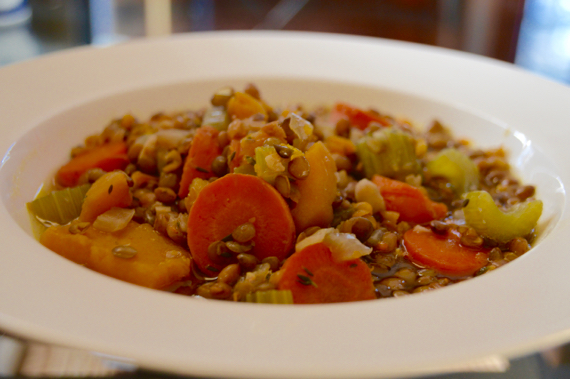 Rich & Buttery Lentil Stew
Sweating the veggies means letting them start to cook and bringing out their moisture.
Ingredients
2 C dried french lentils, rinsed and sorted for any stones, etc.
3 TBS olive oil
8-10 cloves of garlic, medium chopped
1 onion, chopped
2 C diced butternut squash
4 carrots, sliced thin
4 celery sticks, sliced thin
2 TBS ground cumin
1 handful fresh thyme sprigs
1 bay leaf
32-48 oz low sodium vegetable stock (start with 32 ounces then add more depending on desired thickness of stew)
salt to taste
parmesan cheese to garnish with
Instructions
Soak the lentils in a bowl with water for one hour.
In a large stock pot, heat olive oil over medium high heat and add garlic, onion and squash. Stir and cook for about 5 minutes, then add the carrot and the celery. Stir to combine and let it cook for 5-8 minutes to let the veggies "sweat".
Add the cumin, thyme, bay leaf, lentils and 32 ounces of veggie stock. Stir to combine and bring to a low boil.
Once boiling, turn the temp down to simmer. Cover the pot but leave a little opening for steam to come through.
Let it slowly simmer for at least and hour if not more.
At this point the thyme leaves will have fallen off leaving just the twigs. remove these as well as the bay leaf and add salt to taste. I use a salt grinder and put about 8-10 grinds of salt in there to start.
Serve with parmesan cheese and toasted bread and enjoy!