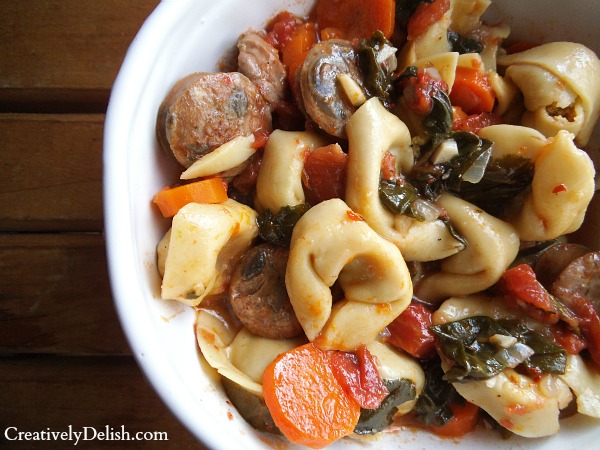 In under an hour, this Sausage & Tortellini Soup delivers flavor rich enough you'd think it cooked all day. It's also a weight watchers friendly recipe that clocks in at only about 250 calories a serving, so if you like dipping french bread in your soup, go ahead!  Everything cooks in one pot so there is little clean up and easy enough to throw it all in and let it cook while you relax and kick your feet up after a long day.
I also loved that after prepping what needed to cook for a while, Ryan and I left for a nice walk around the neighborhood while it was still sunny and bright outside…such a nice way to spend the rest of the day!  After that we spent all night watching Timberlake SNL skits.  Really, a perfect night.
When I prepared the sausage, I sliced it up and browned it right in the pot, along with the onion and garlic.  It gave the soup tremendous flavor along with hearty vegetables such as carrots and spinach.  The tortellini I used was the dried kind from Barilla, Spinach & Ricotta, which also gave the soup wonderful flavor and richness.  Topped with parmesan cheese and bread for dipping, it's the perfect meal for a cool spring night.
Now that I am on a mission to eat cleaner, I'll be on the lookout for a more natural tortellini – stay posted for when I do or let me know if you have suggestions!  Look for a chicken sausage that contains only whole ingredients – Whole Foods has a fabulous selection, nitrate and preservative free.  Just check the labels to be sure.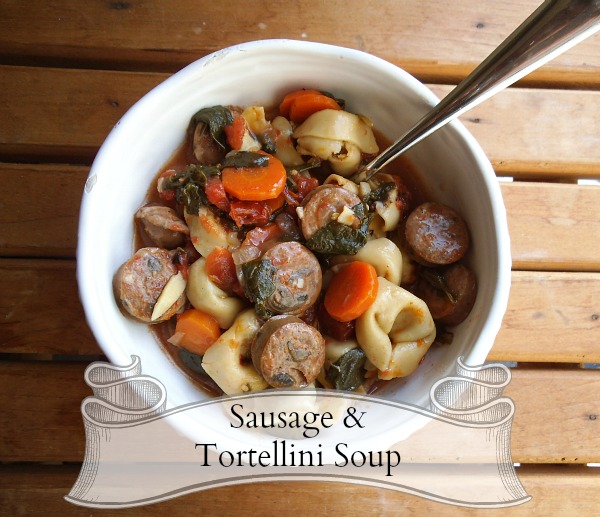 Sausage & Tortellini Soup
Ingredients
4 chicken sausage links (I used a partabello flavor), sliced
2-4 C tortellini (I used a dried version)
1 can fire roasted tomatoes
½ onion, chopped
6 garlic cloves, minced
salt, pepper and red pepper flakes
28 oz low sodium chicken broth
1¾ C water
8 oz fresh spinach
2 TBS olive oil
Instructions
In a large stock pot, brown sausage in olive oil, mixing in onion and garlic. About 10 minutes, stirring occasionally.
Add carrots, tomatoes, about 1 tsp each salt, pepper and red pepper flakes, broth and water. Bring to a low boil and let cook for 25-30 minutes.
Stir in tortellini and allow it to cook according to package directions. (about 10 minutes). Halfway through cook time of tortellini, add spinach and stir.
Serve with grated parmesan cheese and bread for dipping.