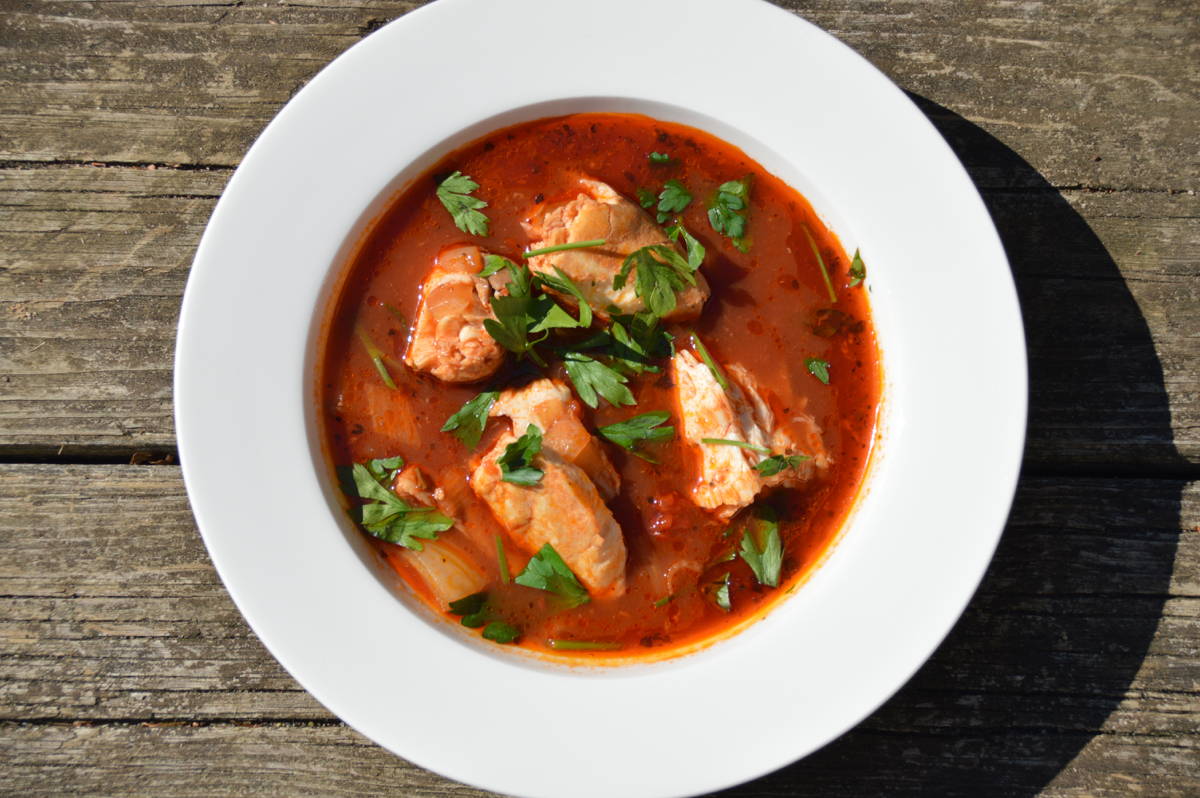 Striped Bass Ciopinno
Striped bass is a staple in our house due to the fact that my husband is a full fledged, full-time fisherman. Most striped bass recipes involve baking this white flakey fish with bread crumbs, butter and lemon juice is great, but that simple method gets boring pretty fast.
My Striped Bass Ciopinno dish is positively one of my favorite recipes in my arsenal. I've had it so many times out to dinner that I just needed to come up with my own recipe! Any time I'm out to dinner somewhere and this is on the menu, I'll definitely order it.
More...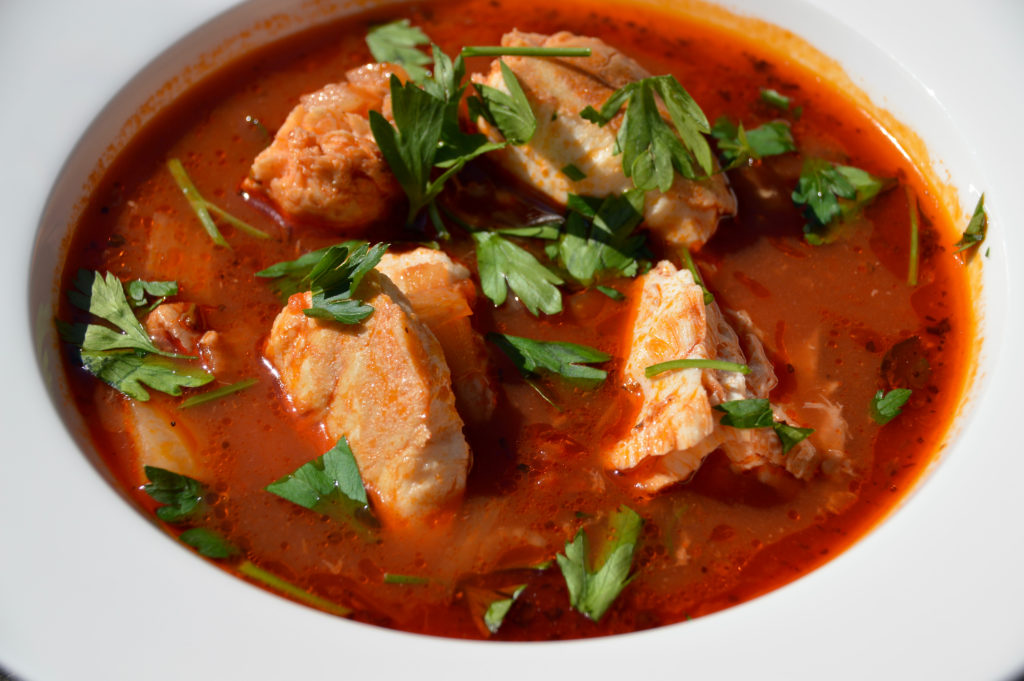 Also known as "Fisherman Stew", traditionally a ciopinno is made with clams, shrimp, mussels, lobster, or anything else you might want to add, even luingica or chorizo, and the rich tomato and seafood stock based broth is exceptional when paired with crusty bread for dipping.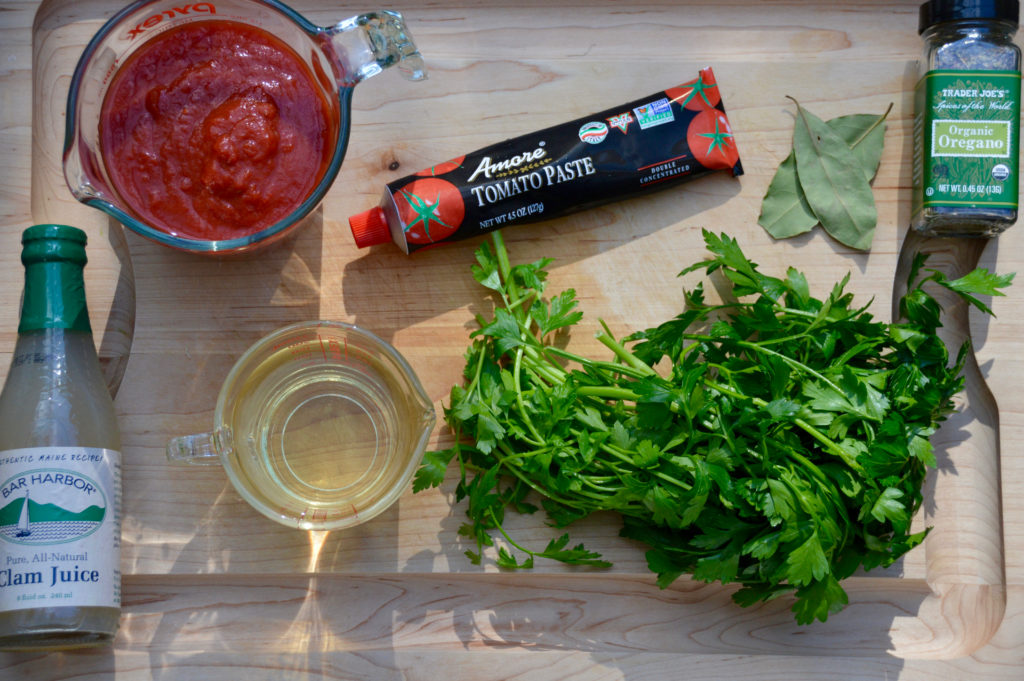 Pictured above clockwise from top left: crushed tomatoes, a good tomato paste, bay leaves, oregano, fresh flat leaf parsley, sauvignon blanc, clam juice. These ingredients plus some onions, garlic and fennel are all you need to make a delicious broth for your striped bass.
I like to add crushed red pepper for spiciness, but if you're not into that then have no worries! It will still taste delicious without the spicy red pepper.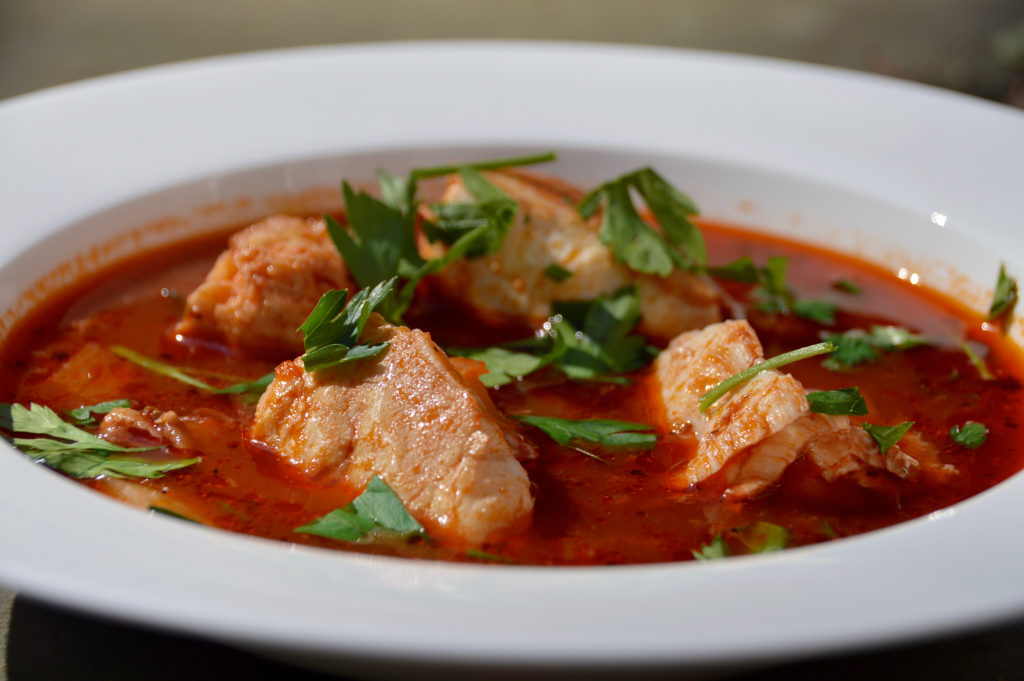 Make sure to have fresh flat leaf parsley on hand, it makes a huge difference between that and dried parsley. You can also play around with different seasoned salts if you have them on hand. I love the band Hippie Pilgrim, which makes seasoned salts out of Plympton, MA. In this recipe I used the Shallot Garlic Salt, but I also love her Basil Garlic Salt!
This cioppino is also a great option for the winter, because it works very well with frozen striped bass and other frozen fish.
Striped Bass Ciopinno
Prep time:
Cook time:
Total time:
Ingredients
6 garlic cloves, chopped
extra-virgin olive oil – enough to coat the bottom of the pan
1 large yellow onion, finely chopped
1 head fennel, green top removed and then white part chopped
1/2 tablespoon tomato paste
1 teaspoon dried oregano
1 cup dry white wine
1 15-ounce can crushed tomatoes
2 bay leaves
1 8-ounce bottle clam juice
1 1/2 cups seafood stock
3 tablespoons chopped flat-leaf parsley
1 baguette, sliced
2 lbs striped bass filets
Instructions
In a large stockpot, heat the olive oil over medium heat, then add the onion, fennel and garlic. Cook stirring occasionally for about 5 minutes over medium heat, then add about 1 tsp salt and pepper, and 1 TBS red pepper flakes (optional).
Stir in tomato paste and oregano, then add the white wine. Raise the heat to medium-high, and cook for 5-7 minutes, or until cooking liquid is reduced by half.
Add tomatoes, bay leaves, clam juice, and stock. Bring to a boil, reduce to a simmer, then place the fish filets on top (do not mix the fillets into the soup), then cover to simmer for 10 – 20 minutes, allowing the fish to cook in the broth.
Gently break apart fish into smaller pieces and remove the bay leaves, then ladle the fish into a bowl, pouring the broth over the fish, then top with parsley.
Serve immediately with bread for dipping.