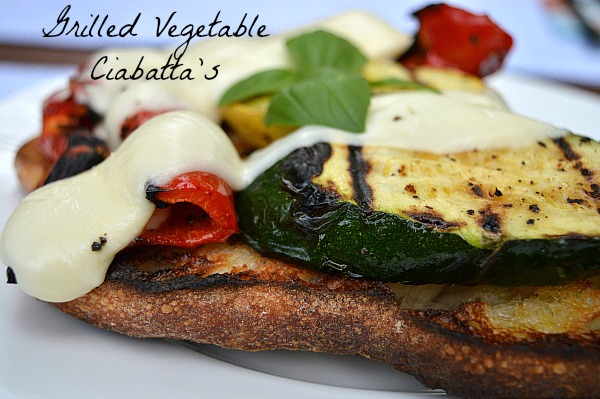 We decided this week to cut down our grocery budget and went meatless for the week.  That of course meant some serious creativity on my part.  This little gem will be making the rounds on our menu again and again with it's simplicity and deliciousness.
When you are on a budget, it's important to do a little research beforehand to know what is on sale so you can then figure out how to put all of those sale items together into a meal.  This dish is the perfect example.  Every single item in this meal was on sale – literally!
Ciabatta was on sale for $3, the zucchini and squash were on sale for $1.50 a pound, the red pepper on sale for $2.00 a pound and the mozzarella was on sale for $8.99 a pound!  You really can't beat that deal.  I knew I would have a ton of mozzarella left over, so we will use that for a grilled broccoli pizza later this week and caprese salads for a healthy snack in the afternoons.
You don't necessarily need to go meat-free just to save money and for some people it seems more expensive to buy a lot of fresh produce.  That can happen without the proper planning and thought that goes into it.  You just have to be 100% in it to win it at the grocery store to be good at this.  Buying a bag of pita chips simply because they were on sale is a waste if they weren't ever needed in the first place.  Plan to use ingredients to make a few meals rather than just one.
For lunch planning, I always make salads with chickpeas or another bean.  Beans are filling, nutritious and great for salads as a meat-free, protein rich option.  I then choose vegetables that are on sale to add in to the salads.  This week it was cucumbers, red peppers and baby carrots with a sprinkle of feta.
All in, Ryan and I spent just under $100.00 to feed us every single meal we needed for the entire week.  That included snacks and ingredients for the NutriBullet too.
So, back to the Grilled Vegetable Ciabatta!  Beautiful, right?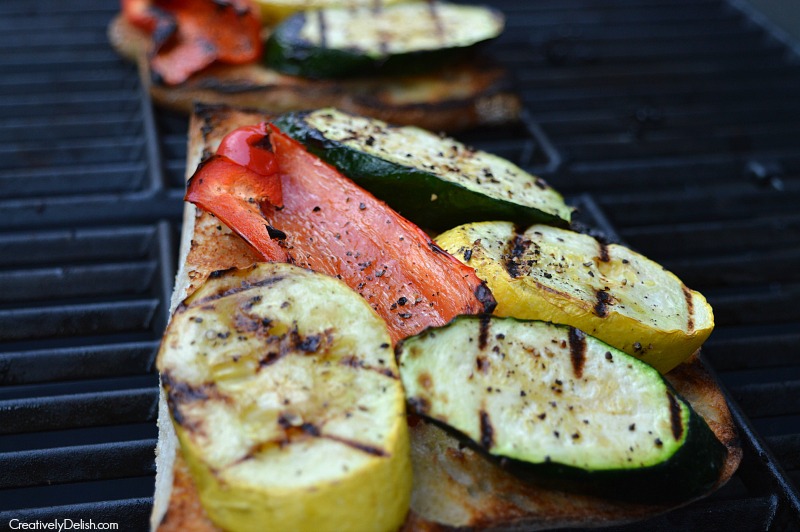 Have you ever experienced grilled bread before?  Because if you haven't I highly recommend it.  Just make sure to choose the right kind of bread – ciabatta is great because it has a soft and flavorful inside with a slightly crusty exterior.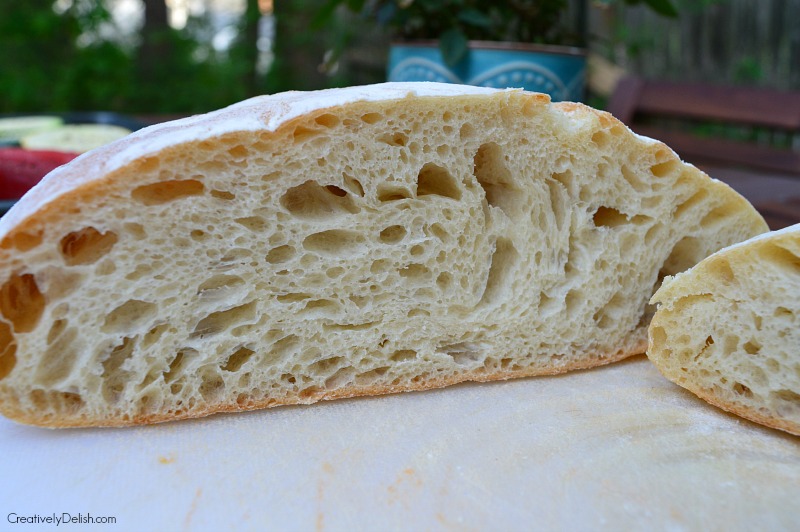 Just brush a little olive oil over and let it grill until the bread is perfectly toasted.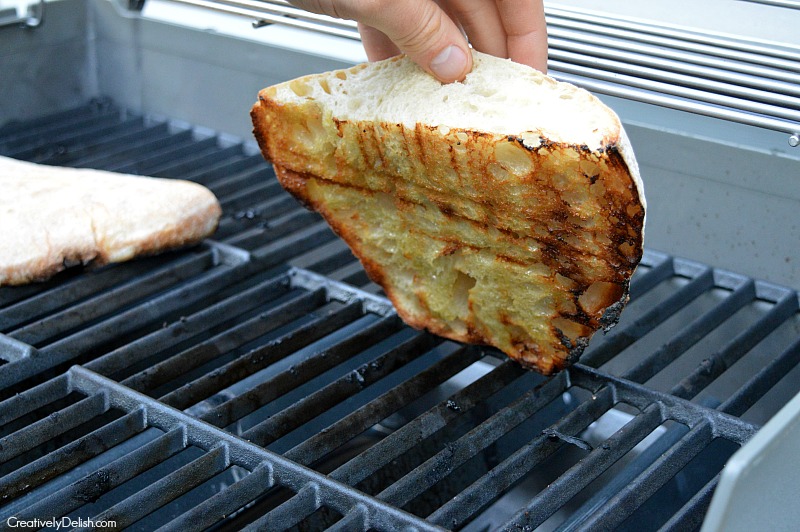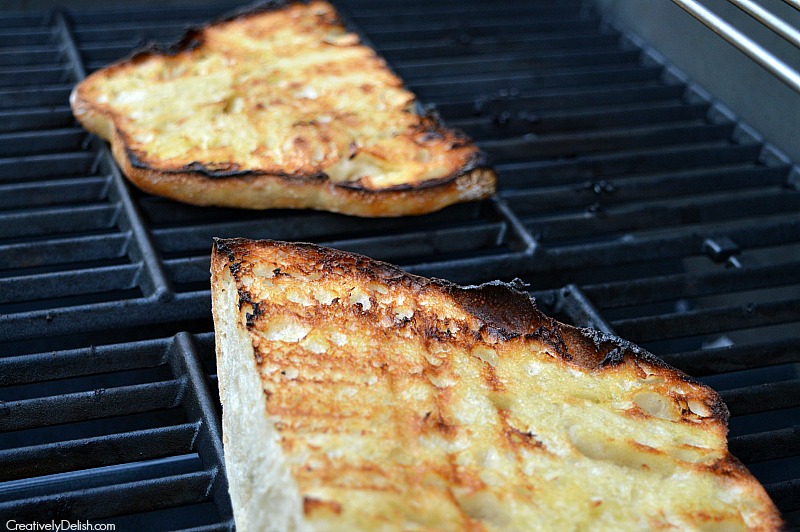 Next, choose your vegetables – I went with zucchini, squash and red peppers because they were on sale, however eggplant, asparagus or broccoli would also work really well.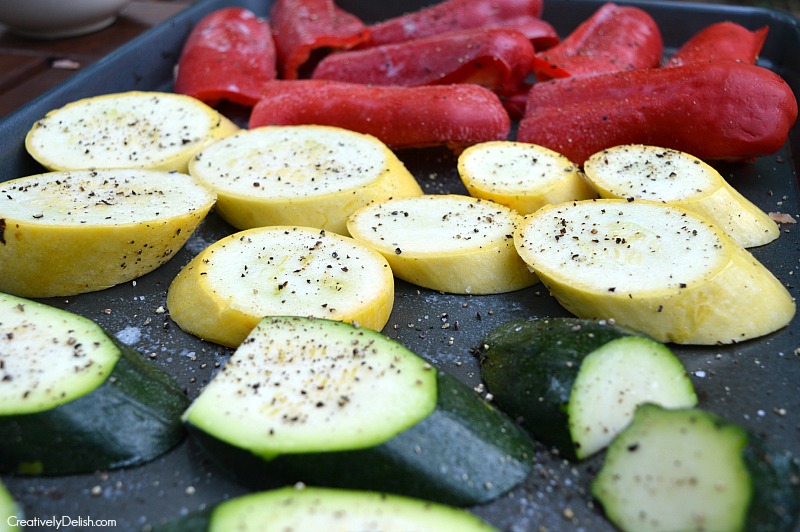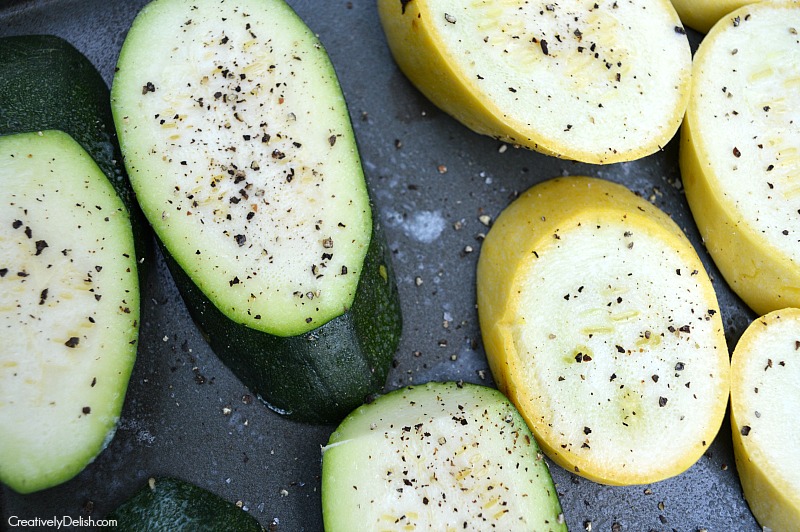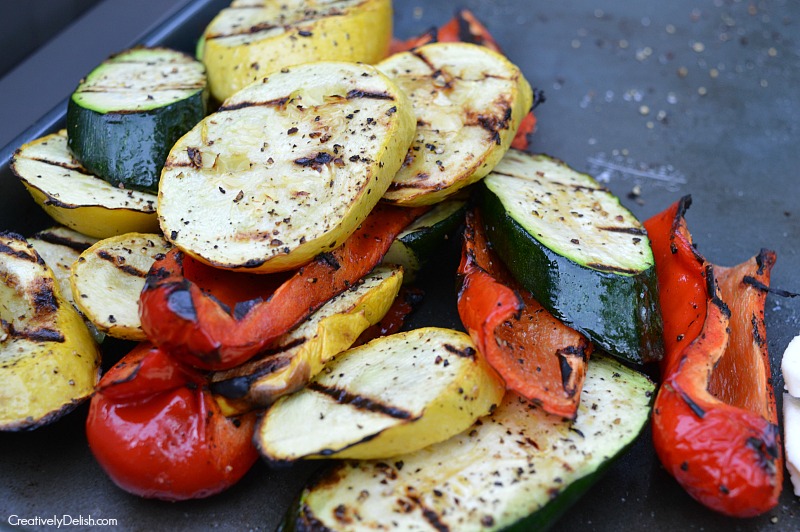 Seasoning the vegetables with a little salt and pepper and some coconut oil before grilling is just enough to keep the flavors fresh.
For the cheese, I recommend getting the real mozzarella balls and slicing your own pieces –  deli style or pre-packaged varieties are full of additives and they won't melt like fresh mozzarella does.
Want that stringy, ooey, gooey string in your cheese?  Go for the real stuff.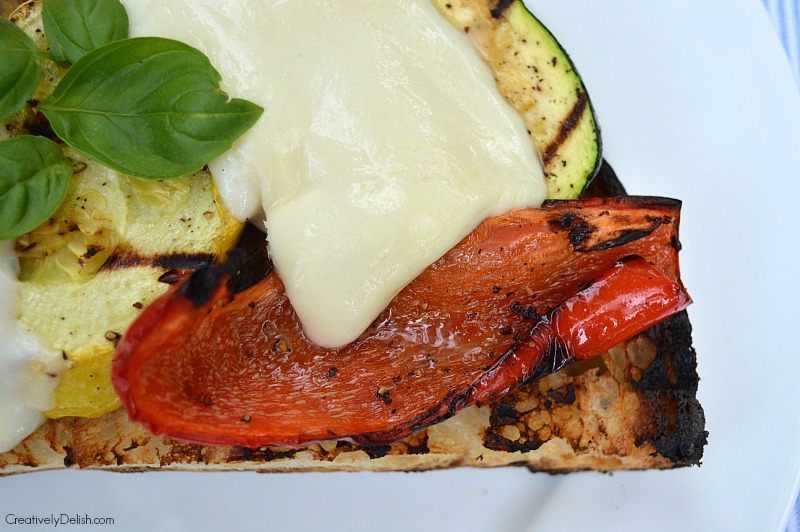 You could also easily make this into an appetizer by cutting smaller strips of bread and serving it like bruschetta.  It would make for a great summer party addition.
Ryan and I loved this quick summer dish!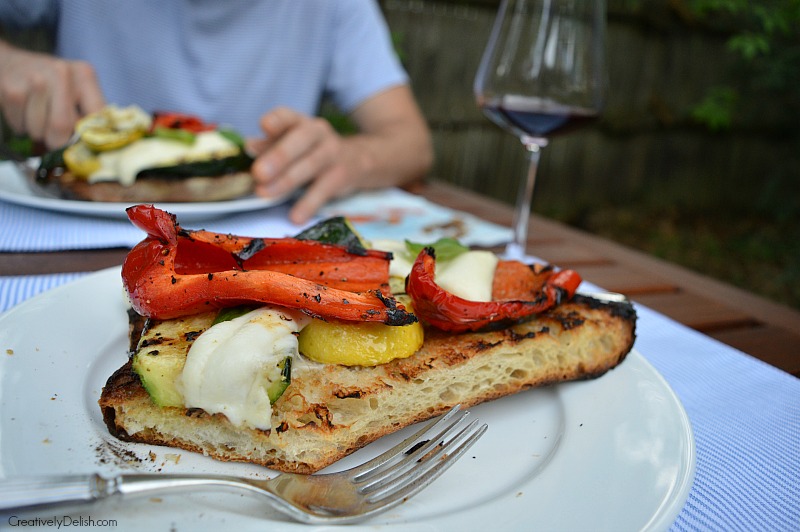 Grilled Vegetable Ciabatta + Learning to Budget for Groceries
Ingredients
1 loaf of ciabatta bread - cut in half lengthwise and sliced to serving size desired
1 zucchini, washed and sliced into small circles
1 summer squash, washed and sliced into small circles
2 red bell peppers - washed, seeds removed and cut into long pieces
olive oil for brushing on the bread
coconut oil spray for vegetables
mozzarella cheese, cut into long slices
basil leaves
salt and pepper
Instructions
Preheat a grill and prepare the ingredients.
Brush the soft inside part of the bread with olive oil and set aside. Toss the vegetables in the coconut oil spray and some salt and pepper.
Grill the vegetables first, turning over once each side has grill marks. Set aside.
Grill the bread oil side down, taking a careful look at the bread every few minutes so it doesn't burn. Once toasted to your liking, turn over and assemble vegetables onto each bread slice. Top with mozzarella cheese, then close the grill, set it to low heat and allow the cheese to melt.
Garnish with basil leaves and enjoy!