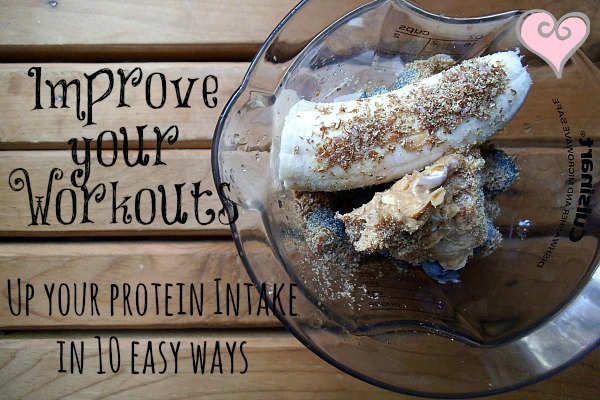 10 Ways to Get More Protein in your Day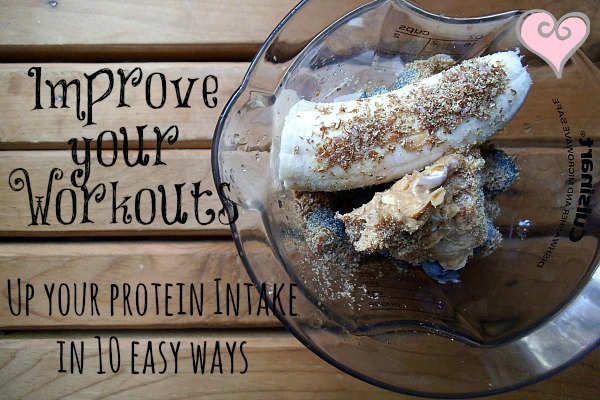 Did you know that according to some nutritionists, we should be consuming almost 100 grams of protein a day?!  That seems almost impossible when you think about what you eat every day.  An apple a day may keep the doctor away, but where's the protein?!  Sure you could throw some peanut butter on apple slices and call it a day, but that's still only giving you about 10 grams, and if you are an active gym rat, a runner, walker, weight lifter, hell, even just a breather, you need more.
Protein is so important to repair and build muscle and keep hunger at bay so you don't reach for that bag of chips, and without it muscle recovery weakens so your progress slows down.
Please remember that there needs to be a healthy balance - have your protein but also don't forget the healthy carbs (fruits, whole grains), healthy fats (oils, nuts) and fiber (whole grains, fruits, flax seeds).
So my challenge lately has been creating protein-rich meals that are totally clean - because those Luna Bars are definitely NOT clean (sorry).  Here's 10 ideas for you to try that keep me going through the day and help me get back to the gym the next day feeling awesome.
1.  Roast Beef with Asparagus Rollups
1 serving (2 oz. london broil roast beef):  13 g protein, 88 calories, 2g carbs, 3g fat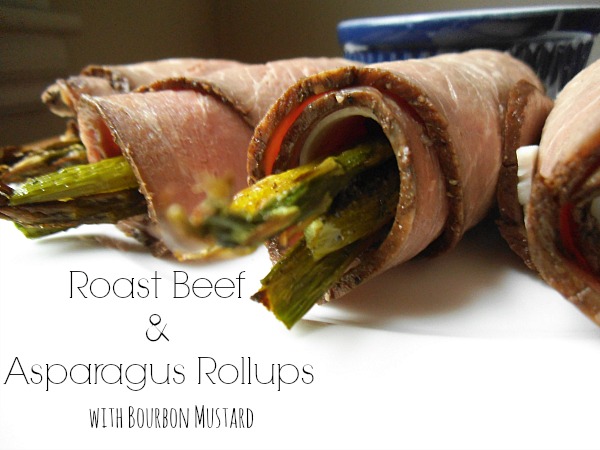 This is a quick snack to throw together and you could use any vegetables from last nights dinner in place of asparagus if you'd like.  Simply take a piece of lean roast beef and spread a thin layer or a grainy mustard (I used a bourbon mustard), then put a few asparagus spears or other veggie in and roll it up - a quick protein-rich snack you can take on the go.
2.  Herb Baked Chicken with Lemon
1 serving (4oz chicken breast, skinless, baked without salt):  26g protein, 130 calories, 3g fat, 0g carbs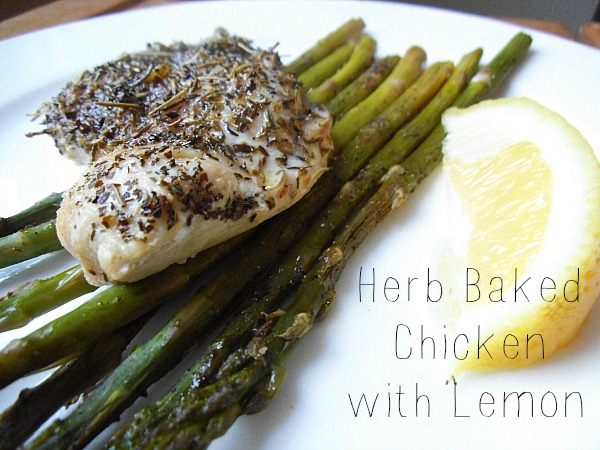 Set the oven to 350 then season a piece of boneless, skinless chicken breast with a little olive oil, garlic-salt, ground black pepper, thyme, rosemary and oregano.  Let it bake for 30 minutes then sprinkle some lemon juice over it.  I cook up 4 or 5 of these at a time, then take one to work each day in a salad for a nutritious lunch.  It's also a great snack when rolled up in a lettuce wrap with a little grainy mustard.
3.  Black Bean & Sweet Potato Soup
1 serving (1 Cup):  13g protein, 195 calories, 33g carbs, 1g fat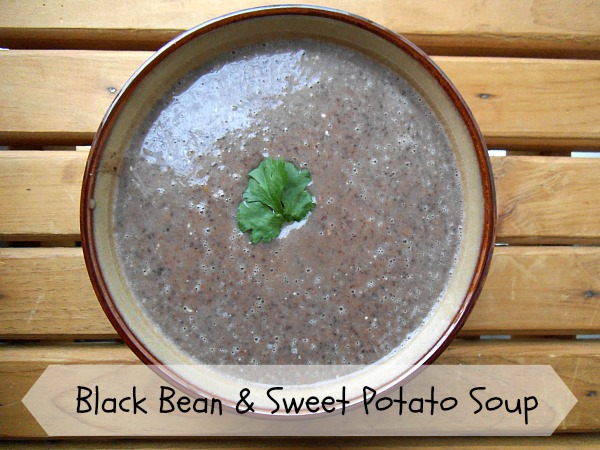 This is SUPER quick and easy to throw together!  Take one minced shallot and 2 minced garlic cloves and saute in a saucepan with some olive oil, salt, pepper and 1 tsp cumin until fragrant.  Then two cans of black beans followed by low sodium chicken broth, enough to cover the beans and about an inch more and let it all simmer for about 10 minutes.  While that simmers, poke holes in a medium sweet potato and heat in the microwave until soft (about 7 minutes), then remove the skin, chop up and add to the saucepan.  Add 1/4 cup feta cheese to sauce pan and stir to combine.  Using a fork, or if you have one a hand-blender, mash up all the ingredients (carefully because it's a hot soup!) then enjoy!
4.  Tuna Sirracha Salad with Cucumber "Crackers"
1 serving (1 can tuna in water): 21g protein, 96 calories, 0g carbs, 1g fat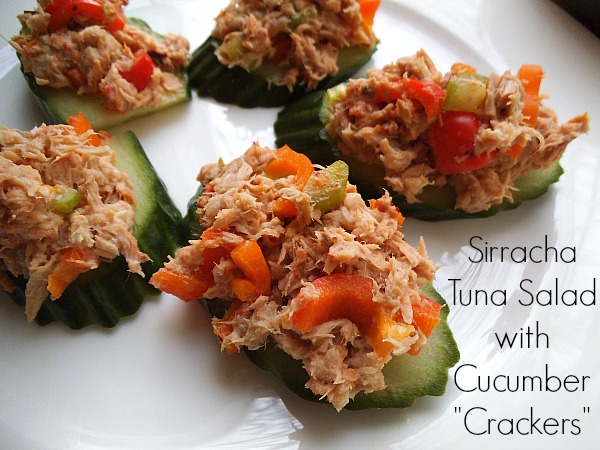 Tuna mixed together with sliced red pepper, sirracha, light mayo, and crushed red pepper flakes all topped on cucumber "crackers".  A low-fat and high-protein option for lunch or a snack and so easy to make ahead of time.
5.  Smoked Salmon Breakfast Sandwich with Everything Bagel Spice Mix
1 serving (1 slice rye bread, 2 TBS whipped cream cheese, 2 oz smoked salmon):  17g protein, 200 calories, 18g carbs, 8g fat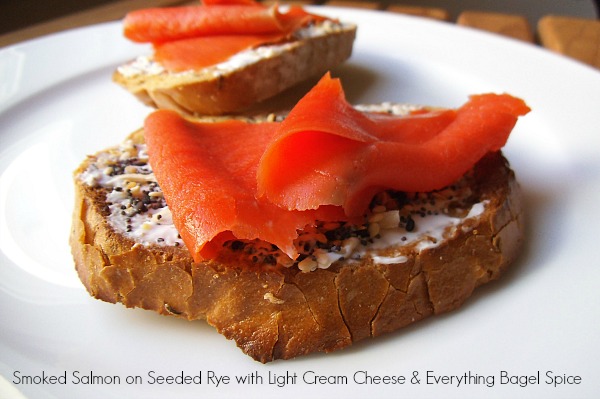 Rye bread makes everything better - especially when topped with light cream cheese, smoked salmon and everything bagel mix to make you think you're eating an actual everything bagel with lox...except you're not, you're being healthy, remember?  Smoked Salmon is very high in protein and good fats but can contain high amounts of sodium, so check the labels and keep an eye on portion control.
6.  Peanut Butter & Banana Smoothie with Ground Flax Seeds
1 serving:  24g protein, 268 calories, 27g carbs, 10g fat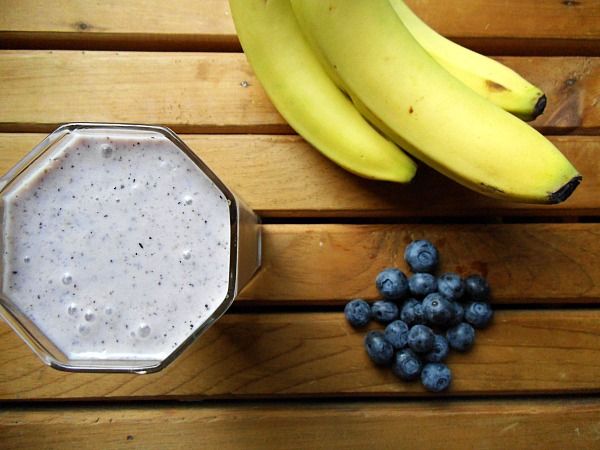 A great idea for after the gym when you're running to work.  Full of creamy yummy flavors with TONS of protein.  Mix 6oz greek yogurt, 1/2 medium banana, 1 TBS peanut butter, 1 tsp ground flax seed, 1/3 cup water and some ice together.
7.  Greek Yogurt with Berries & Almonds or Homemade Granola
1 serving (6oz nonfat greek yogurt, 1/2 C blueberries, 1/2 C strawberries, 1 TBS slivered almonds):  22g protein, 210 calories, 25g carbs, 4g fat - if granola is included, a 1/4 cup of granola would add on 150 extra calories and 5g protein.
Greek yogurt contains close to 16 grams of protein in just one cup, so paired with sliced almonds, berries and a homemade granola give it the perfect balance between carbs, protein and fiber for a great morning protein meal.  These are easy to make ahead of time so you just grab one from the fridge and go!
8.  Eggs
You can count on 70 calories and 6 grams of protein in one whole egg.  I generally use 1 whole egg and 2 egg whites to save on cholesterol and sodium levels.
9.  Oatmeal
Nutritional information will vary depending on what you add to it, but plan on at least 150 calories and about 4g protein from the oatmeal alone.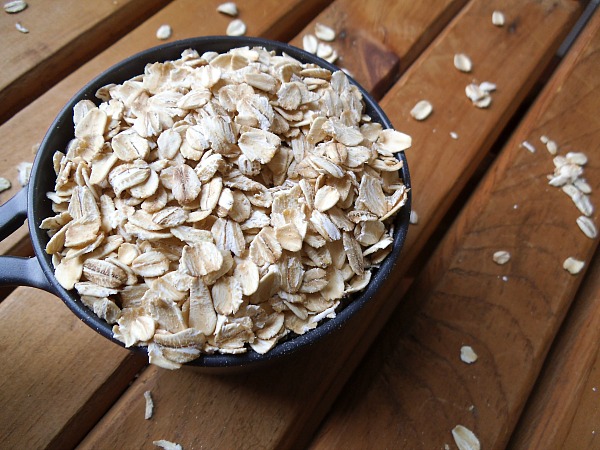 Add protein to your breakfast using a flavored protein powder like vanilla, then topping it with dates, walnuts and a touch of maple syrup for a perfectly balanced breakfast or afternoon comfort snack that is full of protein and nutrients to keep you going.
10.  Chickpea and Feta Salad with fresh Basil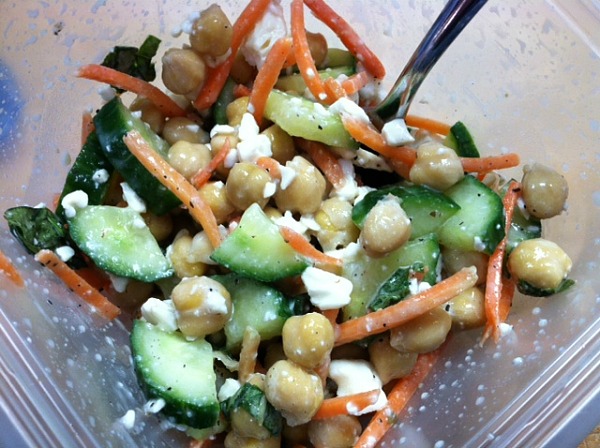 Chickpeas tossed with feta cheese, cucumbers, shredded carrots, salt, pepper and basil leaves dressed with Trader Joe's Light Champagne Vinaigrette is a great little salad with plenty of protein and fiber.  Another quick way to add bulk to this salad is to throw in a handful of Rainbow Salad Mix.  If you haven't heard of it, it is similar to a broccoli slaw mix and contains shredded cabbage, broccoli spears and other goodies.