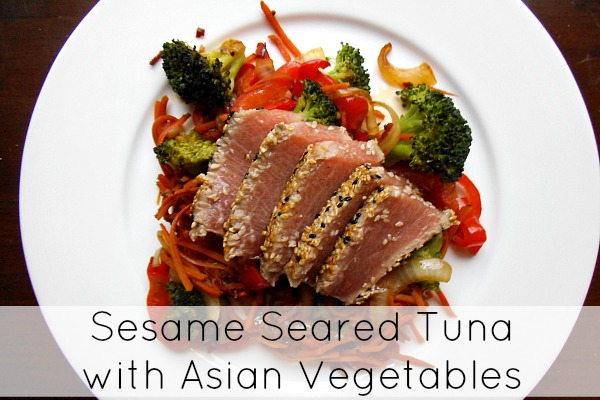 Seared Sesame Ahi Tuna with Asian Vegetables
A simple seared tuna steak served over a bed of fresh vegetables sauteed in an Asian marinade.  A perfect way to enjoy fresh tuna!
Tuna is in season from June until about December up in New England, although this all depends on when the tuna decide to show up and then leave.  You can usually find fresh tuna fillets during these months, so it's a great "seasonal dish" to enjoy!  Make sure to buy fresh wild caught tuna, not farm raised.  For more information on farm versus wild caught, check out this great article by Nutrition Diva.  Educate yourself for your health!  Click to read.
Last weekend Ryan's best friend since day one, Jason Mazzola, went tuna fishing and caught a beautiful bluefin tuna.  Just hours after pulling it from the ocean, we were generously given a very good amount of tuna steaks, some of which went straight to the freezer and the rest went to this.
Ryan is very particular about his tuna…it has to taste like fresh tuna, so absolutely no heavy sauces or flavors.  This would be fine if I had any options at all as to how to serve the tuna, except that there are none…other than plain tuna.
I convinced him quickly of this dish because really most of the flavor comes in the vegetables.  The tuna was seared in sesame oil, giving it a rich, dark sesame flavor.  Needless to say, both of us were very, very happy with this one.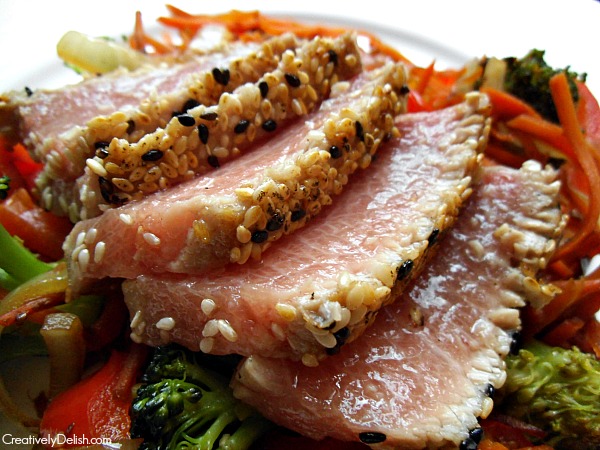 The vegetables were sauteed simply in soy sauce, honey and red pepper flakes.  Use any vegetables you prefer!  Baby corn, water chestnuts, mushrooms and snap peas are also great additions to this dish.