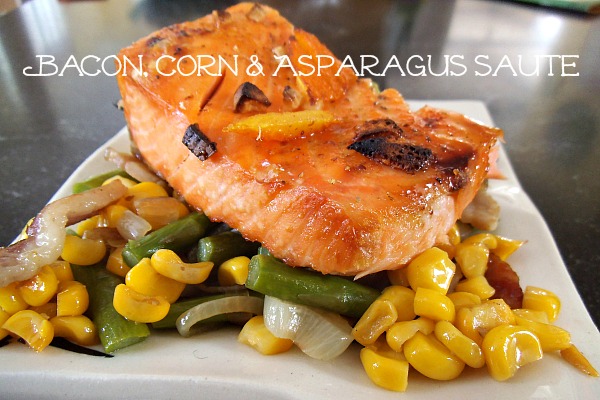 Bacon, Corn & Asparagus Saute
A delicious medley of thick-cut bacon, sweet corn, fresh asparagus and silky shallots.  Because really, who doesn't love bacon?!
For a while I was on a kick of just eating vegetables, whole grains and fruits and a very minimal amount of meat - which I still do, only today I really needed a bacon fix.
If you stop in to your local Whole Foods, ask the butcher about the dry-rubbed, in-house thick cut bacon they have.  When you combine it with shallots and let it cook away, it's just absolute heaven.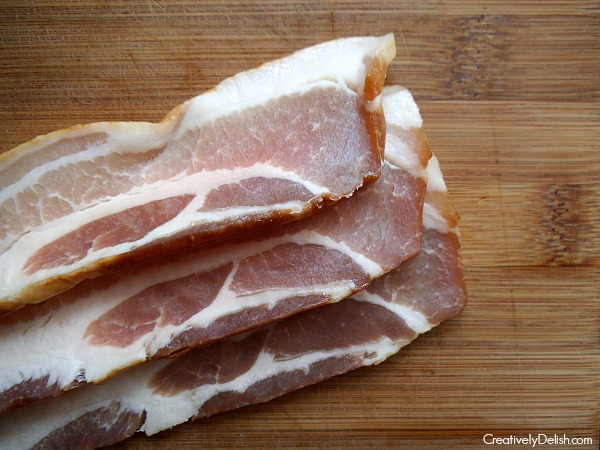 Now that spring is almost here, it's finally asparagus season - when it's a its freshest and most flavorful.  You can find it on sale a lot this time of year, especially when it's used in so many popular Easter menus, and the possibilities are endless when cooking with asparagus.
This time I just sauteed the veggie, but you can also peel it into "noodles" or roast them in a simple olive oil and s&p drizzle.  You can wrap prosciutto and phylo around them or just eat them steamed and dipped into dijon mustard.  Asparagus has so many anti inflammatory properties with tons of antioxidants, vitamins and minerals to keep you healthy.  I just love asparagus.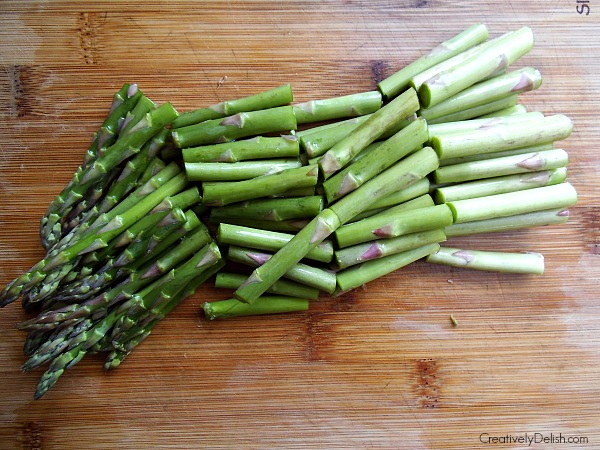 This is just a simple side dish that can be whipped up in just about 20 minutes and pairs well with fish, chicken, beef - whatever.
I made this with my Orange Glazed Salmon and it was a serious winner.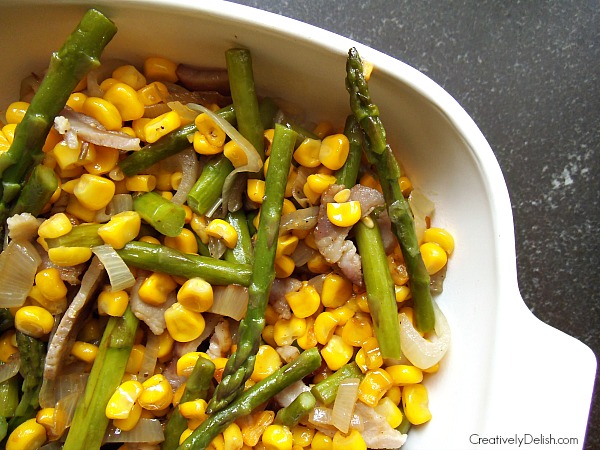 Bacon, Corn & Asparagus Saute
Prep time:
Cook time:
Total time:
This pairs well with just about any dish, however I made this with my Orange Glazed Salmon and it was perfect!
Ingredients
1/4 lb uncooked bacon, diced with most of the fat removed
1 C frozen corn
1 lb asparagus, ends trimmed and cut into quarters or thirds
2 shallots, sliced
1 tsp olive oil
salt and pepper
Instructions
Heat a medium size saute pan over medium heat.
Add bacon and shallots and cook for 4-5 minutes or until bacon starts to cook and crisp and the shallots soften.
Add olive oil, asparagus and corn, stir to combine. Cover and let it cook for 8-10 minutes, stirring once halfway through.
Season with salt and pepper and enjoy!