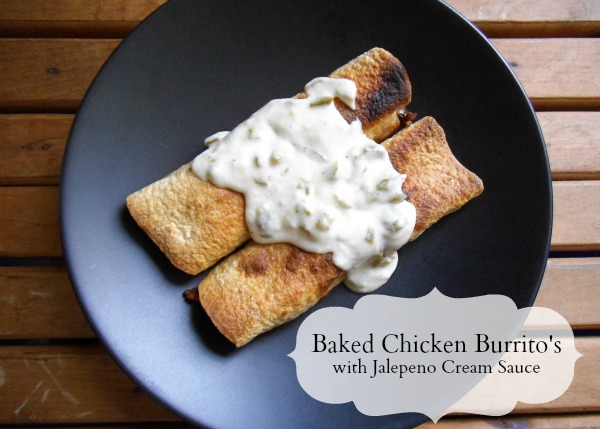 Baked Chicken Burrito's with Jalepeno Cream Sauce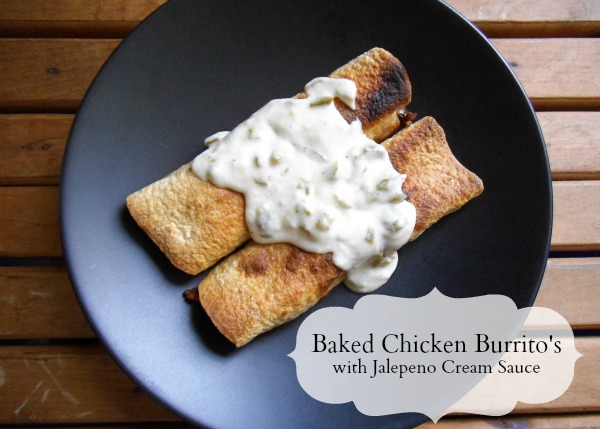 Shredded chicken that's been simmered in a sweet and spicy mix then baked to perfection with a jalepeno cream sauce made with greek yogurt.  It's beyond delish!
I've just died and gone to heaven with these.
My only changes to the original recipe are that I used shredded chicken that I baked because ground chicken seems to freak Ryan out, and I used greek yogurt instead of sour cream for the sauce.
As Ryan and I wandered around the grocery store, I asked him to go get 2 poblano peppers, which is what the recipe asked for, and he brought back 2 jalepeno peppers, convinced they were poblanos because the sign above them said so.  Only after I google-imaged it to him did he say "ooooooooh!"  But actually I prefer jalepenos, so we went with it!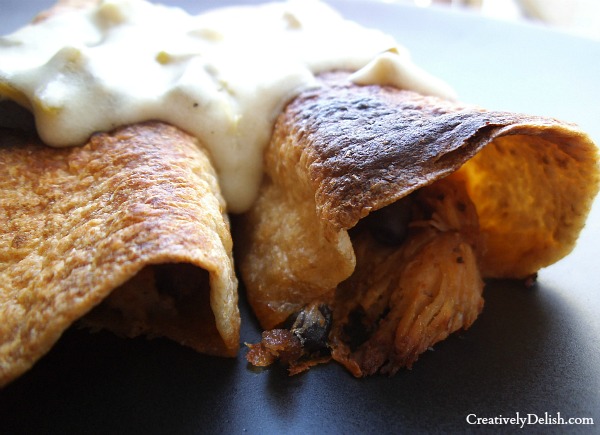 Baking them without the sauce gave them the most unbelievable crunch, and then with a blanket of Jalepeno cream sauce, it's pure heaven.
Now I know I didn't roll them like burrito's and they are technically enchiladas, but I'm still calling them burrito's because really they are...I just suck at rolling burrito's...or well actually I just don't feel like it...either way their divine, so whatever 🙂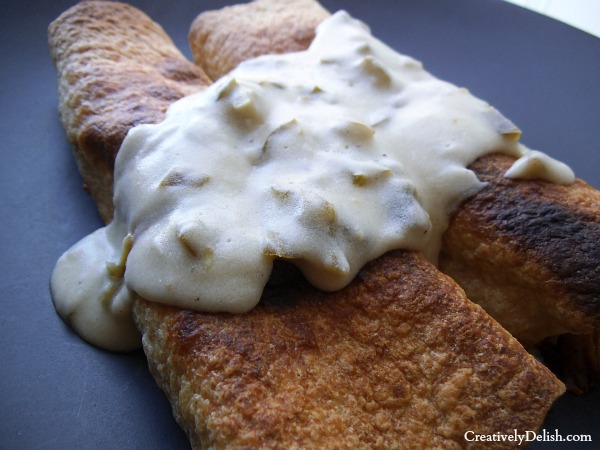 Both the cream sauce and the burrito's heat up really well as leftovers too.
Baked Chicken Burrito's with Jalepeno Cream Sauce
Prep time:
Cook time:
Total time:
Ingredients
For the burrito's:
2 chicken breasts
1/2 onion, diced
3 garlic cloves, minced
1 can black beans, drained and rinsed
1/4 C water
1/2 tsp cumin
1/2 tsp oregano
1 1/2 tsp chilli powder
1/8 tsp cayenne or paprika
1 tsp brown sugar
6-8 whole wheat tortillas
shredded cheese (I used sharp cheddar)
For the Cream Sauce:
2 jalepenos, diced small (remove the seeds for less heat)
2 TBS butter
2 TBS flour
2/3 C low sodium chicken broth
1/2 C nonfat greek yogurt
Instructions
Bake the chicken in a 450 degree oven for 30 minutes, or until fully cooked. Be sure to cover the chicken in a little olive oil, salt and pepper. Remove from oven and shred with a fork. Reduce the oven temp to 400 at this point.
In a pan, heat some olive oil and cook onion and garlic until onion is soft, then add chicken and beans. Stir in the spices and water and let that simmer, making sure everything gets covered with spices, for about 8 minutes.
Lay out tortillas, building the burrito with a layer of cheese then the chicken mixture. Place burritos in a greased pan and, using your hands, baste the tops of the tortillas with olive oil. Bake for 20 minutes, with the last 2 minutes of that under the broiler on low to allow the burritos to brown up a bit more...watch this carefully so they don't burn!
To make the sauce, melt the butter in a saucepan under medium low heat, then whisk in flour to make a roux (this will be a thick mixture with a slight caramel color). Slowly whisk in broth and jalepenos, combining everything and letting it simmer for 5 minutes. Then add the yogurt, mix well and let it warm up. Use salt and pepper if needed.
Serve burrito's with a spoonful (or more) of sauce, then garnish with chopped tomato (optional).