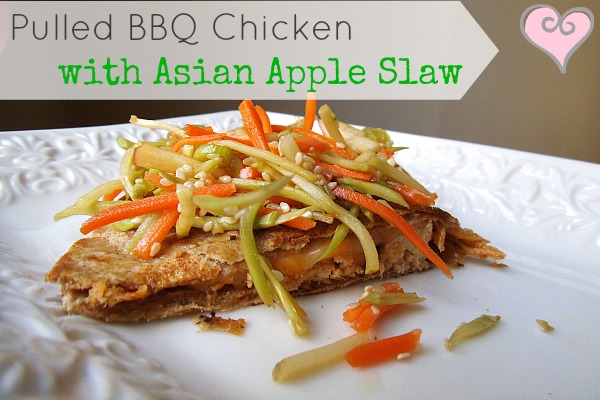 Pulled BBQ Chicken Quesadillas with Asian Apple Slaw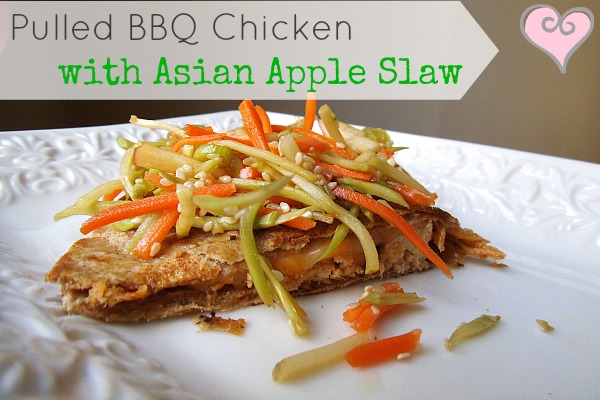 Tangy pulled BBQ chicken quesadillas pair perfectly with a crisp Asian Apple Slaw that takes under an hour to throw together...delicious and so fresh, it's love at first bite.
So let's start with the Asian Apple Slaw.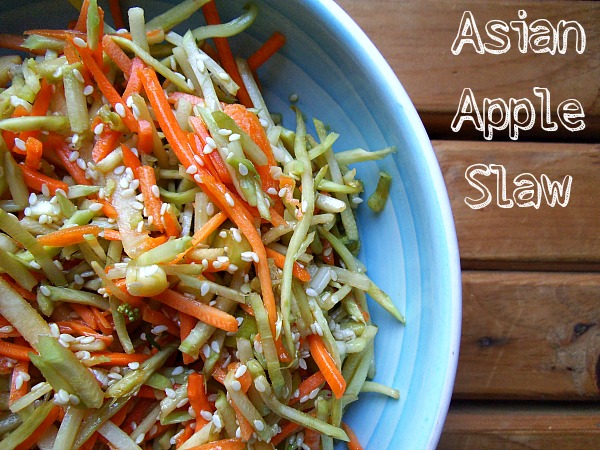 You would think that pairing BBQ sauce with a tamari based slaw would not work whatsoever, but we are all wrong - it's downright delicious.
Lime juice, sesame oil, tamari, sesame seeds, rice vinegar, and a touch of honey are all that goes into this broccoli slaw, shredded carrot and sliced apple slaw.  The crunch is tremendous and full of fresh flavors.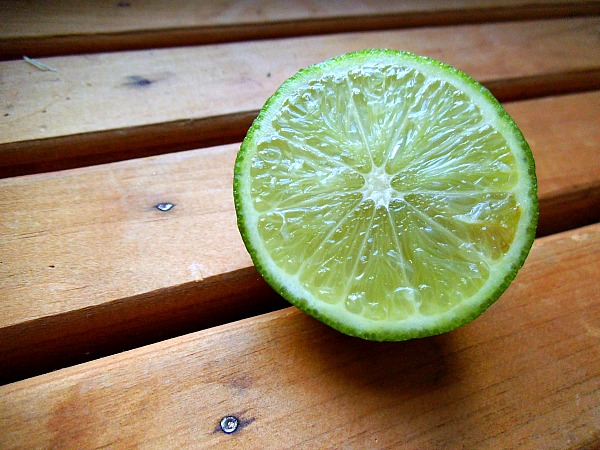 If you ever have trouble getting enough juice from a lime, try this:  after squeezing the life out of it, turn it inside out and squeeze again, that way you get every last drop.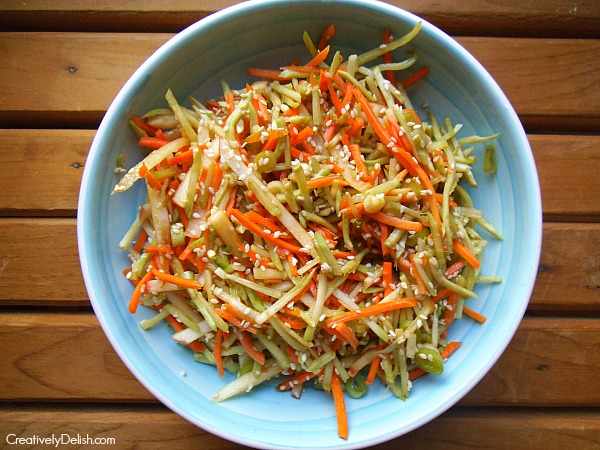 To make the most of your time, make this as you bake the chicken to shred it.  The chicken should take about 30-40 minutes depending on the thickness of the chicken breast, but if you're low on time, just grab a rotissere chicken from the store and shred that, then coat in your favorite BBQ sauce.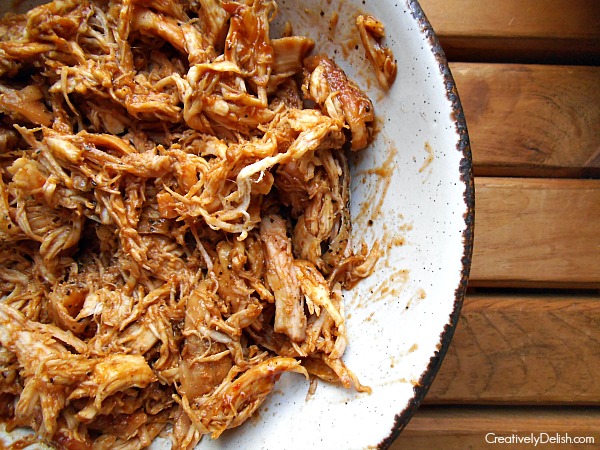 To assemble the quesadillas, use a good shredded cheese and whole wheat or corn tortillas.  Brown each side using a little olive oil then serve with the slaw on the side.  It's best to put the slaw on top and scarf it down immediately.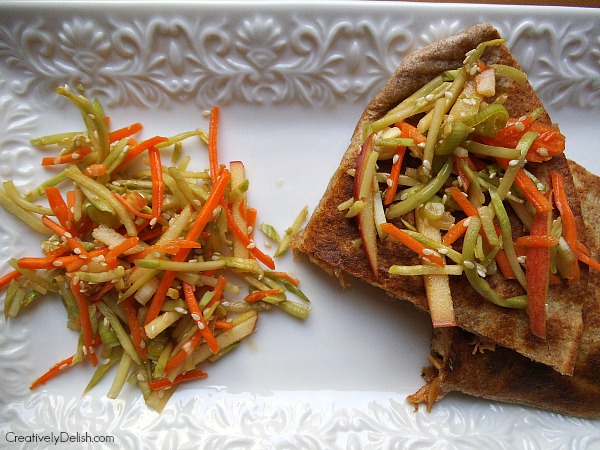 Want to know nutrition information?
For one whole wheat tortilla with 1/8C shredded cheese and about 2oz bbq chicken:  288 calories, 9.6g fat, 25 carbs, 21g protein.
For 1/2 C slaw: 63 calories, 4g fat, 8 carbs, 7g sugar (sodium is high if you use a regular tamari, so try to use a low-sodium version).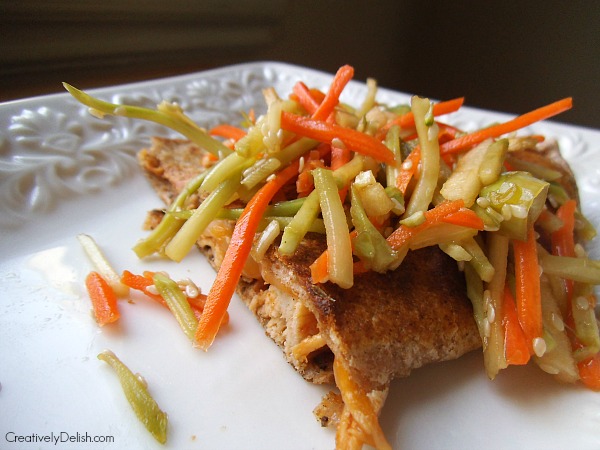 Pulled BBQ Chicken Quesadillas with Asian Apple Slaw
Prep time:
Cook time:
Total time:
Ingredients
Asian Apple Slaw:
1/2 C shredded carrots
1/2 C broccoli slaw mix
1/2 apple, cut into thin strips
2 scallions, sliced thinly
a drizzle of honey
1 TBS tamari
1/2 TBS sesame oil
2 TBS rice vinegar
juice of 1/2 lime
1 TBS sesame seeds
BBQ chicken Quesadillas:
2 boneless skinless chicken breasts
salt & pepper to season
1/8 C shredded montery jack cheese (per tortilla)
whole wheat or corn tortillas
1/2 - 1 C favorite BBQ sauce
Instructions
Preheat oven to 450 and season chicken with s&p, then bake for 30-40 minutes until cooked through. Shred with a fork then put into a bowl. Coat the chicken in BBQ sauce.
While the chicken is baking, assemble the slaw. Combine all slaw ingredients together in a bowl and set aside.
To make the quesadillas, sprinkle cheese on one half of the tortilla then about 1/4 C of chicken mixture. Fold in half then brown each side in a pan heated with a little olive oil.
Serve the quesadillas with the slaw on the side or directly on top of the tortilla and enjoy!