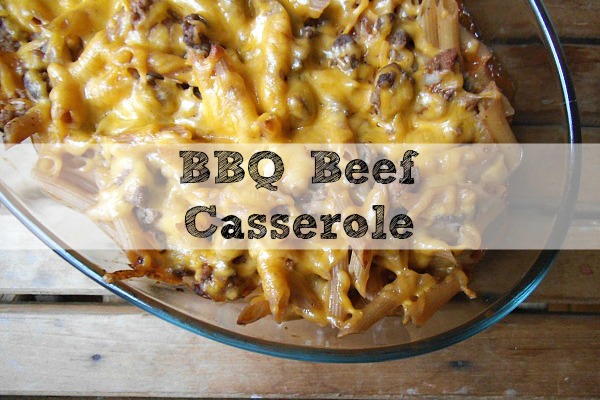 BBQ Casserole
A new twist on the classic Baked Ziti, this casserole is made with ground beef, penne, BBQ sauce, milk and shredded cheese.  It's a Creatively Delish favorite!
Thank you, Mom, for bringing this to the table so many years ago!
This is the kind of comfort food that no one can say no to.  It's a top choice for my roommates when I ask them what I should make and leftovers generally never exist.  Not only is it good, it's a breeze to make.  Much like baked italian ziti or mac & cheese, this combines ground beef and onion, penne or ziti pasta, lots and lots of BBQ sauce, lots and lots of cheese and a little bit of milk to get it to a creamy consistency.  Yikes, I get hungry just talking about it!
This is also referred to as "Train Wreck, BBQ Style"
When preparing the beef, cook it in a large pan for a few minutes before adding the onion.  Once it has all cooked through and the onion is soft, drain the pan of any excess oil and fat before transfering it in with the pasta and BBQ sauce.
In the directions you will see that I bake it to allow for the cheese to melt, but then I broil the top to let it crust up a bit and brown.  I love that cheesy crusty texture, but if you don't, just continue to bake a little longer to be sure the cheese has melted enough on the top and through the middle as well.
BBQ Casserole
Prep time:
Total time:
Ingredients
1/2 lb lean ground beef
1/2 lb lean ground turkey
3/4 box whole wheat penne
1/8 - 1/4 C skim milk (will depend on how creamy you want to sauce to be)
1 bag shredded mexican blend cheese
1 bottle of your favorite BBQ sauce
1 small onion, diced
Instructions
Preheat oven to 400.
Cook beef and onion in a pan then drain fat
Prepare noodles according to package directions
In a large bowl, combine noodles, beef and onion, BBQ sauce, 1/4 of the cheese, and milk. Transfer to an oven proof dish and bake for 10 minutes or until cheese is melted and the top starts to bubble and brown up a bit.