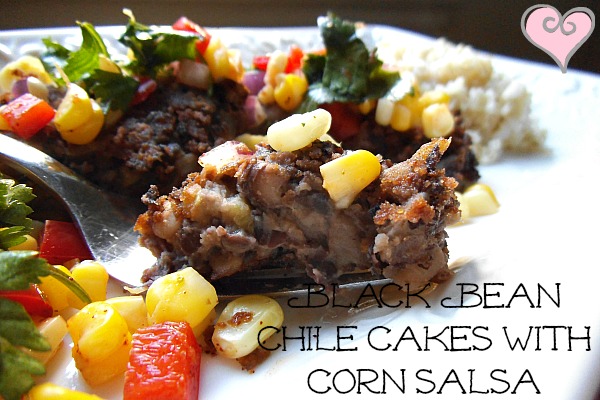 Black Bean Chile Cakes with Corn Salsa
I made this on a Monday and boy oh boy was this the best way to start off my week!
A perfect little cake - crispy on the outside, soft on the inside, with a little kick of spice all over a bed of fresh corn salsa and rice.  It was heavenly!
Before we can get to those tasty little cakes we must first discuss the fresh corn salsa.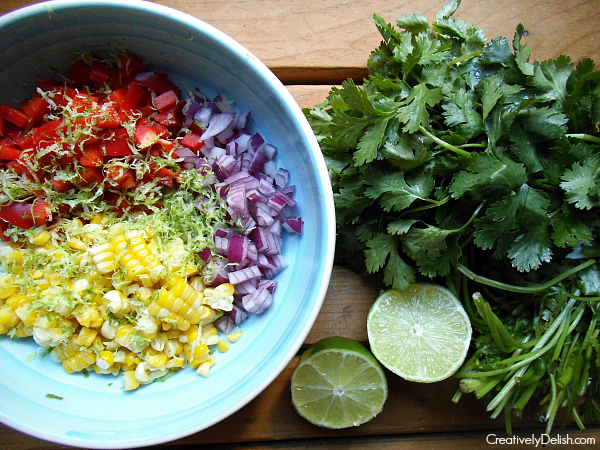 If you could put all the flavors of summer in one bowl, this is what you would end up with.
We love making fresh salsa because not only is this great for the black bean chile cakes but also to use on salads or in sandwiches or just on a spoon!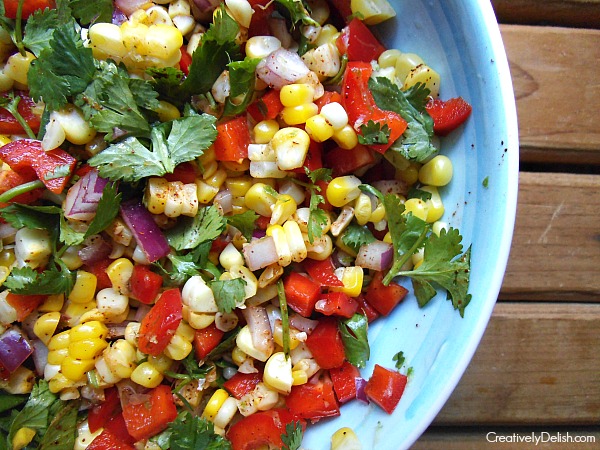 Fresh, healthy and quick to throw together - it's a staple in our fridge throughout the summer months.
Ok so back to those lovely Black Bean Chile Cakes.
I will warn you though, they can get a little messy.  Don't assume that they will stay in their shape if you're not careful.  I used a big spatula to carefully flip them, and let them sizzle in the pan for longer than you think on medium-low heat to really seal it all together.
I tried to play around with them to see if maybe panko might hold them together better, but all that does is make the panko sop up the oil even more so I stuck with what I had.
The beans are mixed with sauteed onions and chopped green chiles, with a dash of cumin, salt and pepper to give it a really authentic taste.  The corn salsa was made with fresh and in season ingredients that blended perfectly with these little cakes.  And although there wasn't any meat involved with this dinner, even Ryan gave it his seal of approval!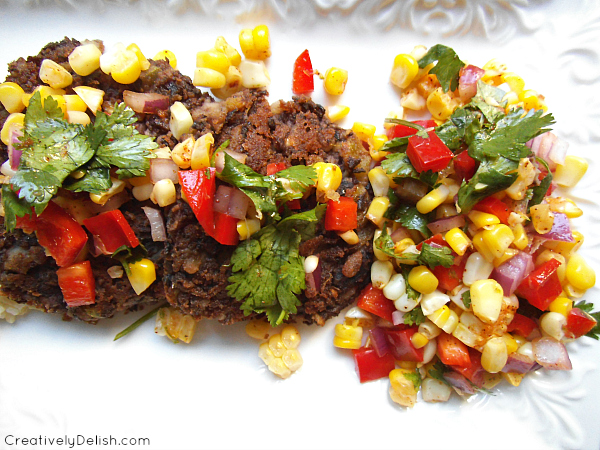 You know what the greatest part of this whole dish was?  It cost me $6.13 for the entire meal to feed Ryan four cakes, myself two cakes and more leftover for lunch the next day, including the corn salsa which has enough for leftovers too.  I made 1 cup of brown rice to feed Ryan and I which didn't leave us any leftovers, however you can still have the cakes without the rice!
Black Bean Chile Cakes with Corn Salsa
Prep time:
Cook time:
Total time:
Ingredients
2 cans black beans, rinsed and drained
1 can chopped green chiles
1/2 yellow onion, chopped
1 tsp cumin
1 tsp black pepper
1/2 tsp salt
1/2 red bell pepper, chopped
2 ears of corn, cooked and kernels removed
juice of 1-2 limes
zest of 1 lime
1/2 small red onion, chopped
1/2 bunch of cilantro, chopped
1 tsp chili powder
1 tsp salt (or more depending on taste)
1 C cooked brown rice
Instructions
Heat olive oil in a pan and saute yellow onions until they turn transparent.
In a mixing bowl, mush the black beans either with a fork, your hands or a potato masher, then add the cumin, pepper, salt, sauteed onions and the can of green chiles. Mix together until everything is combined.
Heat the pan again and add more oil. Using your hands, take a large spoonful of the bean mixture and pat it into a thick patty. Place the patties on the pan and let them sizzle over medium low heat for 8-10 minutes on each side. If your pan gets too hot you may have to flip them sooner! Just be sure to use a large spatula to flip them.
To make the Corn Salsa:
In a large bowl, mix together red pepper, red onion, cilantro, corn, lime zest and lime juice, chili powder and salt. Add more lime juice and/or salt if needed. It can be made ahead of time which is best so that the flavors come together better.