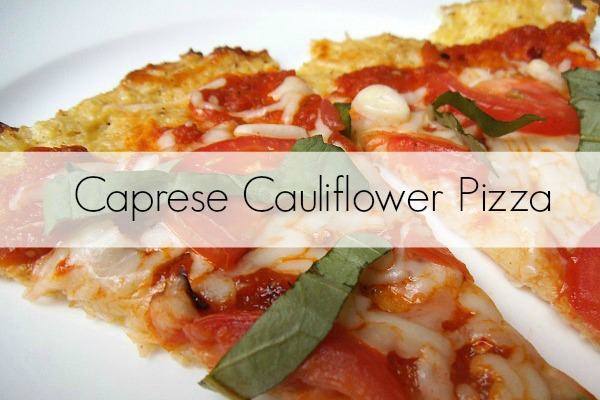 Caprese Cauliflower Pizza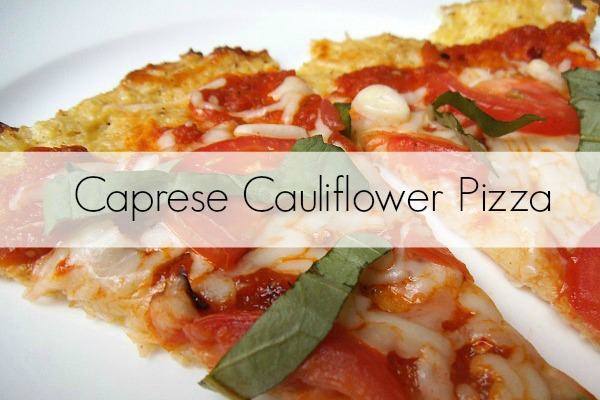 Cauliflower can be such a versatile vegetable.  I've seen it done so many ways, yet this is by far the best way I have ever eaten cauliflower. What you get is a flavorful, thin and crispy crust topped with fresh ingredients.  You'll be surprised at the amount of flavor you get from these, with no grains whatsoever.  Imagine eating an entire pizza and not feeling guilty afterwards?  Here's your answer, enjoy!
If you haven't noticed the buzz around cauliflower, you should really jump on that bandwagon.  Whether it's used to cream up a soup or sauce, simply roasted as a side dish, grated as a rice substitute or used as a pizza crust you really can't go wrong.  With it's mild taste you can amp it up however you like, and it's just so simple!  I only warn you that grating a head of cauliflower does a doozie on the hands and nails, so be careful!
First begin by shredding the cauliflower into a microwave-safe bowl.  You'll want to nuke it for about six minutes to get the florets soft. Next, assemble the ingredients.  You'll need all of the following as well as some good salt and ground black pepper.
Once you have mixed all of those ingredients together into a "dough", get a baking sheet and line with parchment paper or a silpat.
Once browned, start with a good marinara sauce, then some cheese, fresh sliced tomatoes and garlic and pinch of red pepper flakes for a kick and let it bake for about 8 minutes or until the cheese is melted and bubbling.
Caprese Cauliflower Pizza
Prep time:
Cook time:
Total time:
Ingredients
2.5 C grated cauliflower
1 egg, lightly beaten
1.5 C grated mozzarella cheese for the crust, then more for toppings
2 TBS grated parmesan cheese
salt and ground black pepper
fresh sliced tomato, basil and garlic
red pepper flakes
a good marinara sauce
Instructions
Preheat the oven to 400
In a bowl, microwave the florets for six minutes or until they are soft.
Mix in egg, cheeses and salt and pepper (about 1 tsp each) to form a ball of "dough"
On a greased lined baking sheet, form the dough into a flat pizza crust, making it as thin as you like and bake for 12-15 minutes or until crust has browned a bit.
Remove from the oven and spoon some marinara over the top, then adding sprinkled cheese, fresh tomatoes, garlic and red pepper flakes (optional). Bake about 8 minutes or until cheese is melted and bubbling.
Remove from the oven and top with sliced fresh basil leaves.
Let the pizza cool for a few minutes before serving.
Best results are done by using parchment paper or a silpat.