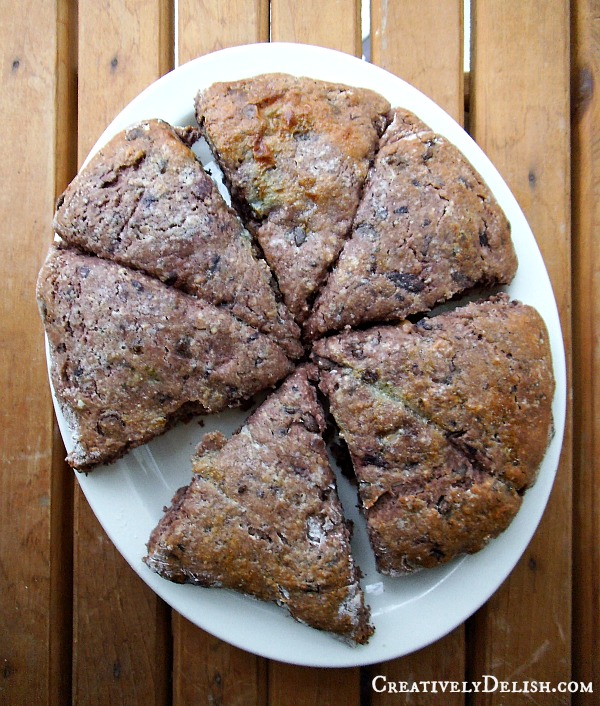 Cherry Chocolate Scones with Almonds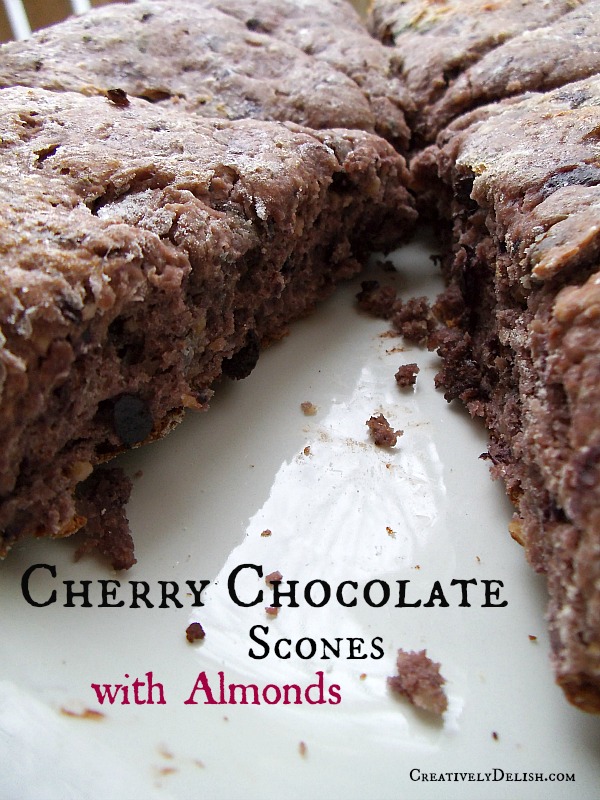 Super easy scones that literally anyone can make, trust me on this one because I'm not a baker!
So here was my thought process on these scones:
1.  The Cherries.  I chose cherries for this combo because me being a health concious nut, I'm always reading up on what's healthy and what'sbest to eat in what season, and a lot of articles have been talking about cherries.  Dried, fresh or frozen, they apparently are good for you, so what the heck, I'll throw some in here.
2.  The Chocolate Chips.  Why not have chocolate chips?  This is just a given...it's Sunday for goodness sake, have some chocolate.
3.  Almonds.  Full of healthy benefits, a great snack, and the perfect little crunch to add to scones.  I only had whole ones, but nothing that the food processor couldn't handle.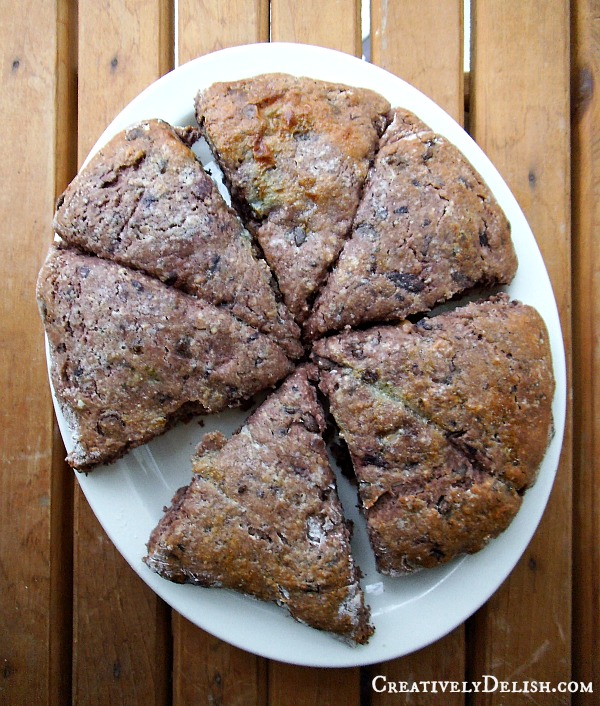 When I created the dough, I was convinced it was over and I should probably just throw it out.  It really didn't look like dough, and I was afraid. Did I mention I suck at baking?  Well not anymore!  Hooray for Cherry Chocolate Scones with Almonds!
Breakfast or dessert, I hope you enjoy 🙂
Cherry Chocolate Scones with Almonds
Prep time:
Cook time:
Total time:
Ingredients
2 C all-purpous flour
1 C whole wheat flour
3/4 C buttermilk
1/4 C sugar + 1 1/2 TBS sugar
2 tsp vanilla extract
1 large egg + 1 egg white
1 TBS baking powder
1/2 tsp salt
3 TBS chilled butter, cut into small chunks
1 C frozen or fresh cherries
3/4 C chocolate chips (semisweet)
1/2 C chopped almonds
Instructions
Preheat oven to 375.
Combine buttermilk, sugar, vanilla extract and 1 large egg in a small bowl.
Combine flour, baking powder and salt in a large bowl. Cut in butter with hands or a pastry blender until it becomes slightly lumpy.
In a food processor, pulse cherries for 10 seconds, then fold in to flour mixture along with chocolate chips and almonds.
Pour buttermilk mixture in to flour mixture slowly to form a dough.
On a clean surface, spread flour around and knead dough 4 times, then form into a circle about 3/4 inches thick. Cut wedges in the dough, then place on a baking sheet lined with parchment paper.
Brush egg white over scones and sprinkle with remaining sugar, then bake for 20-25 minutes or until slightly browned on top.
Let cool slightly before serving. Store in an airtight container for up to 4 days.