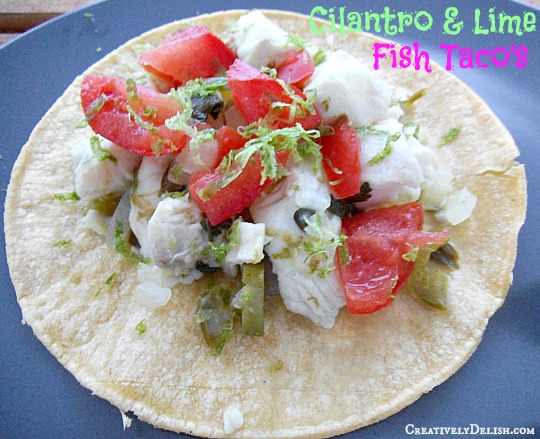 Cilantro & Lime Fish Taco's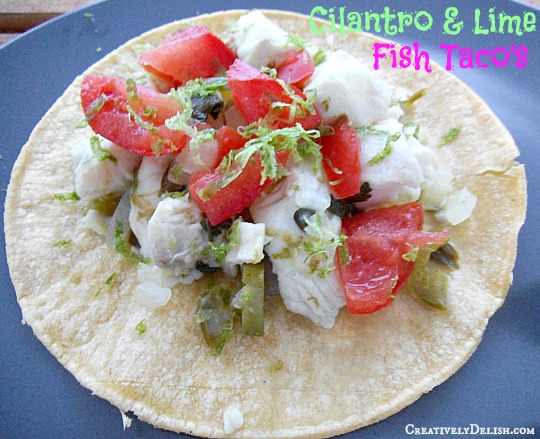 Fish taco's made simply with a cilantro and lime based marinade to allow the freshness of the fish to not be overwhelmed by the other flavors.
If you've never tried a fish taco, you're missing out.
If you ask me, Tuna Melts and Casseroles are just not an option on my menu...ever.  Weird fishy combinations with cheese utterly gross me out!  Fish tacos, however, are a different story.
The lime zest and cilantro keep it cool with those crazy flavors of jalepeno and hot sauce.
Below is the marinade for the fish.  I generally let this sit in the fridge for about 20-30 minutes and cook it all together in the pan: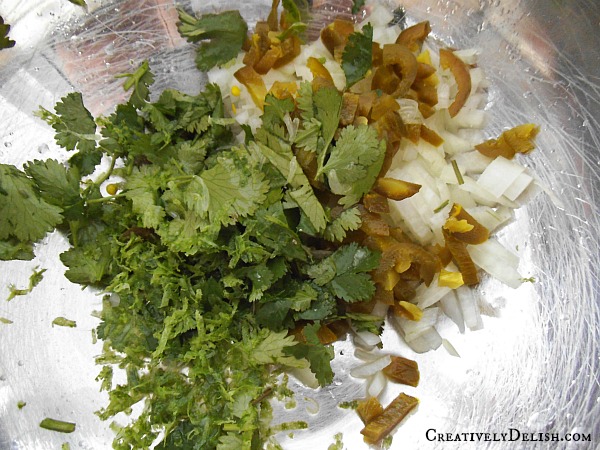 The marinade consists of freshly chopped cilantro, onion, jalepenos, lime zest and lime juice, and a little olive oil.  I wait to add some salt and pepper until after the fish is done so you can do it to taste.
This time around, since it's the dead of winter and Ryan isn't fishing everyday, I used fresh tilapia filets from a well known seafood shop.
I'm slightly skeptical about the fish that's wrapped in plastic at the grocery store...I wouldn't recommend it.  Ask your seafood guy for an in-season fish that hasn't been frozen for six months - you'll get a much better flavor from your fish.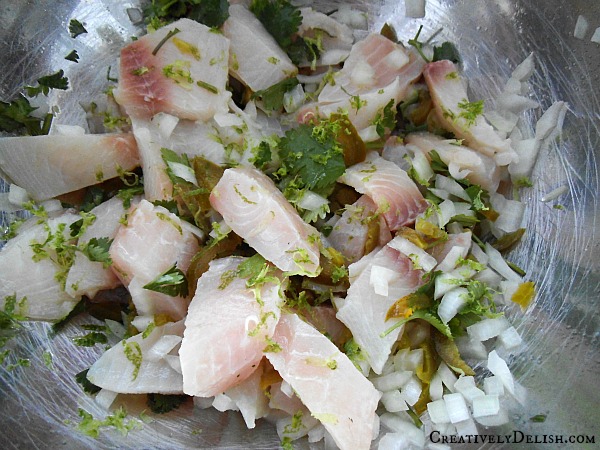 As always, I say serve them with warm corn tortillas for a more authentic flavor.
Cilantro & Lime Fish Taco's
Prep time:
Cook time:
Total time:
Ingredients
1/2 lb per person fresh white flakey fish (tilapia, striped bass, etc) - this recipe is for 4 servings
1 small onion, diced
2 TBS olive oil
corn tortillas
2 jalepenos, seeded and diced
1 big bunch of cilantro, chopped + more for garnish
zest of 1 lime + juice of 2 limes
garnish with shredded cheese, hot sauce, tomato
Instructions
In a bowl, combine onion, olive oil, jalepenos, cilantro, lime zest and lime juice
Cut fish into bite size chunks, then add to the bowl and let marinate for 20-30 minutes
In a heated pan, cook fish and marinade until fish is flakey
Serve immediately over warm tortillas and garnish