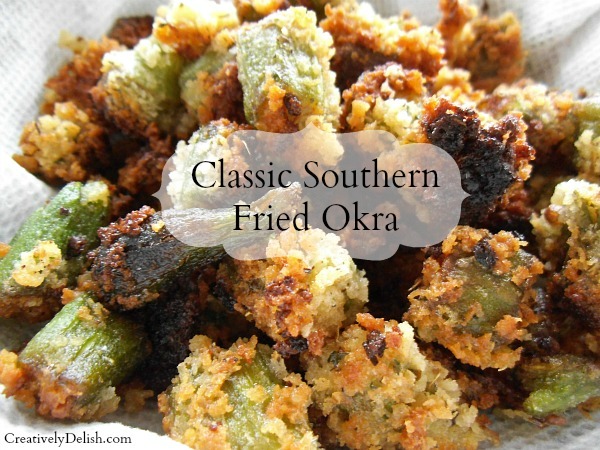 Southern Fried Okra
The real way of making these is with cornmeal, so for anyone that's a true southerner, I know, I know!  I just prefer them this way with seasoned breadcrumbs, and trust me, they're still darn good, especially dipped in some BBQ sauce or baked beans.  This lightened up version uses less oil and you can either bake or fry them for a deliciously perfect side dish.
I'm such a sucker for okra.  Fried or pickled, I can't get enough of it.
Not many people I know hae tried it, let alone even heard of it.  I kind of feel bad for okra, I mean it's not a very nice looking vegetable, and I'm guitly of poo-pooing it the first time I saw it.  It has the same shape as a jalepeno pepper, but with tiny hairs all over it (weird).  But as they say, don't judge a book by it's cover, I tried it and never looked back!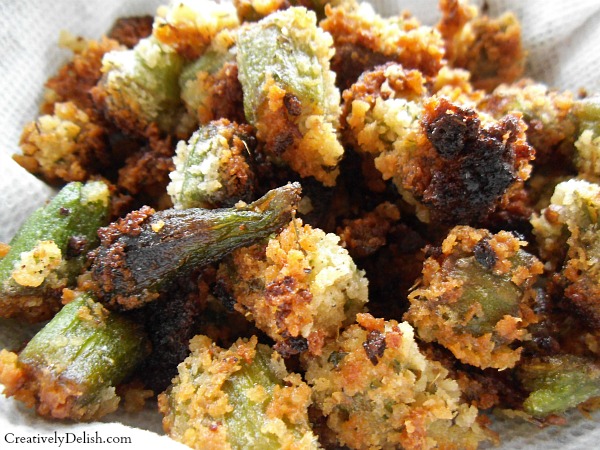 Every time I go to visit my parents in South Carolina, I stock up on jars of pickled okra and eat the entire jar that was currently in their fridge.  "Talk of Texas" is the best brand, which I have never seen anywhere up north, so of course I stock up.
Fried okra is such a classic southern and midwest staple, and thanks to my Mom growing up in Oklahoma and Cali, Ive grown up with it too.  My favorite is to dip it in BBQ sauce, mainly because we usually have this with my Dad's famous ribs, but also because why wouldn't you have it with BBQ sauce?!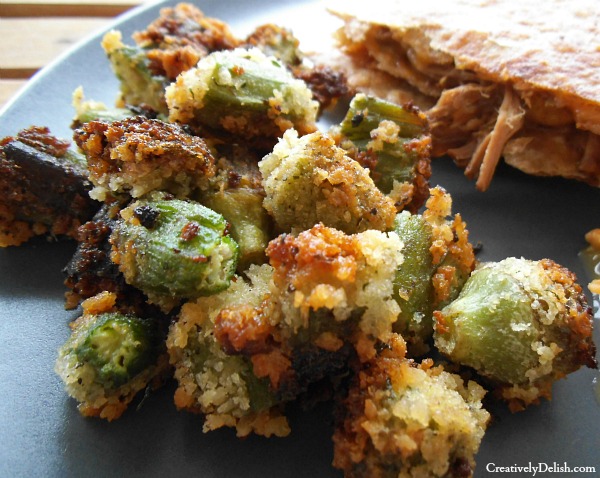 It's fun to get your friends to try it because not one person every jumps at the chance to try a hairy vegetable, (which also by the way is very slimey on the inside!) but anytime I make them try a piece their gone almost immediately.  And now it's one of Ryan's favorite summer side dishes!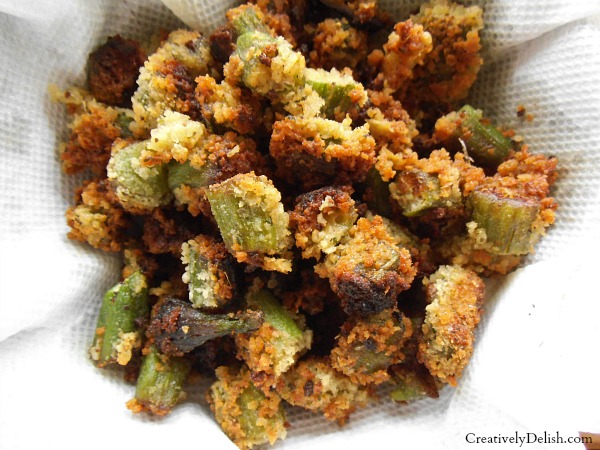 I will admit they are very hard to find up here - I have found one farmstand that sells them fresh, and if you're lucky you can get a bag of frozen okra, cut or whole...if you're lucky.  Any way you buy them, they're going to turn out great, however I have had the best luck with frozen cut okra.  And in case you haven't realized it...these are by no means healthy, so if you're on a diet I wouldn't recommend these, unless you're really good at portion control (which I'm not).
Is your mouth watering yet?!  Go make these immediately!  (and grab some BBQ sauce while you're at it, it's ridiculously good)
Classic Southern Fried Okra
Prep time:
Cook time:
Total time:
This recipe is for frozen okra, not fresh...Ive had wonderful luck with frozen and I'll be superstitious and never try fresh)
Ingredients
1 pkg frozen cut okra or whole okra (if whole, de-thaw enough to slice)
2 C seasoned bread crumbs
Olive oil for frying
pinch of salt
egg wash
Instructions
Heat a pan with oil (only to make a thin layer, not to drown the okra in).
Dip the okra in egg wash then in bread crumbs then into the oil.
Let one side cook for a few minutes then use a spatula to turn okra over. Be sure to be gentle here because the bread crumbs like to fall off. Keep only a thin layer of oil, but add more if necessary.
Once fried, about 10 minutes, drain on a paper towel and serve immediately