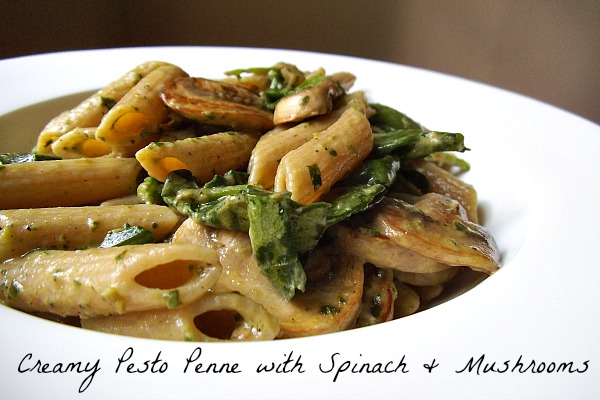 Creamy Pesto Penne with Mushrooms & Spinach
We loved this dish because the creaminess in the pesto comes from Greek yogurt, so say hello to added protein, while sauteed spinach and mushrooms give it bulk nutrition and added flavor in a seriously fast amount of time.
As usual, it's a busy day and I have almost zero energy to make a regular dinner.
This tends to happen a lot, except on those rare occasions when I have enough time to thoroughly cook a meal, take pictures for the website and write up a post....
Wait, that's what I just did, isn't it?
So I suppose you could call this the most brilliant, quick and delicious dinner idea...ever?!
Yes, yes you can.
Say hello to one of Ryan's new favorite dishes...Creamy Pesto Penne with Mushrooms & Spinach.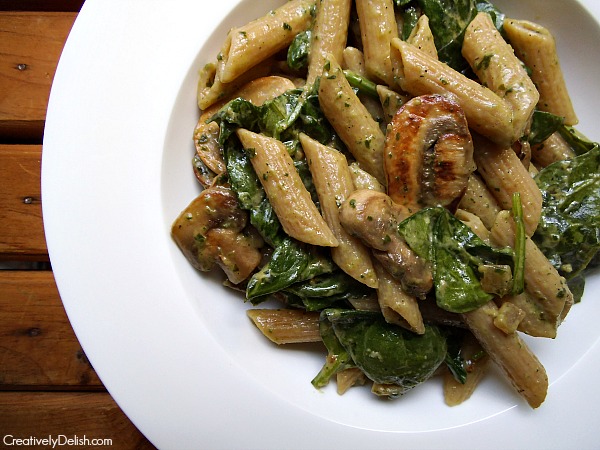 The idea came up because I had some leftover pesto in the fridge and naturally I was craving some fresh pesto...because who doesn't?
I was in the mood for more of a "comfort food" which usually means cream, butter and cheese.
That was definitely not going to happen, but then I thought, why not add in Greek yogurt to make it creamy?!
It was the best idea yet.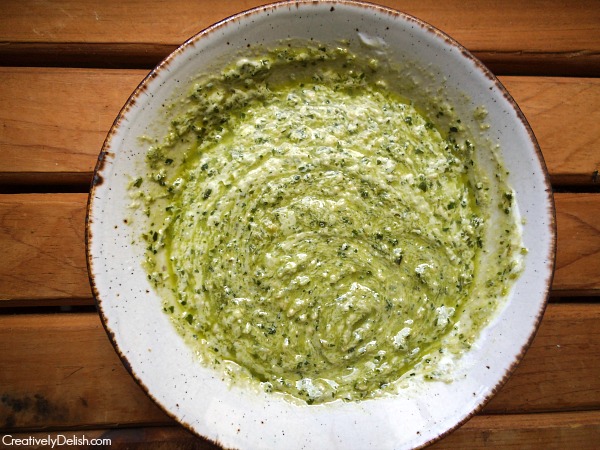 The dish took less than 30 minutes to put together with very little in the way of dishes to deal with afterwards.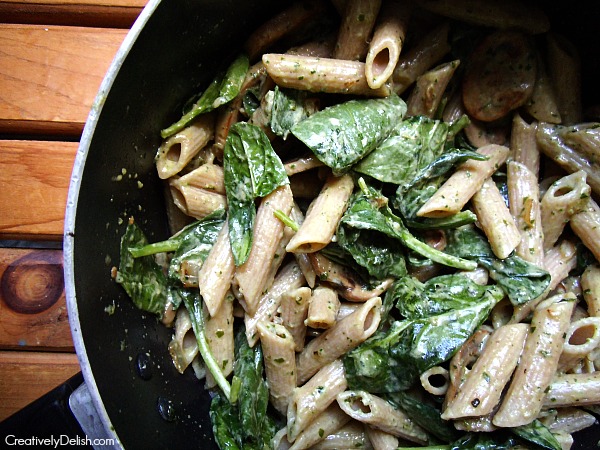 What's also great is that this whole meal cost under $5.00 to put together!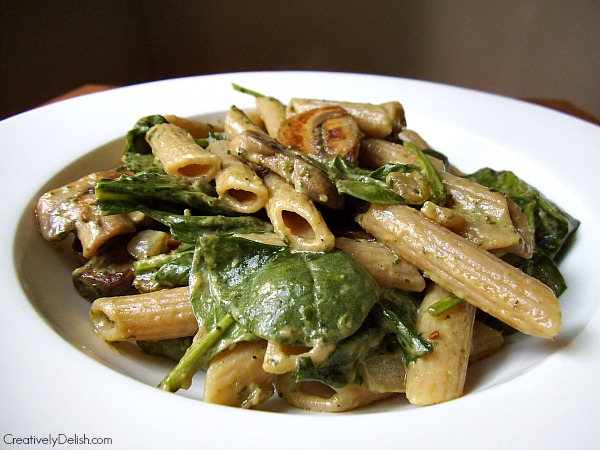 Creamy Pesto Penne with Mushrooms & Spinach
Ingredients
¼ C nonfat plain greek yogurt
⅓-1/2 C fresh basil pesto
2 C baby spinach
1 pint sliced mushrooms
2 garlic cloves, minced
½ yellow onion, sliced
salt and pepper
olive oil
1 C penne pasta (about ½ C per serving)
Instructions
Cook pasta according to package directions then keep the pasta, drained, in the pot.
In a saute pan, heat some olive oil and cook the garlic and onion for two minutes, then add the mushrooms and cook until the mushrooms and onions have just slightly caramelized. This should take about 10 minutes over medium heat.
Add the spinach to the pan and cover for 2 minutes to let the spinach wilt slightly.
In a bowl, mix together the yogurt and pesto. Taste test and mix in more or less of one ingredient to get it to the consistency you want - the measurements I gave are what I preferred)
Combine all ingredients with the penne, stirring well, and enjoy!