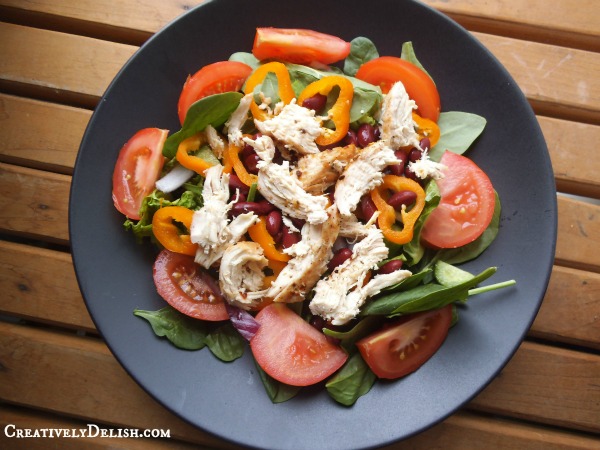 Creole Shredded Chicken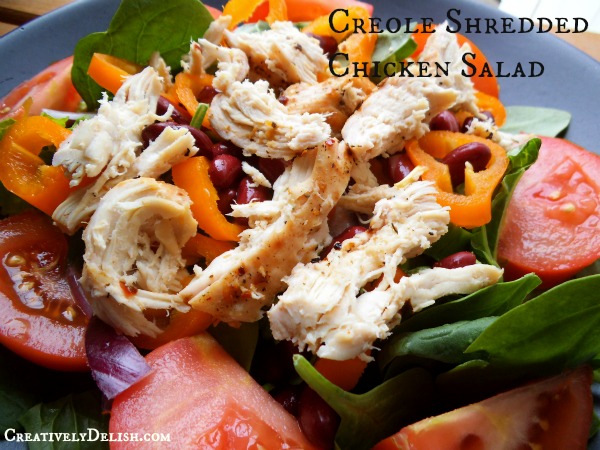 Salad doesn't have to be boring!  Not when you can top baby spinach with red kidney beans, baby orange sweet peppers, fresh tomatoes and cucumbers andddd......shredded chicken with creole seasoning.  YUM.  Thats definitely not a boring salad.
In the summer, the only way to cook chicken is on the grill, but when it's wintertime, baking is the way to go.  Pop it in the oven with some seasonings and olive oil and let it bake for 30 minutes.  What emerges from the oven is pure juicy goodness, and since it slowly baked in the oven, those flavors in the seasonings really cook in, so you get flavor through and through.  Shred it with a fork and voila - you can have BBQ chicken sandwiches, quesadillas, throw it into a soup, or do what I did today...have a salad!
The creole seasoning I have was hard to find - I had to wait until I visited my parents in South Carolina to get it!  But it's great, I add it to eggs in the morning too.  There are similar brands out there, but look for one that has big pieces of the spices in, not something thats very ground down.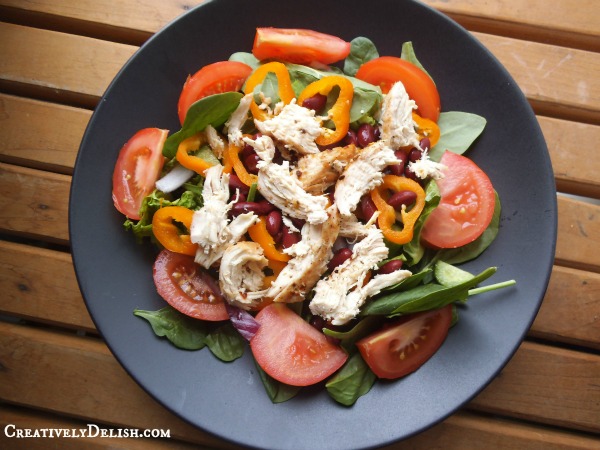 Creole Shredded Chicken
Prep time:
Cook time:
Total time:
Ingredients
1 boneless, skinless chicken breast, trimmed
olive oil
salt and pepper
creole seasoning
Instructions
Preheat oven to 375.
In a baking dish, coat chicken in olive oil with a dash of salt & pepper and then cover with creole seasoning. I didn't measure any of this, so use your own discretion.
Bake chicken for 30 minutes or until cooked through
Shred with a fork
3.1.09