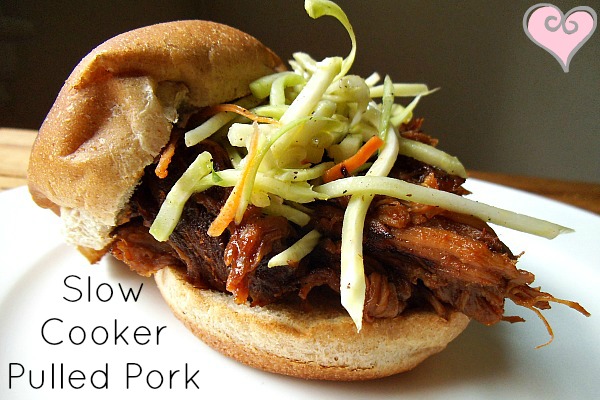 The Easiest Slow Cooker Pulled Pork Recipe…Ever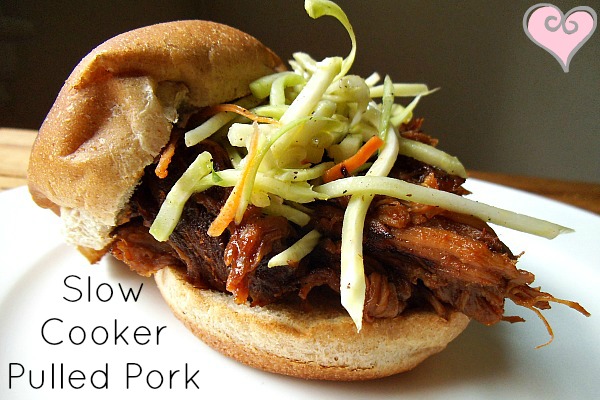 The easiest four-ingredient slow cooker pulled pork recipe you'll ever make, and so darn delicious you might cry tears of joy.
Lately I've been on a mission to encourage others to choose more sustainable and environmentally healthy foods.  On Saturday morning as I sat down to relax with my cup of coffee, I turned the TV on only to find the documentary, Food, Inc. was airing.
If you've never seen this documentary, I urge you to watch it.  It opened my eyes to so many other topics in the food industry besides the basics of processing, etc, and I am appreciating more and more the benefits and effects clean eating has on this world.
So why am I talking about this in a post about pulled pork?  It's simple - I took a really careful look at what I was using to make this recipe and immediately ran to the store to purchase new items.
What do I mean?  Just read the ingredients list below.  The first picture is from a Sweet Baby Rays BBQ sauce label.  There were two actual ingredients I knew in it!  I got queasy just thinking about how it.  The second picture is of a BBQ sauce from Trader Joes, and although the last ingredient is "caramel color" which I don't know, I at least know what everything else was.  I started with the first bottle but quickly ran back to the store to find the TJ's brand with ingredients I know - it's shocking what our food system is capable of.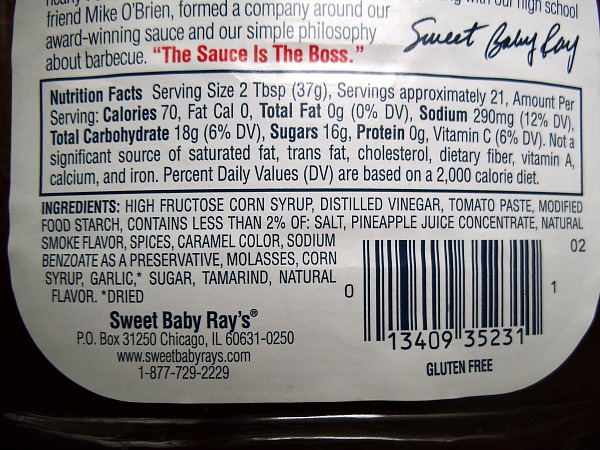 Yuck!!!  High fructose corn syrup, modified food starch, sodium benzoate, corn syrup...?????
Ok, now for something a little closer to reality...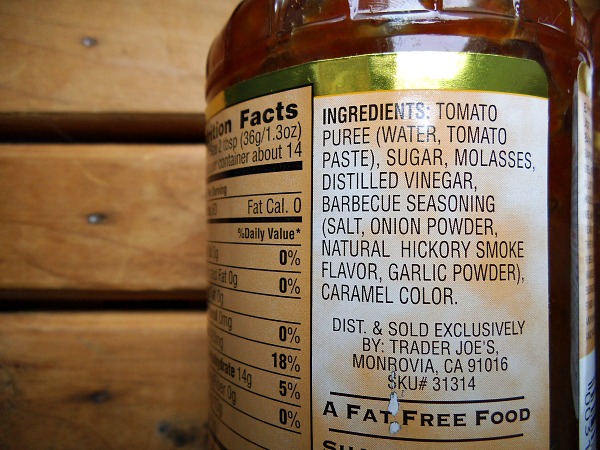 Ah yes, that's much better (besides the caramel color...really TJ's?!).
It's hard to find the right foods these days, but thankfully with places like Whole Foods, I was able to purchase the pork there where the standards are set high, along with locally grown onions and beer from a local brewery.  I used organic whole wheat buns too.
So let's get back to this delicious pulled pork!!!!
After it slow cooked for 8 hours, I removed it and shredded it...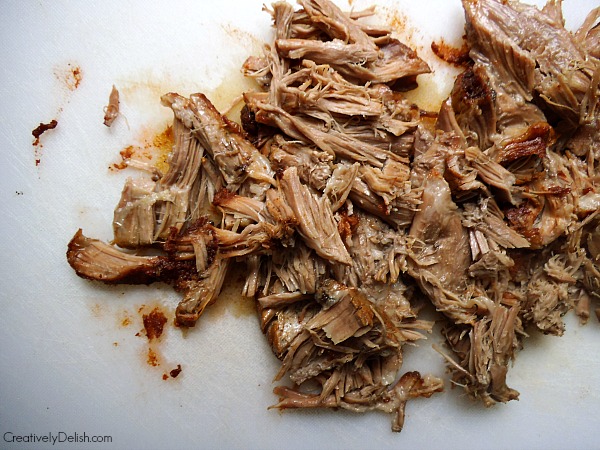 Then give it a good sear in a pan with some more sauce to caramelize a few pieces..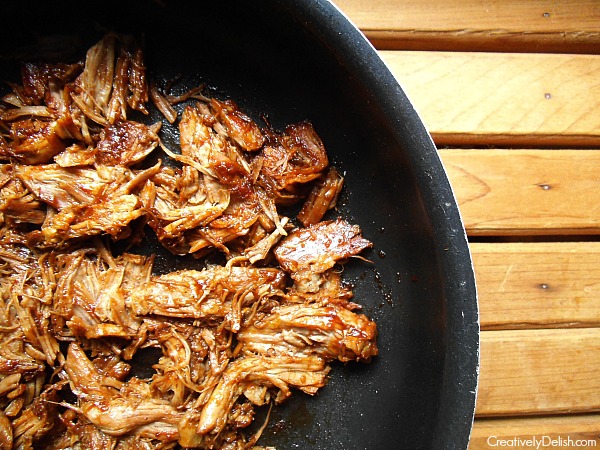 Put it into a bowl to cool and assemble the Broccoli Coleslaw Minus the Mayo.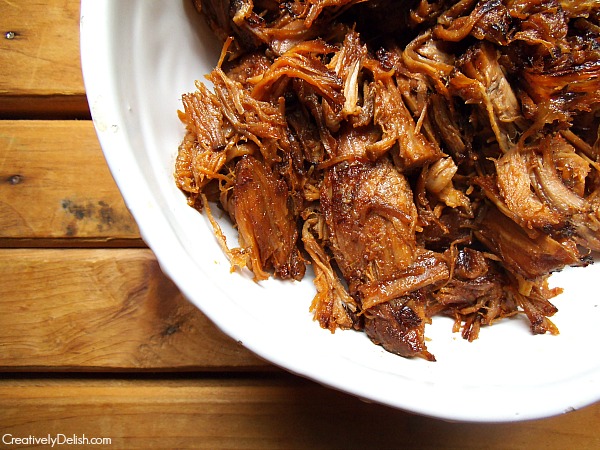 The Broccoli Coleslaw Minus the Mayo has a slightly sweet yet perfectly tangy taste that went so perfectly with the sandwiches.  The satisfying crunch was more than I could have dreamed of.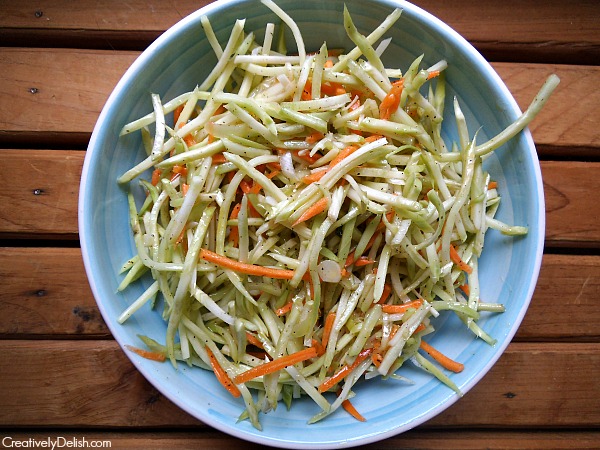 Toasted the buns then served 'em up!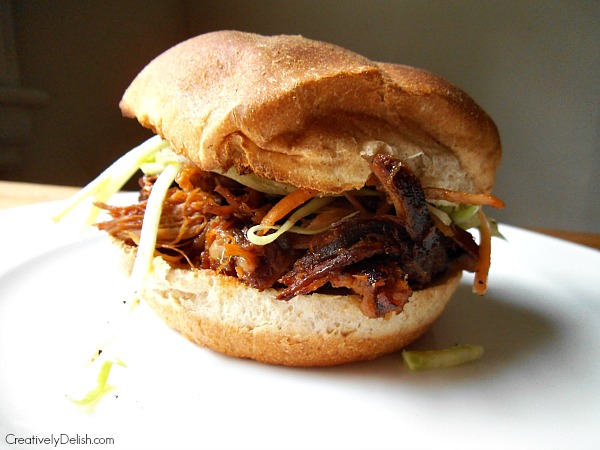 ...and very quickly devoured them!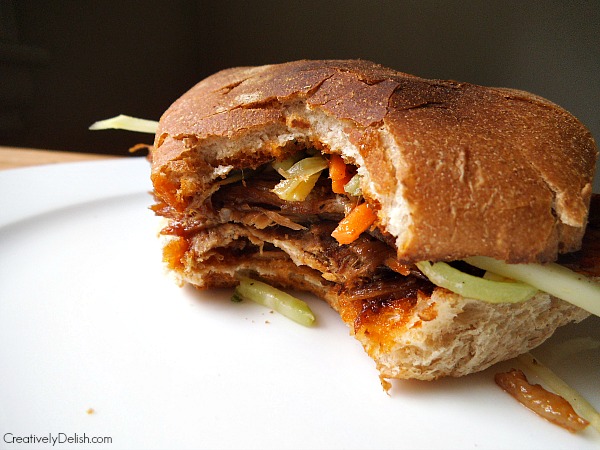 Enjoy!
The Easiest Slow Cooker Pulled Pork Recipe...Ever
Ingredients
2lb pork butt, most of the fat trimmed off
2 large onions, quartered
1 16oz bottle light ale beer
1 C BBQ sauce + more for serving
Instructions
Place the onions in the bottom of a slow cooker, place the pork butt on top then pour BBQ sauce and beer over the pork.
Cover and cook on low for 8 hours or high for 4 hours.
Carefully remove the pork and shred the meat - discard the onions and juice unless you want to put the onions on your sandwich.
In a heated saute pan, stir the pulled pork with about another 1/4 cup of BBQ sauce, letting some of the outsides of some pork pieces begin to caramelize.
Serve on a bun (I used an organic whole wheat bun) with some Mayo-less Broccoli-Slaw (link to the recipe is in the post)