Spicy Beef & "Noodles"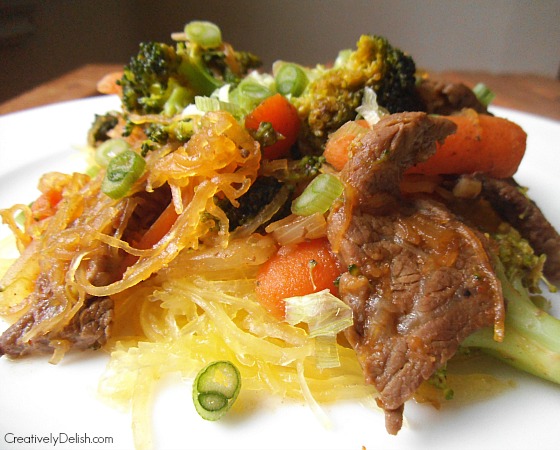 ½ cooked spaghetti squash, noodles removed and set aside
2 strips sirloin beef, trimmed of fat and cut thinly against the grain
1 TBS minced garlic
1 TBS minced ginger
1 small head broccoli, florets cut
6 baby carrots, sliced into ¼'s lengthwise
½ C sliced mushrooms
½ onion, sliced
¼ C beef broth
3 scallions, thinly sliced
Sauce:
¼ C soy sauce
1 tsp sesame oil
1 tsp sirracha
1 1.2 TBS honey
red pepper flakes
In a hot pan, heat a little oil and add in garlic, ginger and beef. Be sure not to crowd the pan - you want each piece of beef to brown up evenly, and if you have a huge pile of beef, it won't cook properly. Cook half first if easier then the second half.
While the beef is cooking, prepare the veggies, slicing them up. Once the beef is done, transfer that to a plate and add veggies and broth to pan. Bring the broth to a low simmer then cover and let the veggies steam until slightly soft. To be sure your carrots and broccoli still have a small crunch to them, look for a bright orange and green color. Overcooked veggies will loose their color and dull out.
While the veggies are steaming (about 10 minutes) assemble your sauce in a bowl by mixing all ingredients together.
Add the beef back in with the sauce and stir to coat everything. Add in the spaghetti squash and stir again to combine.
Serve with thinly sliced scallions and enjoy!