Island Style Steak with Grilled Pineapple Salsa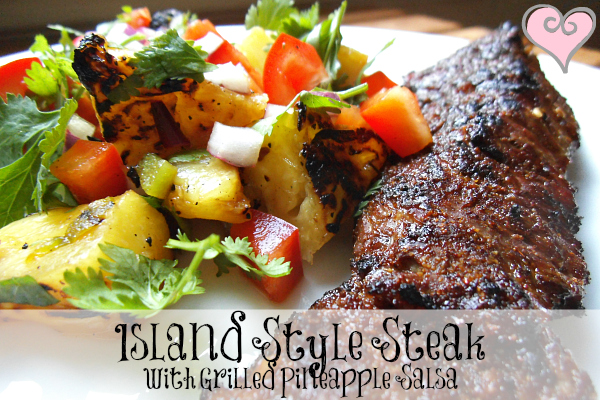 2oz per serving skit, flank or lean sirloin
2 tsp chili powder
2 tsp garlic powder
2 tsp cumin
2 tsp light brown sugar
1 whole pinapple, sides removed, cut into slices with the center removed
1 jalapeno, seeded and coated in olive oil
1 red bell pepper, diced
½ large red onion, diced
juice of 1 lime
half a bunch of cilantro chopped
In a small bowl, combine chili powder, garlic, cumin and sugar then rub the mixture on to the beef on both sides. Let it sit for 20 minutes in the fridge then 10 minutes on the counter before cooking to lock in the flavor.
Heat a grill or grill pan and grill pineapple and jalapeno on both sides until charred. Remove and transfer to a cutting board.
Grill meat on both sides until cooked to your liking, making sure you see a few char marks on each side.
To prepare the salsa, cut up the pineapple into smaller pieces, chop the jalapeno and transfer in to a bowl. Add the remaining ingredients and let it sit for 10 minutes before serving.
These can be served with just the beef and salsa but would also be fabulous served taco style.
Recipe by
Creatively Delish
at https://creativelydelish.com/island-style-steak-grilled-pineapple-salsa/