Asian Style Steak with Grilled Sesame Asparagus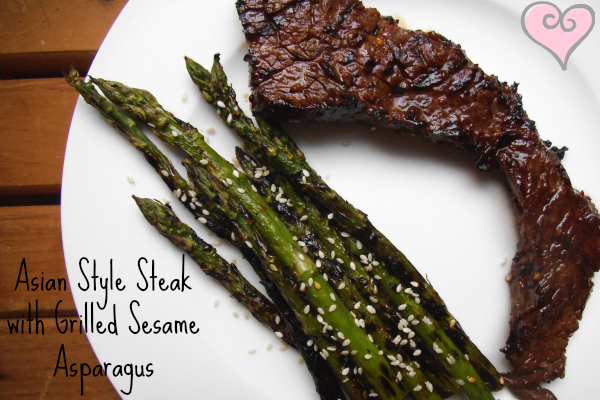 2oz skirt, flank or lean sirloin steak per serving
3 TBS low-sodium tamari or soy sauce
2 tsp honey
1 tsp sesame oil
1 tsp red pepper flakes
1 tsp minced garlic
20 asparagus, end trimmed - 10 per serving
1 TBS sesame seeds
sesame oil for asparagus (about 1 tsp)
Prepare the grill for cooking.
In a bowl, combine tamari or soy sauce, honey, 1 tsp sesame oil, red pepper flakes and minced garlic. Pour the mixture over the steak and let it marinate in the fridge for 20 minutes, then let it rest on the counter for 10.
To prepare the asparagus, drizzle them with the sesame oil and ½ TBS of sesame seeds. Mix with hands to combine.
Place beef and asparagus on the grill and cook until all sides are slightly charred, or cooked to your liking.
Transfer the beef to a cutting board and let it res for 5 minutes before cutting - this will lock in the juices!
Sprinkle remaining ½ TBS sesame seeds over asparagus and enjoy!
Recipe by
Creatively Delish
at https://creativelydelish.com/asian-style-steak-grilled-sesame-asparagus/