Italian Turkey & Farro Stuffed Peppers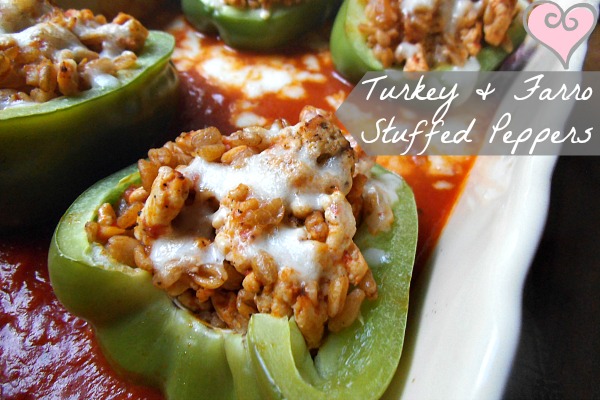 ½ lb lean ground turkey
1 small jar marinara sauce (I used the small jar of Rao's)
2 large green peppers, cleaned then cut in half lengthwise. Remove all the insides.
½ C fresh mozzarella cheese, shredded
½ C cooked farro
3 garlic cloves, minced
½ sweet yellow onion, diced
1 TBS olive oil
salt, pepper, red pepper flakes
Preheat the oven to 400 and set aside a deep baking dish with about a ½ cup marinara poured over the bottom.
In a large pan, cook the turkey until it's no longer pink, then add the olive oil, garlic, onion and about 1 tsp of each salt, pepper and red pepper flakes. Cook for about 5 minutes, stirring occasionally.
Stir in ½ cup of marinara and ¼ cup shredded mozzarella cheese and let it sit over low heat for 5 minutes, then add in the farro and stir again.
Using a spoon, spoon some mixture in to each pepper, then place the peppers in the baking dish. Sprinkle the remaining cheese over the peppers, then cover with tin foil and bake for 30 minutes.
Remove the foil and broil on low for 2 minutes to let the cheese bubble up, then let it sit to cool for 10 minutes before serving.
Recipe by
Creatively Delish
at https://creativelydelish.com/italian-turkey-farro-stuffed-peppers/