Herb Crusted Chicken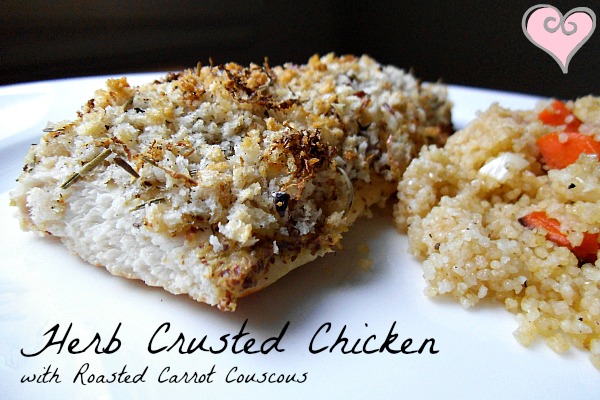 2 large chicken breasts, cut in half lengthwise to make 4 thin fillets
country dijon mustard (enough to cover both sides of the chicken in a thin layer
1 TBS fresh thyme
1 tsp fresh rosemary
1 tsp garlic powder
1 tsp salt
1 tsp ground black pepper
1 C panko
zest from ¼ lemon
1 tsp red pepper flakes
Preheat the oven to 400.
In a large bowl, combine thyme, rosemary, garlic powder, salt, pepper, panko, lemon zest and red pepper flakes.
Prepare a baking sheet with tin foil. Make a thin layer of mustard over each side of the chicken, then put them on the baking sheet.
Sprinkle the panko mix over the tops of each chicken, patting it down slightly to get the mustard to hold the mix.
Bake for 25 minutes or until chicken is done, then enjoy!