Steak Fajita Quesadilla's with Spicy Simmered Pinto Beans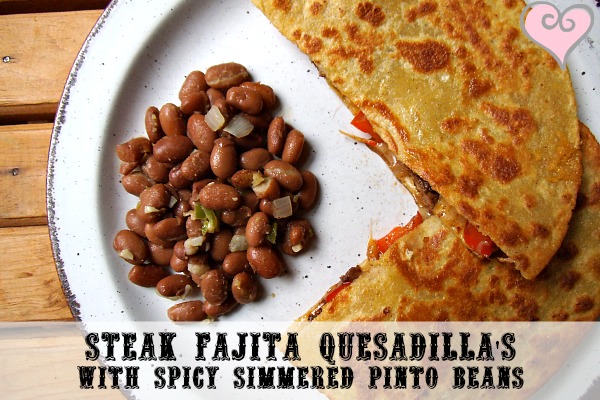 1 lb of a good cut of beef, sliced thin against the grain
½ onion sliced + ½ onion diced
1 red bell pepper, sliced
1 jalapeno, seeded and diced
2 garlic cloves, minced
1 16oz can pinto beans, rinsed and drained
2 tsp cumin
1 tsp garlic powder
1 tsp chili powder
salt and pepper
¼-1/2 C low sodium chicken broth
corn or flour tortillas
cheese of your choice, shredded
In a large heated pan, add some olive oil and cook sliced onions and peppers for 4 minutes, then add the beef and cook each side of the beef for 2-3 minutes. The slices of beef should be thin so it shouldn't take long to cook.
Add in 1 tsp cumin, as well as the chili powder, garlic powder and about 1 tsp each of s&p.
Remove from heat and set aside.
In a saucepan, add some oil and cook diced onion, garlic and jalapeno for 2 minutes, then add 1 tsp cumin, pinto beans and ¼ c broth. Let it simmer and add more broth if needed. Drain the broth after 8 minutes and set the beans aside.
Assemble the quesadillas with cheese and beef mixture and cook each side for 3-4 minutes, allowing each side to brown.
Serve with the beans.
Recipe by
Creatively Delish
at https://creativelydelish.com/spicy-simmered-pinto-beans/