Chicken & Carrot Stew over Couscous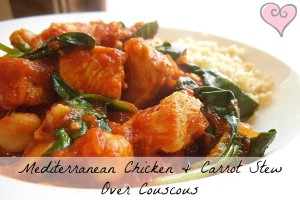 1 pound chicken breasts, fat trimmed and diced into smaller peices
1 TBS olive oil
salt and pepper
1 medium onion, sliced thin
4 garlic cloves, sliced thin
3 carrots, peeled, halved lengthwise and diced
1 TBS oregano
1 28-ounce can crushed tomatoes
1 can chickpeas, rinsed and drained
1 8-ounce bag baby spinach
1 C dry whole wheat couscous
1 C water
In a large soup pot, heat oil over medium-high heat and add chicken, seasoning with salt and pepper. Remove chicken once cooked and browned.
Add onion, garlic and carrots. Cook until onions have browned slightly.
Return chicken to the pot and stir in tomatoes, oregano and chickpeas. Cover and simmer for 15 minutes or until the soup has thickened.
In a small saucepan, bring 1 cup of water to a boil. Once boiling, remove from heat, pour in couscous, cover and let it sit for 5 minutes, fluff with a fork.
Once the stew has cooked for 15 minutes, stir in spinach, letting the leaves wilt down slightly.
Serve one cup of stew with ¼ cup couscous.
Recipe by
Creatively Delish
at https://creativelydelish.com/chicken-carrot-stew-couscous/