Chicken & Mushroom Risotto with Peas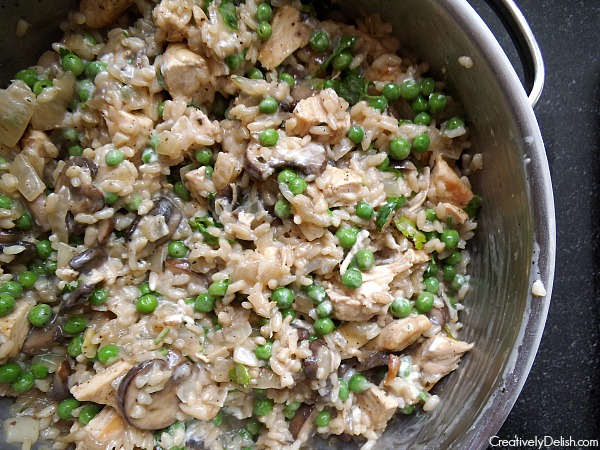 1 lb chicken fillets, fat trimmed and seasoned with s&p
2.5 C low sodium chicken stock
½ C water
1 TBS olive oil
1 sweet onion, chopped
8 oz baby bella mushrooms
3 cloves garlic, minced
1 TBS fresh thyme leaves
½ C dry white wine
1 C arborio rice
salt and pepper
2 TBS ⅓ less fat cream cheese
¼ C chopped fresh parsley
1 C frozen peas
Preheat the oven to 450 and line a baking sheet with tin foil. Place the chicken fillets on the sheet and bake for 20-25 minutes, or until cooked through, then chop.
While the chicken bakes, in a small saucepan, combine chicken stock and water and bring to a boil, then lower to a slight simmer.
In a deep saute pan, heat olive oil over medium-high heat and cook onions for 4 minutes or until softened. Add the garlic, thyme, and mushrooms and cook for another 2 minutes, stirring constantly.
Add the white wine and stir to scrape up any browned bits from the bottom of the pan (1 minute) then add rice. Stir and let it cook for about 2 minutes then add ½ cup stock mix and keep stirring until the rice absorbs the liquid. At this point the chicken should be done and chopped, or almost done, so be sure to add the chicken in to the rice mixture as soon as you can.
Continue ladling ½ cups of stock, waiting each time for the liquid to be absorbed before adding another ladle, until you are out of stock. This should take about 20 minutes and you will need to stir it constantly.
Once finished, remove from heat and stir in fresh parsley, cream cheese, peas and some salt and pepper. Combine until the consistency is creamy then serve with fresh thyme leaves to garnish.
Recipe by
Creatively Delish
at https://creativelydelish.com/chicken-mushroom-risotto-with-peas/