Hearty Vegetable Stew with White Beans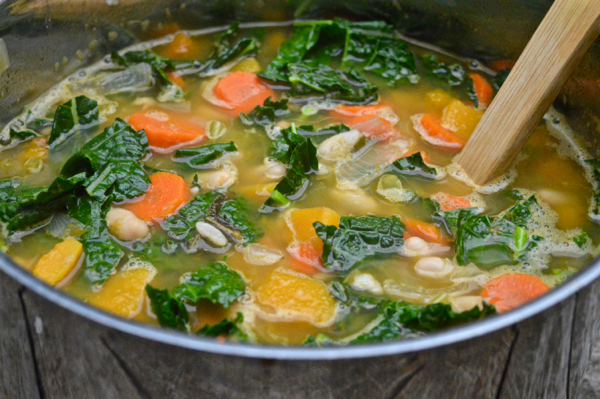 1 TBS olive oil
4 cloves garlic, chopped
2 onion, chopped
5 large carrots, peeled and sliced thin
1 head of celery, sliced thin
4 leaves of sage, sliced
1 butternut squash, peeled, seeds removed and chopped
6-8 cups vegetable broth
salt and pepper
1 head lacinato (dinosaur) kale
4 cans white beans, drained and rinsed
parmesan cheese
In a large pot, heat the olive oil and stir in the onions and garlic. Saute until fragrant, then add the celery and carrots, stirring occasionally. Let that cook for 8-10 minutes over medium-high heat.
Add in the sage, broth and squash and stir to combine. Add salt and pepper - a few dashes of each to start with, and let that simmer on low heat for 20-30 minutes, covered.
Add in the beans and kale, stir to combine, and cook for another 10-15 minutes on low heat.
Serve with parmesan cheese and bread for dipping!
Recipe by
Creatively Delish
at https://creativelydelish.com/vegetable-stew/