Seared Tautog with Creamy Tomatoes and Cornmeal Fried Okra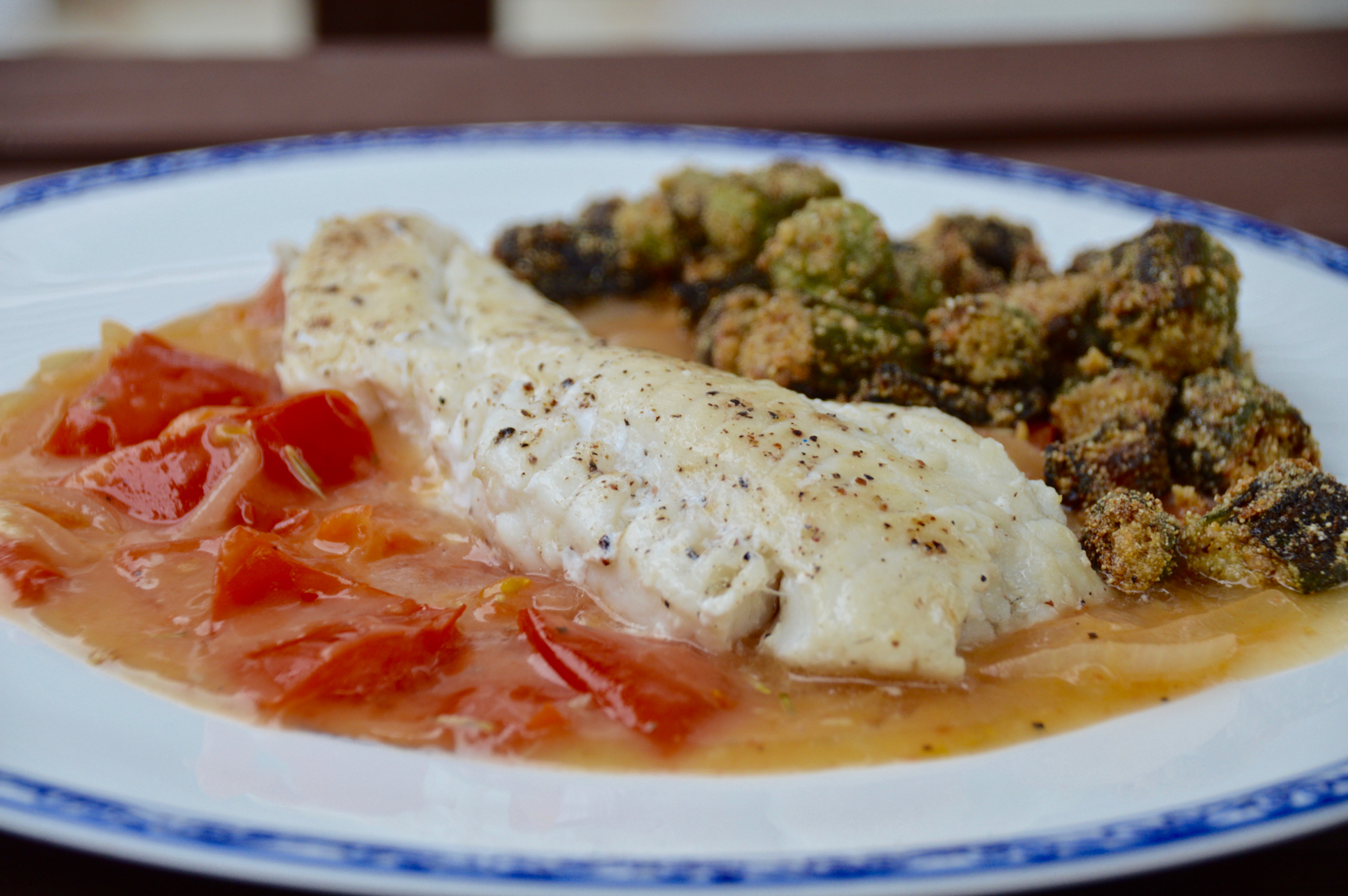 2 lb fresh tautog (blackfish) filets - or any white flakey fish, 4 filets with skin removed
4 tomatoes, chopped
1 small sweet onion, thinly sliced
1 garlic clove, smashed
Juice of 1 lemon
1 TBS fresh rosemary
1.5 C low sodium chicken broth
2 TBS flour
canola oil, salt and pepper
1 lb okra, chopped
2 egg whites
pinch of cayenne
⅓ C fine ground cornmeal
In a large skillet, heat about 2 TBS canola oil over medium high. Cook tomatoes, onion, garlic and rosemary until onions turn transparent and tomatoes start to break down, about 5 minutes. Season with a bit of salt and pepper. In a small bowl, whisk broth and flour together. Add that to the pan and stir to combine. Bring to a low simmer and allow to thicken, about 5-8 minutes. Stir in lemon juice and add salt and pepper to taste. Set aside.
In a large bowl, combine okra, egg whites, cayenne, salt and pepper and stir to combine. Using another large skillet, heat 2 TBS canola oil over medium high. Add okra, then cover and cook about 8 minutes, stirring occasionally, until they turn bright green. Take the cover off, stir to break up pieces and add more oil or cornmeal if needed. Continue lightly frying for about 15 minutes or until okra becomes browned and crispy.
Using the same pan as the okra, wipe the pan with a towel to get the excess cornmeal out, then heat a little oil again (about 1 TBS). Season the filets of fish with salt and pepper on both sides, then place the fish filets down into the pan. Let each side cook about 5-8 minutes, depending on the thickness of the fish, until the fish is cooked through.
To serve, ladle tomatoes on the bottom, then place a filet on the top. Spoon some fried okra on the side, then serve. Okra and tomatoes are like PB&J, so go ahead and mix them up if you please!
Recipe by
Creatively Delish
at https://creativelydelish.com/tautog-with-creamy-tomatoes-and-cornmeal-fried-okra/