Mediterranean Bluefish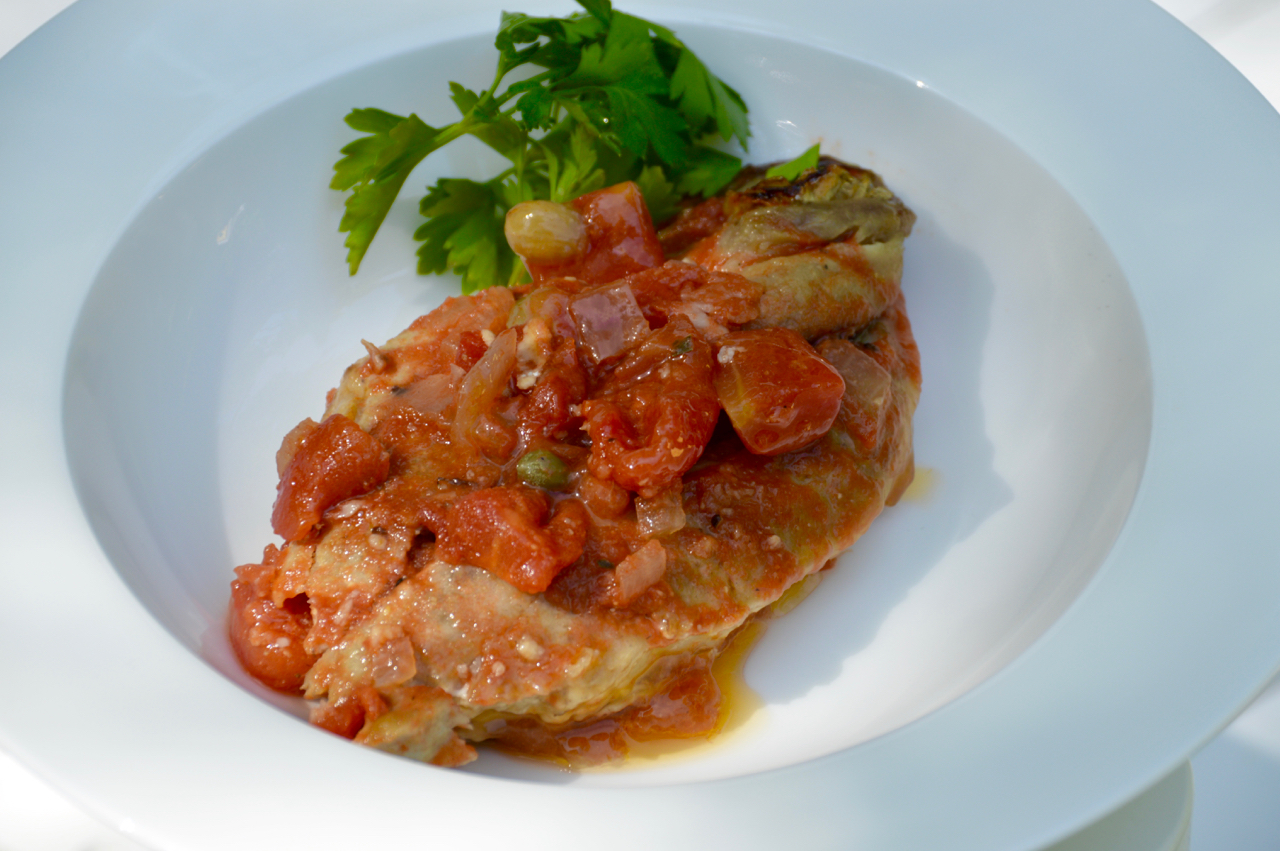 1 pound bluefish filets - the smaller the bluefish, the better it will taste
4 C red wine vinegar (or enough to fully immerse the filets)
⅓ C olive oil
1 small red onion, finely chopped
1 28-oz can diced tomatoes
10 garlic cloves, crushed
1 tsp all-natural sweet Spanish paprika
2 tsp organic ground cumin
½ tsp cayenne pepper (optional)
1½ tbsp capers
Salt and pepper to taste
⅓ cup golden raisins
Juice of ½ lemon
1 TBS butter
grated parmesan cheese
Fresh parsley or mint for garnish
Marinate the fish: In a deep dish, put the fish in and then pour enough vinegar over to fully immerse the fish. Let the fish sit and marinate in the vinegar for 30 minutes.
While the fish marinates, prepare the tomato sauce. In a medium saucepan, heat olive oil over medium-high heat until oil is shimmering.
Add onions, cook until it begins to turn gold in color, tossing regularly. Add tomatoes, garlic, spices, pinch of salt (not too much) and pepper, capers, and raisins. Bring to a boil, then turn heat down to medium-low and let simmer for 15 minutes or so.
Once fish has marinated, remove the fish from the vinegar and discard the vinegar. Set the broiler to high and make sure the rack is in the middle of the oven. Broil the fish for about 5 minutes, or until the fish is almost all the way cooked through. Remove the fish from the oven.
In a large saute pan, heat the butter over medium-high. Once melted, place fish down into the pan and season with a little salt, pepper and a sprinkle of parmesan cheese. Let the fish simmer for about 2-3 minutes each side, repeating the salt, pepper and cheese on the other side.
Pour lemon juice into the sauce, stir and taste for more salt if needed. Pour the sauce over the fish into the saute pan, letting it come to a simmer and allowing the flavors to come together (about 5 minutes).
Serve immediately with extra sauce spooned over the top of the fish.