Ahi Tuna Nachos with Firecracker Slaw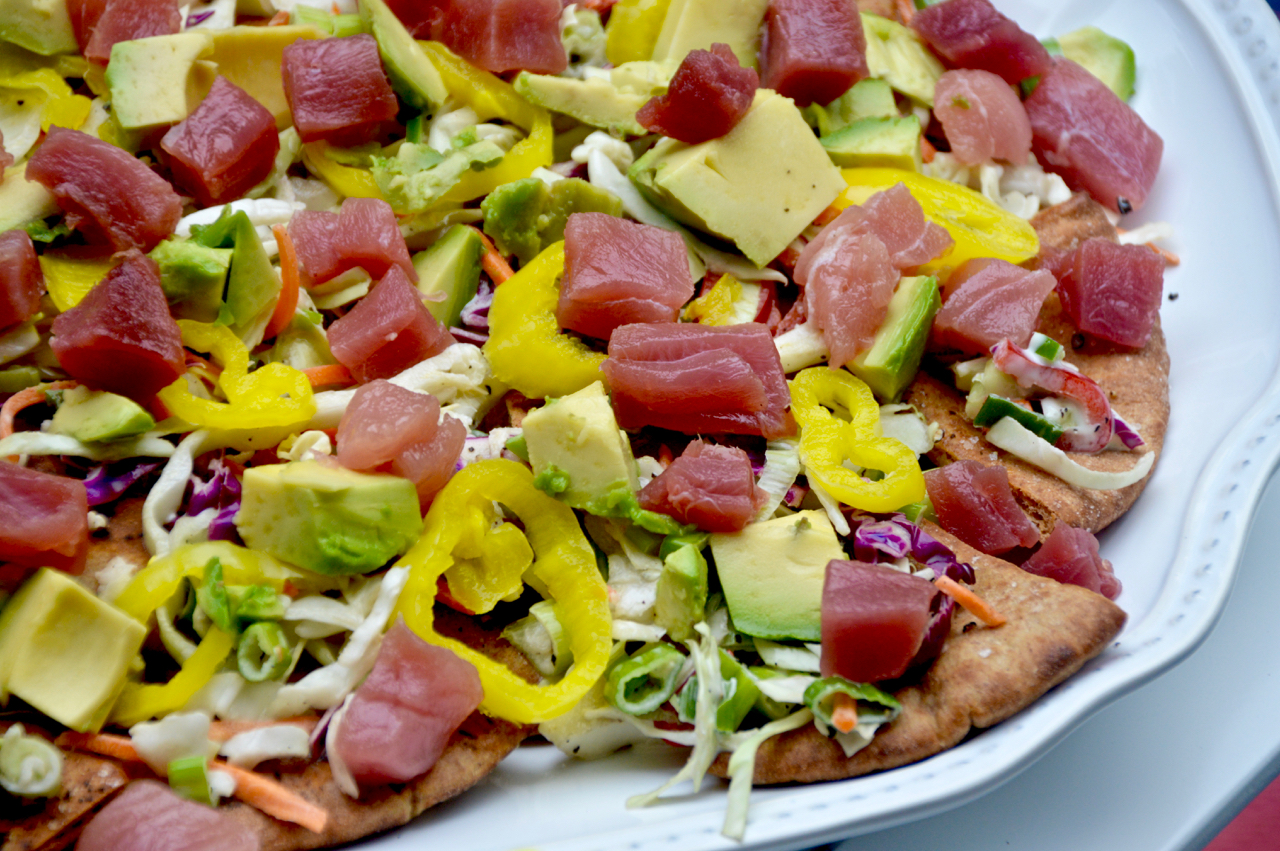 1 pkg whole wheat pita rounds
olive oil
salt
diced sushi grade tuna
1 avocado, diced
pickled banana peppers
1 pkg cabbage and carrot slaw mix, about 3 Cups (I use the one from Trader Joes, or you can use a small sliced cabbage and a package of matchstick carrots)
1 bunch thinly sliced scallions
¼ C canola mayonnaise
1 Fresno chile, seeded and sliced thin
1 jalapeño, seeded and sliced thin
2 TBS apple cider vinegar
1 tsp granulated sugar
salt and pepper to taste
Preheat the oven to 400 and line a baking sheet with tin foil.
Quarter the pita rounds, then brush both sides with olive oil and a sprinkle of salt. Bake pitas in an even layer on the baking sheet for 12-15 minutes, or until they are crispy. Set aside to cool.
In a bowl, combine cabbage and carrot mix, scallions, mayo, chile, jalapeño, vinegar and sugar. Stir to combine, then add salt and pepper to taste. Set aside.
Arrange the pita chips on a plate, then use a slotted spoon (to get some of the juices from the slaw out) to spoon the slaw mix over the pitas. Next top with banana peppers, then the diced tuna, then the avocado.
Serve immediately. Store any leftover tuna in an airtight bag in the fridge and the slaw in a tupperware container in the fridge.
Recipe by
Creatively Delish
at https://creativelydelish.com/ahi-tuna-nachos-with-firecracker-slaw/