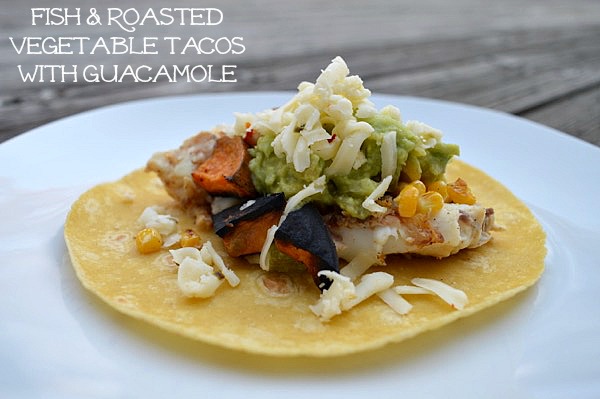 Fish & Roasted Vegetable Tacos with Guacamole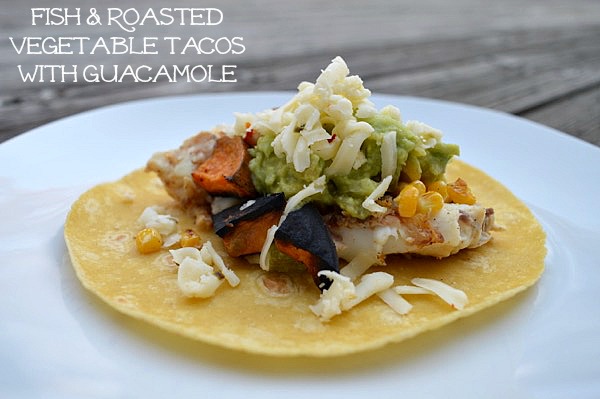 Fresh striped bass is the star in these fresh tacos.  Just roast up some quick vegetables, whip up some guacamole and dinner is ready in minutes.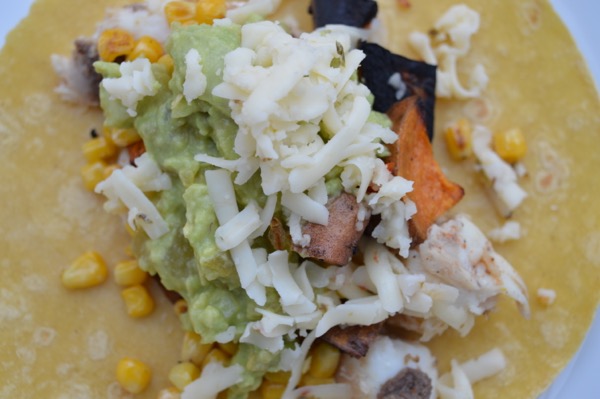 Now that the fish have headed back to Cape Cod, Ryan has been out nearly every day searching and catching keepers which I then get to enjoy in our meals!
Fresh wild caught fish is something that just can't be beat, and this was perfect for a quick weeknight dinner.  Vegetable tacos or quesadillas are one of our favorite meal ideas, especially topped with some freshly made guacamole.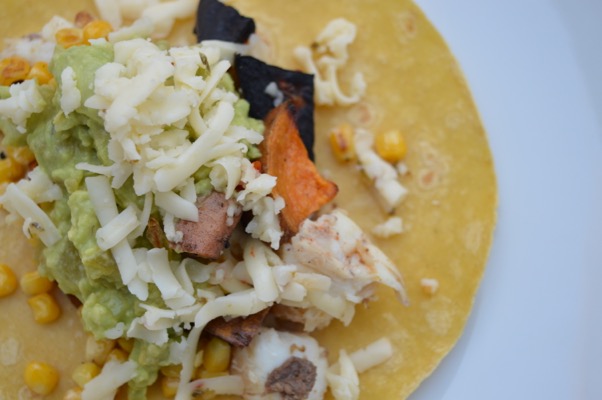 I'm also super excited to test out my new Nikon!  These are the first pictures taken with the new camera and I think they came out pretty darn good!  Learning the many different settings, etc has proved difficult and confusing at times, but it's been a fun process and the quality of the food pictures will certainly improve!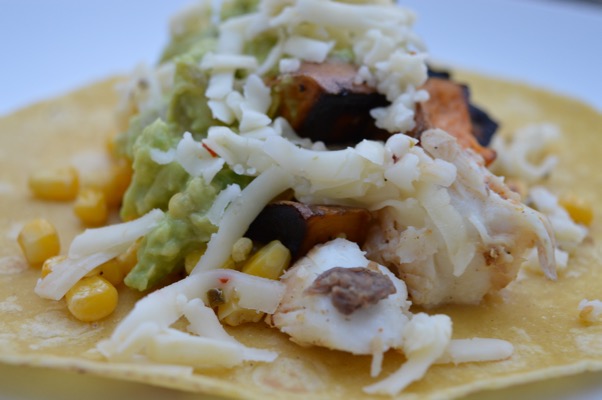 So back to the tacos - I chose roasted sweet potatoes for the sweetness and corn for the crunch.  The flavors worked wonders together with some shredded pepper jack, all loaded in to some corn tortillas.  Minus the time spent roasting the potatoes, this took about 20 minutes to assemble, so if you're in a hurry, try sautéing some onions, mushrooms and corn instead.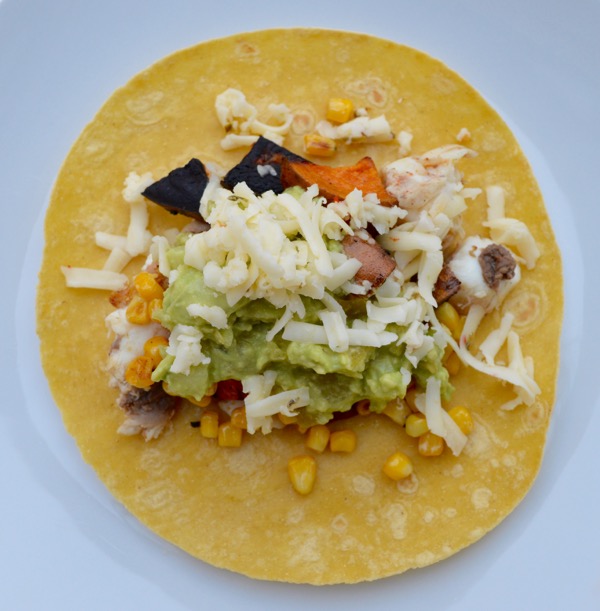 Fish & Roasted Vegetable Tacos with Guacamole
Prep time:
Cook time:
Total time:
Cooking time is longer if you're roasting the potatoes. For a quicker dinner, just saute some onion and mushroom with the corn to save you 30 minutes.
Ingredients
1 lb striped bass, cod, tilapia or other white fish
1 sweet potato, diced
1 C sweet corn, frozen
6-8 corn tortillas
salt and pepper
1 tsp cumin
2 tsp chili powder
1/4 C chopped cilantro
1 avocado, mashed
1 can chopped green chiles
1/2 sweet onion, diced
juice of 1 lime
shredded pepper jack for garnish
Instructions
Heat the oven to 450 and roast the sweet potatoes tossed in some olive oil, salt and pepper, for 30-40 minutes. They are done when the bottoms have browned and the potatoes have cooked through.
In a large pan, heat some olive oil and cook the fish, sprinkled in some salt and pepper with the cumin and chili powder. Once the fish has cooked, remove from the pan and add in the corn, tossing frequently until the corn is cooked and starting to brown. Set aside.
Assemble the guacamole with the mashed avocado, green chiles, cilantro, onion and lime juice. Season with salt to taste.
Warm the tortillas and assemble the tacos with fish, potatoes, corn, guacamole and cheese.
Enjoy!