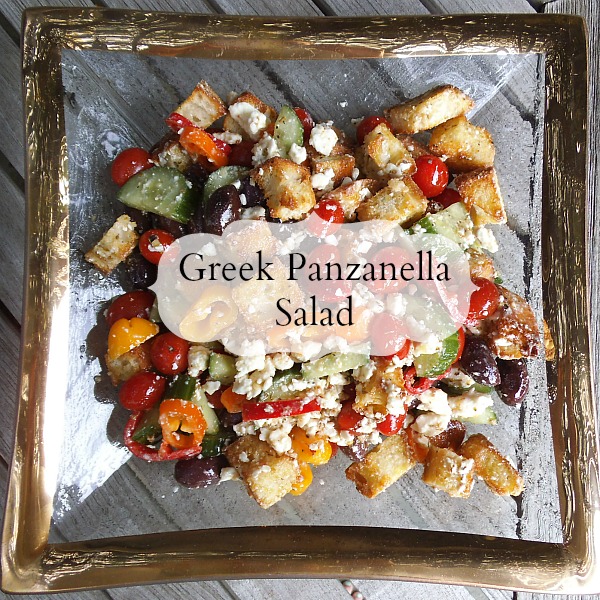 Greek Panzanella Salad
Enjoy the fresh flavors of summer with Greek Panzanella Salad.
 Theres something so wonderful about summertime foods.  Could it be the seafood that was caught the night before?  Or all the produce you can buy by just wandering through an open air farmers market?  I just love it, and what better way to celebrate the start of warm weather than a visit to my parents house in South Carolina for some of my Dad's famous ribs, fried okra and a fresh greek panzanella salad (don't forget the sweet tea of course).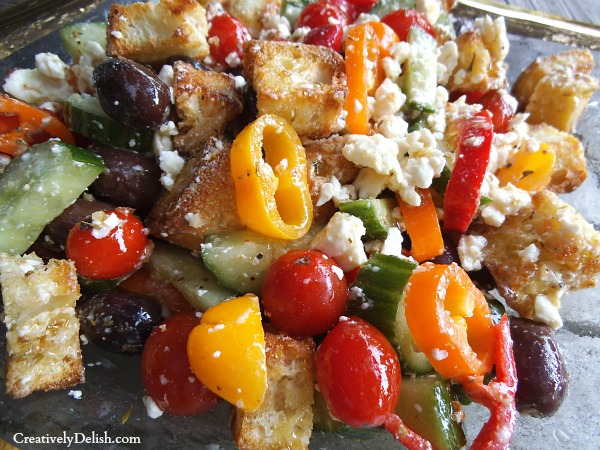 The ribs I can't say much about, not because I don't want to, but because my Dad won't tell me!  Crazy I know, but if everyone knew his rub recipe we would all be making them and that's just not right.  The only thing I know for sure is that he uses ground coffee as part of the rub.  Other than that, I don't care to know because the best part about these is that I'm not making them!  Just throw me a bib and I'm good to go.
To get the recipe for torn sourdough croutons, the perfect addition to this salad, click here.
Greek Panzanella Salad
This was taken right from her cookbook, Ina Garten's "Foolproof" except for how I made the croutons which was different
Ingredients
1 hothouse cucumber, unpeeled, seeded, and sliced 1/4-inch thick
1 red bell pepper, large diced
1 yellow bell pepper, large diced
1 pint cherry or grape tomatoes, halved
1/2 red onion, sliced in half rounds
1/2 pound feta cheese, cut in 1/2-inch cubes
1 bunch fresh basil, thinly sliced
1/2 cup calamata olives, pitted
For the vinaigrette:
2 cloves garlic, minced
1 teaspoon dried oregano
1/2 teaspoon Dijon mustard
1/4 cup good red wine vinegar
1 teaspoon salt
1/2 teaspoon freshly ground black pepper
1/2 cup good olive oil
Instructions
Combine the cucumber, red pepper, yellow pepper, tomatoes, kalamatas, basil, red onion and feta in a large bowl.
For the vinaigrette, whisk together the garlic, oregano, mustard, vinegar, 1 teaspoon salt and the pepper in a small bowl. While still whisking, add the olive oil and make an emulsion. Pour the vinaigrette over the vegetables. Serve at room temperature.