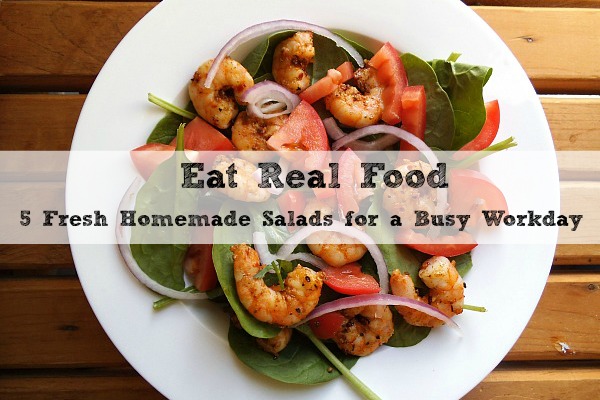 5 Yummy Salads for Your Crazy Workday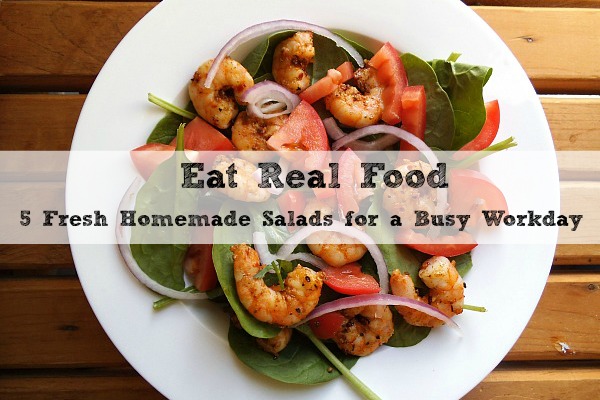 Like many Americans, lunch is typically non-existent.  The only real time anyone has these days is enough to shove something down and move on.  It's habits like this that make Americans choose such unhealthy meals.  Whatever is the fastest, tastiest and cheapest thing will usually do.  When you look at other countries around the world, they celebrate each meal by sitting down to eat, chewing slowly and enjoying nutritious meals, and most of those people are healthier and happier because of it.
A few years back I had made the decision to only eat lunches that I made myself to minimize the amount of processed food I used to eat.  By doing so, I have managed to lose weight and feel really good about what I eat.  Sometimes even I tend to get lazy and order out and when days like that come around, I generally opt for the Whole Foods salad bar for their fresh vegetables and perfectly grilled lean proteins.  So I thought it would be helpful if I started sharing my lunches with you every day - no professional photos or fancy lettering, just what I have for lunch each day.  My mission is to show you how to get creative with your lunches - especially for those that very much dislike lunch altogether.
To break down my lunch each day, I always always always have fresh vegetables or fruits and lean protein.  I view lunch as my opportunity to gain the energy I need for the afternoon, so heavy foods are almost always out.  It's important to build your salad the right way:
Start with a selection of nutritious greens.  Spinach, spring greens, kale or romaine are all great options with the most nutritional-bang for your buck.  Iceberg lettuce will give you very little nutrition but if you like the crunch, just mix it in with one of the other better for you greens.
Load up on healthy proteins.  This can be from chicken, tofu, shrimp, beans or nuts.  Adding in a little quinoa for some fiber is also a great idea.
Choose your fats wisely.  Healthy fats like avocado, nuts and seeds and olive oil are great additions.  Unhealthy fats like croutons, wonton strips or other processed and packaged items should be left on the store shelf.
Watch the sugar!  Store bought dressing contain a huge amount of sugar, which then leads to fat in the body, and there is already a lot of fat in the dressing itself!  Make your own instead - there are tons of recipes out there to try and take no time at all.
Add as many vegetables as you can possibly handle!  The more the merrier.  Then add chopped apple, pear or an orange for some fiber and vitamin c.  Dried cranberries are also a favorite but make sure you get the real deal - read the ingredients, you'll be surprised to learn there are many things in processed dried cranberries that are not necessary.  I love the ones from Whole Foods - all simple ingredients that I could make myself.
Day 1:  A Whole Foods Lunch
I recommend that you choose veggies and fruits that are in season to get the freshest ingredients possible.  At the moment, that would be asparagus.  Below is what I had today, and thankfully I had counted my lucky stars and they actually had fresh grilled asparagus on the salad bar!  That, along with Whole Foods fresh Kale Salad with a Tangerine Dressing, a few pieces of roasted sweet potatoes, tomatoes, cuc's and shredded carrots were the perfect amount of vegetables.  As for dressing, I usually don't have any and instead I dress it with a salsa or just what was on the kale salad.
As a protein, I chose their yummy Buffalo Chicken from the salad bar - skinless grilled chicken breasts tossed in a light spicy sauce.  So delicious over the sweet tangerine kale salad!
Then, throw a small piece of dark chocolate in for dessert and I guarantee you'll be satisfied! (Oh, and that all comes in around 300 calories!)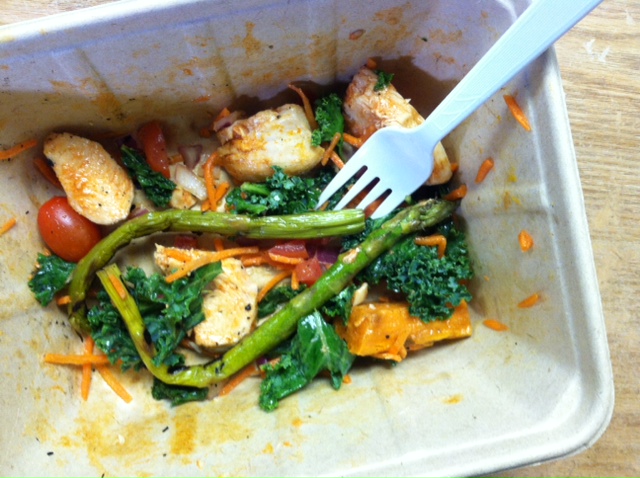 Day 2:  A Savory Leftovers Salad

Last night I made a HUGE dinner consisting of roasted asparagus, Brussels and sweet potato fries, all to go together with a new dish I tried - Crispy Chicken Strips with a Spicy Honey Lemon Glaze (recipe to arrive soon).  It was delish, but wayyyyy too much food - even for Ryan who is the king of the Clean Plate Club.
I always love a salad for lunch and it's especially tasty when there's roasted anything involved.  Whether you roasted potatoes, carrots, beets, zucchini or whatever else, it will taste amazing in a salad.  If you don't have leftover proteins from last nights dinner, add a can of tuna or shred a few pieces of low sodium turkey in there.  If you don't have that either, throw in some beans of your choice for protein and fiber.  My particular salad today included a few pieces of leftover chicken strips, about a cup of Brussels, 5 asparagus spears, 1 tomato and a big handful of shredded carrots.
Since there were so many flavors in this already, I went for a light dressing - this time Amy's Kitchen Low Fat Balsamic.  I also recommend Whole Foods Herbs de Provence Vinaigrette or Trader Joes light Champagne Vinaigrette.  All are very low in sodium and fat.  If you'd rather make your own, a simple olive oil & lemon juice dressing with a dash of s&p will do as well.
Day 3:  Shredded BBQ Chicken & Spinach Salad
...with Avocado Vinaigrette might I add.  Heavenly!
Last night we had this chicken as a sandwich with sliced radishes for crunch, so what better than to throw it in to a salad with cuc's and carrots over spinach and a yummy healthy dressing?!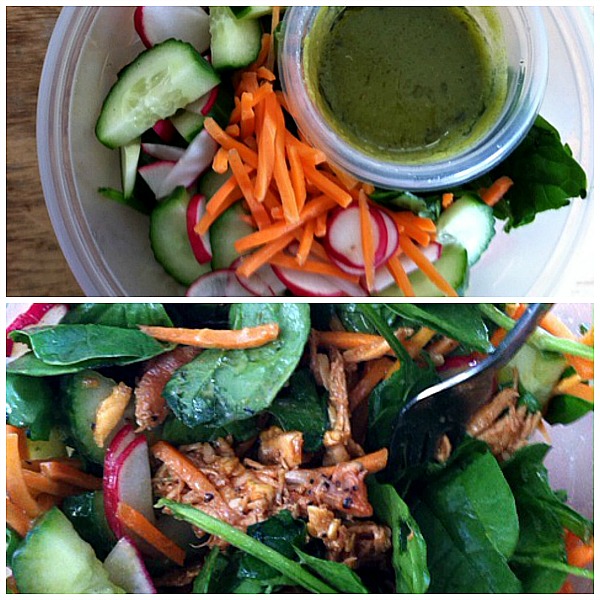 Day 4:  Fruit & Nut Salad with Greek Yogurt
This is a seriously protein-rich lunch that has a perfect balance of healthy fats, protein and carbs to keep you going through the day.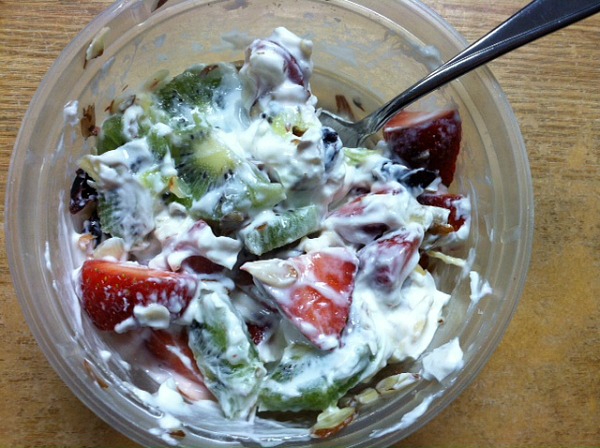 I combined 1/2 cup nonfat plain Greek yogurt with 6 strawberries, cut into quarters along with one kiwi fruit, about 1/8-1/4 cup sliced almonds and a sprinkling of dried cranberries (not craisins...real dried cranberries please!).
I prefer plain Greek yogurt because the flavored kinds have so much added sugars!  Add your own sweetness with the berries instead, and if you want even more flavor and an extra dose of nutrition then add a dash of ground cinnamon to it as well.
Day 5:  Power Up Protein Salad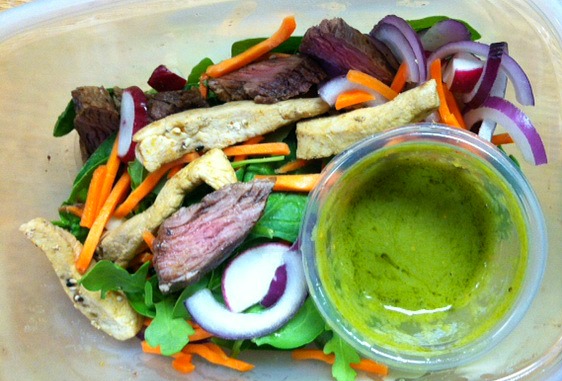 By combining leftover sirloin and chicken with sliced red onion, radishes and my always favorite avocado vinaigrette, this is a tasty winner on the protein scale.
This kept me satisfied all day long and was a great way to use leftovers!
Just remember, be creative with what you have - chances are you have something can can be a total masterpiece for lunch!