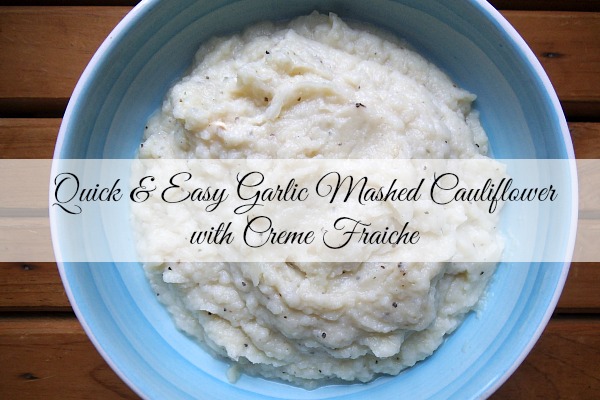 Garlic Smashed Cauliflower with Creme Fraiche
A healthy alternative to mashed potatoes!  The creme fraiche adds a savory creaminess to the cauli for a perfectly delicious side dish that comes in under 100 calories per serving.
One of the best parts about this is that it took very little effort to make and cost about $3.00 to make, with enough to serve at least 4 people.
The taste is very subtle and light - just a taste of garlic and creme fraiche with a sprinkling of salt and pepper, so it pairs perfectly as a side for many many dishes.  Tonight we had it with my Spicy Chicken Sausage & Broccolini Sautee (click here for the recipe!).
A rich, creamy side dish that will make you think you're actually having mashed potatoes, yet really, you're being a health nut who won't end up with "mashed potato belly" when you're finished (please tell me you know what I'm talking about!)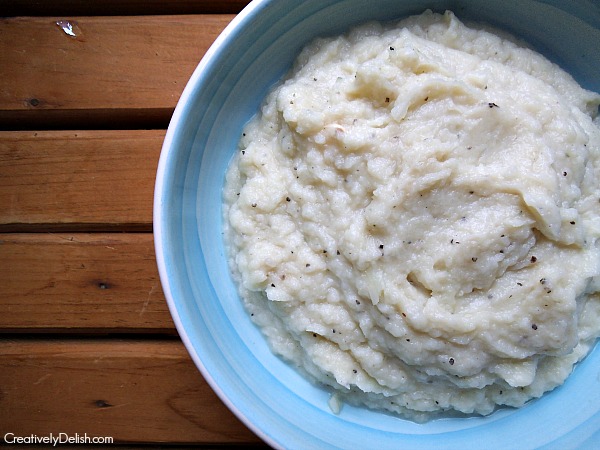 Garlic Smashed Cauliflower with Creme Fraiche
Ingredients
1 medium head of cauliflower, cut into ¼'s
4 garlic cloves, softened* and smashed with a knife
2 TBS creme fraiche
salt and pepper to taste
Instructions
In a large pot, heat about 1 cup of water until it comes to a low boil, then add cauliflower and cover to let it steam. After 8 minutes, check the cauli for softness and add garlic cloves to the pot to soften for two more minutes.
Drain the water, then add all ingredients back to the pot, and either using a hand-mixer or a whisk, mash everything together until desired consistency.
Taste test and add more salt and pepper if you'd like, then enjoy!