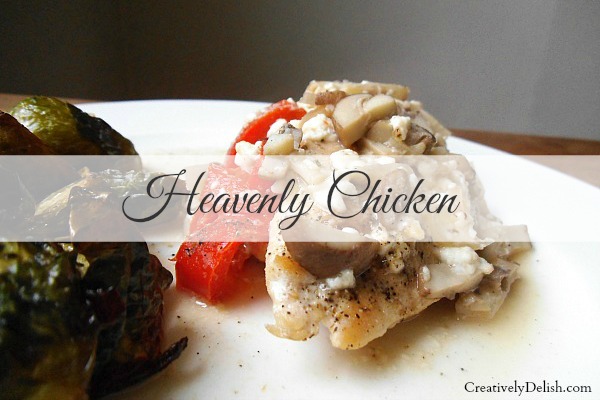 Heavenly Chicken
Chicken stuffed with fresh roasted red peppers, mushrooms and feta with a white wine sauce to die for.  Serve it with Crispy Roasted Brussels Sprouts for the most deliciously perfect dinner a girl could ask for.
This divine white wine sauce is a simple combination of butter, sauvignon blanc, shallots, sliced mushrooms, salt and pepper.  What makes it so creamy is the feta that's thrown in at the end to give it a kick of extra flavor.
The roasted red peppers were made ahead of time, and if you aren't sure how to make them yourself, visit the Helpful Tips section for a step-by-step tutorial on how to make them.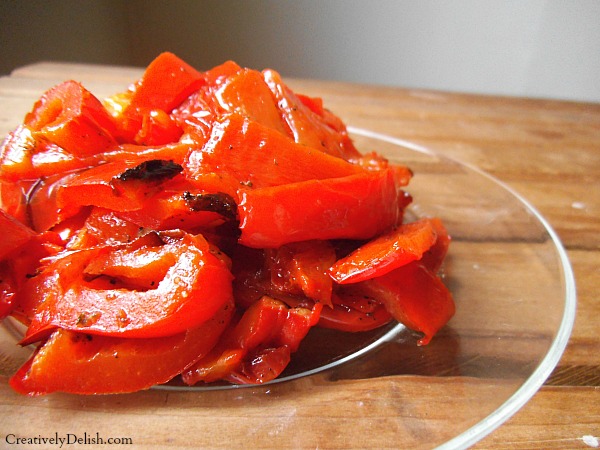 I recommend cooking the chicken first on it's own and then stuffing it with the peppers, only because you don't want to overcook the peppers into a mushy mess.
Once the chicken is cooked, brown up the shallots a bit and sautee the mushrooms to make the white wine sauce.  Add the chicken back in to the pan and let it simmer, covered, for 10 minutes.  Add the feta, letting it melt into the sauce and on to the chicken, then serve and enjoy!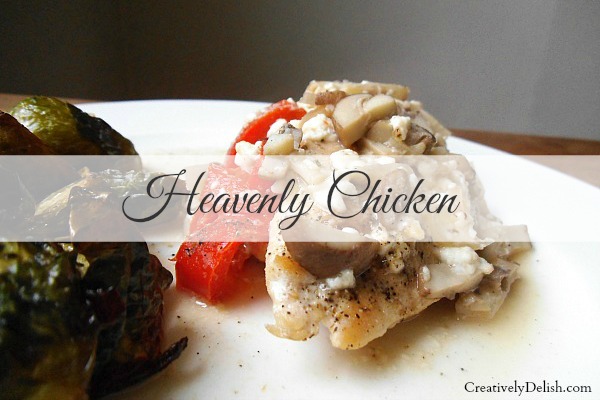 Heavenly Chicken
Prep time:
Cook time:
Total time:
Ingredients
3 boneless skinless chicken breasts, trimmed of fat then pounded and butterflied. Season with salt and pepper.
1/2 C roasted red peppers
1 C sliced mushrooms
2 shallots, sliced thinly
1 TBS butter
1/2 C good white wine
1/4 C crumbled feta
good olive oil
salt and pepper
Instructions
In a large pan, heat some oil and cook the chicken, browning them on both sides. Remove and set aside on a plate, stuffing the chicken with the peppers you've made (or bought).
In the same pan, add the butter and shallots and sautee for 2 minutes. Add the wine and mushrooms, scraping the bottom of the pan. Season with salt and pepper and allow the sauce to simmer for 5 minutes.
Add the chicken back in, cover and simmer again for 10 minutes.
Sprinkle the feta over the chicken and into the sauce and stir to combine. Cover again and allow the feta to melt.
Serve and enjoy!