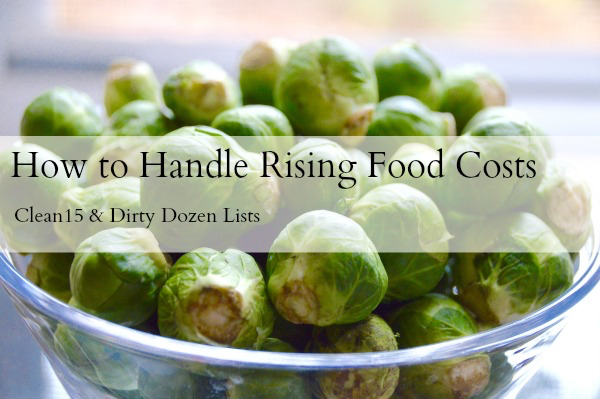 How to Handle Rising Food Costs
It's getting harder and harder to grocery shop these days without breaking the bank. It's easy to rack up a $200 grocery bill if you're not careful, and especially if you go multiple times a week, that cost rises without you even realizing it.
Here are my recommendations on how to stay on budget at the grocery store:
More...
1. Meal Planning & List Making​
Some people are really not into making lists, but I promise you, this will change everything. On Sundays, I usually sit down with Ryan and figure out what we might like to eat this week. I also like to check what's in season too, which makes finding the ingredients easier.
I then make my "menu" for the week on a pad of paper, then list out the ingredients for each meal into an organized list. It's best to lost things in categories, so you aren't running from one side of the store to the other as you go down the list.
​2. Be Flexible
Sometimes you get to the store and realize something on your list isn't available, or maybe a similar item is cheaper. This happens to me a lot and then I just have to be flexible. Knowing what is in your pantry and fridge already will be helpful here, because sometimes I just throw my hands up and say ok fine I'll just grab a jar of marinara and we will have spaghetti tonight instead.
3. ​Aim for a 100-mile radius
By this I simply mean, shop local. In the dead of winter, maybe don't chose the tomatoes or the berries.
When something isn't in season, that means it is shipped from who knows where in the world, making it more expensive than it would be when it is in season. ​Local, seasonal foods aren't just cheaper, but they taste better too! You're also helping support local farmers and businesses that way too.
4. Know the Clean15 and the Dirty Dozen​
These two lists can be very helpful when it comes to what you should be buying organic and what you can get away with otherwise.
Did you know that apples have been number one on the Dirty Dozen list for multiple years in a row now?
The Dirty Dozen is a simple list of the top produce items containing the most pesticides. The Clean15 is a list of produce that have the least amount or none at all of pesticides. The other way to go around this is to use Step 3 - if you don't want to buy organic apples, then find a local farmer who grows them without pesticides and it will still be cheaper!​
Clean15
Avocado
Sweet Corn
Pineapple
Cabbage
Sweet peas
Onions
Asparagus
Mangoes
Papaya
Kiwi
Eggplant
Grapefruit
Cantelope
Cauliflower
Sweet Potato
Dirty Dozen
Apples
Peaches
Nectarines
Strawberries
Grapes
Celery
Spinach
Sweet Bell Peppers
Cucumbers
Cherry Tomatoes
Snap Peas
Potatoes
Kale / Collared Greens
Hot Peppers
5. Eat Less Meat
Get creative with fruits, vegetables and whole grains and your grocery bill will be significantly smaller. Instead of adding meatballs to your spaghetti, add roasted squash, broccoli and carrots. I know for meat lovers this is a hefty question to ask, but even by switching to just one meatless meal a week, your wallet and waistline will thank you.
There are so many other ways to reduce your grocery bill
Try buying things like rice, eggs, olive oil and frozen fruits and vegetables in bulk.
Make extra and store meals in the freezer for dinners later on.
Eat out less.
Make your sauces and condiments instead of buying them pre-made.
Have you used any of these tips before to help reduce your grocery bill? Have you every heard of the Clean15 and Dirty Dozen lists?
I hope some of these can be useful to you, and please comment below to let me know how it goes!​
​