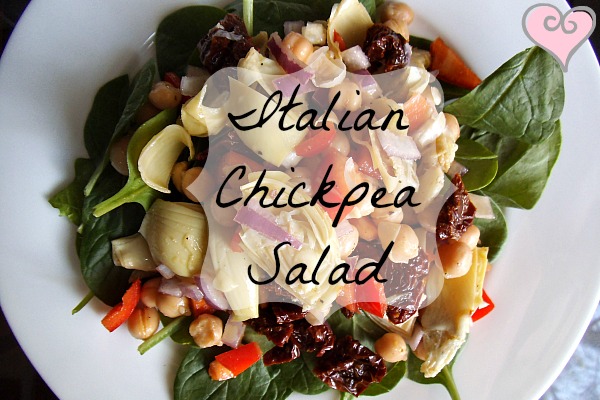 Italian Chickpea Salad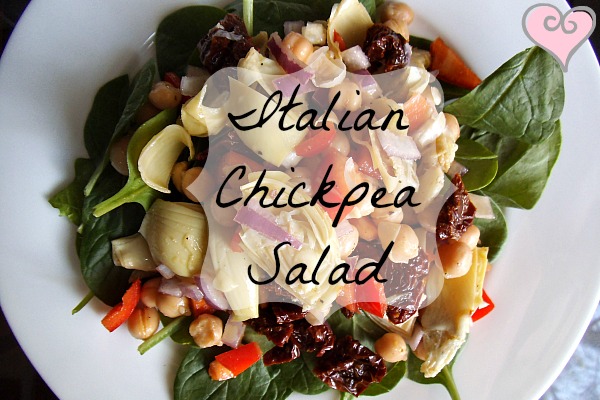 A great addition to salads or just by the spoonful and loaded with tons of healthy veggies and fiber and protein rich chickpeas.
When I get super lazy and not make my lunch for work, I always head to Whole Foods and make up a carton of mixed grilled veggies topped with chickpeas.  It's a great way to fill up mid-day but of course it can get pricey, so I made up my own yummy version.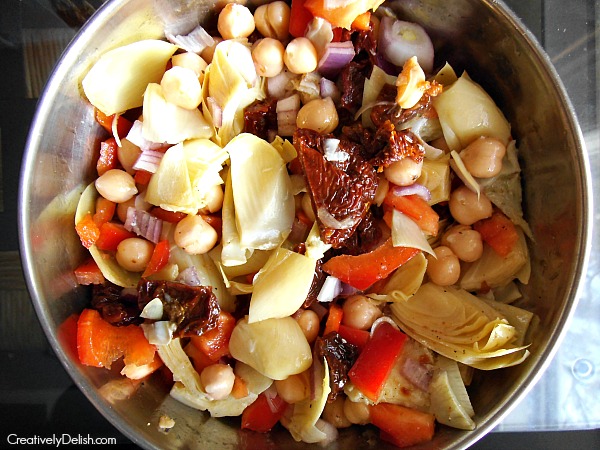 This can be whipped up in minutes and lasts all week so you can quickly spoon some over greens to bring with you for the day.  I also love this wrapped up in lettuce leaves or just by the spoonful.
With detoxifying lemon juice and extra virgin olive oil, the dressing has healthy fats and absolutely no added sugars like the kind you find in the store.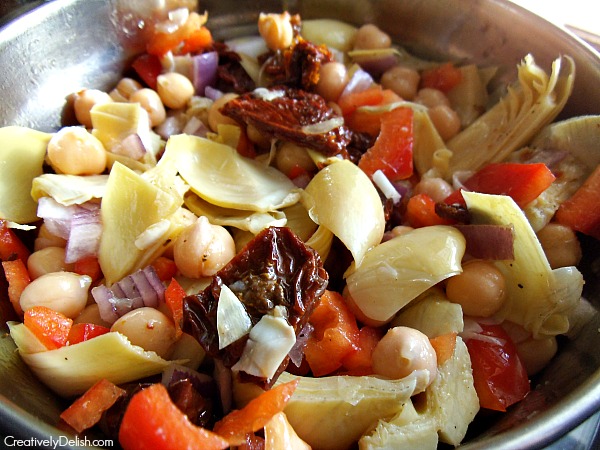 Along with the carton I get from Whole Foods, I usually always pick up a little container of their Kale Salad with Cranberries & Walnuts.  It is sooooooo yummy and I finally broke down and made it myself!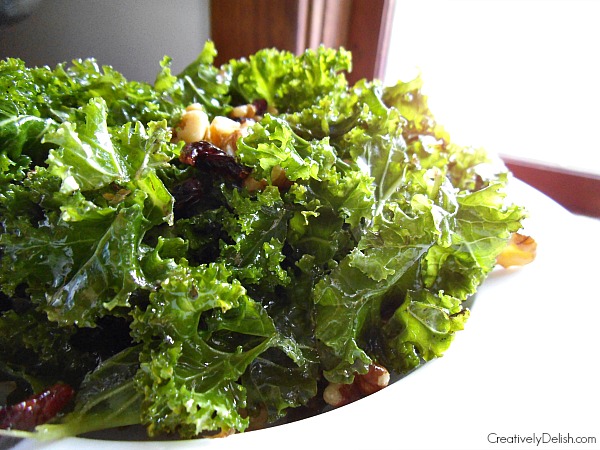 It was so easy to put together, just pour about 2 tablespoons of olive oil and one tablespoon of lemon juice over the kale leaves and massage the kale with your hands...yes massage...for about 10 minutes.   Once the kale leaves have softened and absorbed a little of the oil, sprinkle a handful of cranberries and a handful of chopped walnuts over top and enjoy!
The reason I added this in is because I threw a spoonful of the chickpea salad over the kale salad and it was delicious!
Try it with spinach or the kale salad, no matter what you'll love it.
Italian Chickpea Salad
Ingredients
1 can chickpeas, drained and rinsed
1 red bell pepper, chopped
1/2 red onion, diced
1 can artichoke hearts, drained, rinsed and squeezed to remove any liquids - chop into smaller pieces
1/2 C sundried tomatoes, chopped
juice of 1/2 lemon
1 tsp salt
1 TBS olive oil
Instructions
Combine all ingredients and enjoy.
Store in the fridge for up to five days.