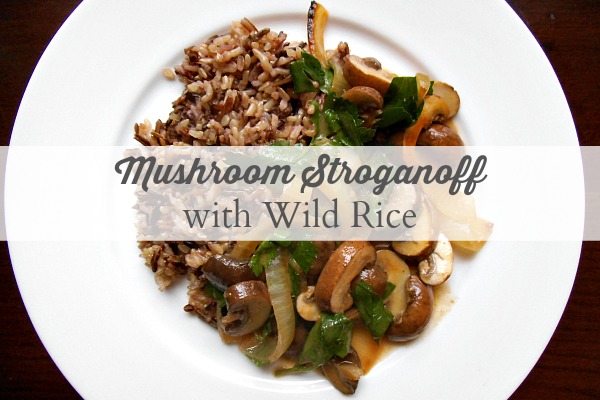 Mushroom Stroganoff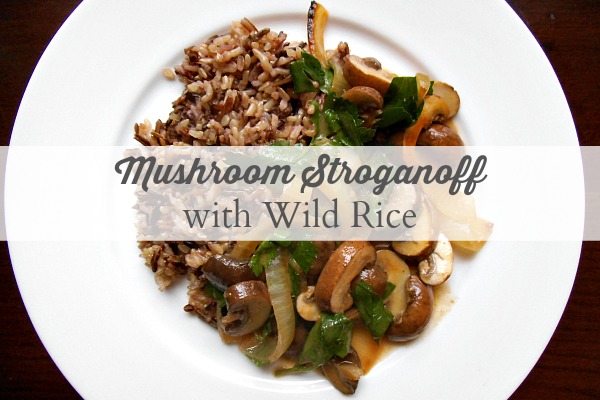 Sometimes you come across a true gem, and this is definitely one of them.  Wonderfully comforting with a creamy sauce and hearty sauteed mushrooms and onions, served over wild rice.   I'm starting to question why the beef part was ever put in?!
Recently after horrifying ourselves by watching documentaries such as Food, Inc, Forks Over Knives and Vegucated, we have started to eat a more vegetarian based diet with very little meats and poultry.  Of course we made this decision right as winter was starting...prime time for pot roast, beef stew, chicken parm...you name it.
I made this on our first night of snow in the new house, craving comfort food but wanting to stick to vegetables.  Lo and behold, this did the trick.  In fact, above and beyond doing the trick.  Ryan, my meat loving boyfriend, couldn't get enough of it!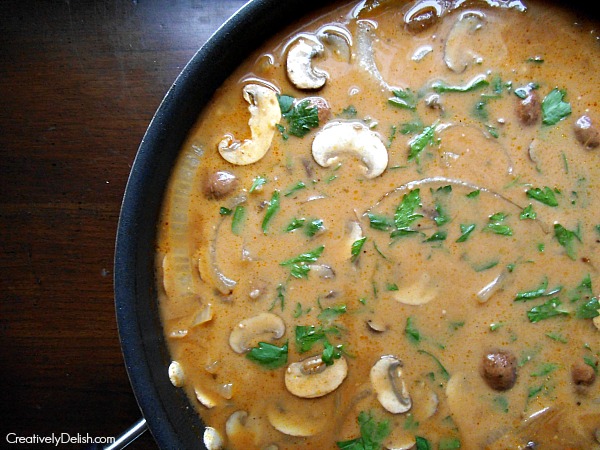 It's a light yet hearty, comforting and warm dish yet still fresh from the Italian parsley.
Of course the leftovers were gone immediately, but that's not any surprise in our house.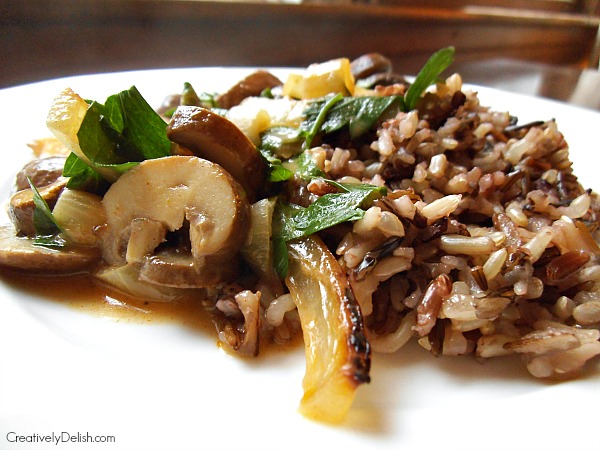 I hope you can give this a try and enjoy!
Mushroom Stroganoff
Prep time:
Cook time:
Total time:
Ingredients
2 small packages sliced baby bella mushrooms
1 large yellow onion, cut in half then sliced into 1/2 inch thick slices
olive oil
4 garlic cloves, minced
2 TBS whole wheat flour
2 C vegetable broth
2 TBS white wine
1 TBS worcestershire sauce
1 heaping TBS smoked paprika
1/4 C reduced fat sour cream
1/2 TBS black pepper
1 tsp salt
wild rice, cooked
1 small bunch italian parsley, cleaned and coarsely chopped
Instructions
In a large saucepan, heat some olive oil over medium heat, enough to coat the pan. Add garlic and onions and cook until soft and onions start to brown up. This will take about 10 minutes.
Add the flour and stir to coat the onions, then pour in broth, worcestershire sauce and wine. Let it come to a slow boil and thicken slightly, then add the mushrooms, paprika, pepper and salt. Stir to combine, then cover and let it simmer on medium low for 8-10 minutes.
Remove from heat and stir in the sour cream, adding more if you want it creamier.
Serve over wild rice and chopped fresh italian parsley.