Mussels with Roasted Plum Tomatoes & White Wine
A savory appetizer or light dinner with fresh spring flavors that takes no time to whip up.
When I go home to visit my parents in South Carolina, there is one restaurant that we absolutely never miss - Bin 112.  Located in the little town of Greer, it is the best place I have ever eaten.  Every time we go, we always order the mussels appetizer, and I find myself dreaming of it frequently, especially when my parents say they're going while I'm stuck in Boston.  And since I won't be down there for quite some time, I figured I better come up with my own version of those tasty mussels to hold me over!
So yesterday we were in the store and saw these and I just about died and went to heaven.
Mussels are a great shellfish that can easily be cooked with a multitude of flavors.  The best part is once the broth is finished, it only takes about 2 minutes for the mussels to open and can be served immediately.
A few tips when purchasing and cooking mussels
Be sure to buy them as fresh as you can, and PEI Mussels are always going to be the best quality (in my opinion).
I recommend you buy them already washed and prepared - this can be a pain to do yourself.
Before you throw all the shells in to the broth to steam, make sure you check through to see if there are any mussels already open.  Any that are open before the cooking process should be thrown out as they have already spoiled.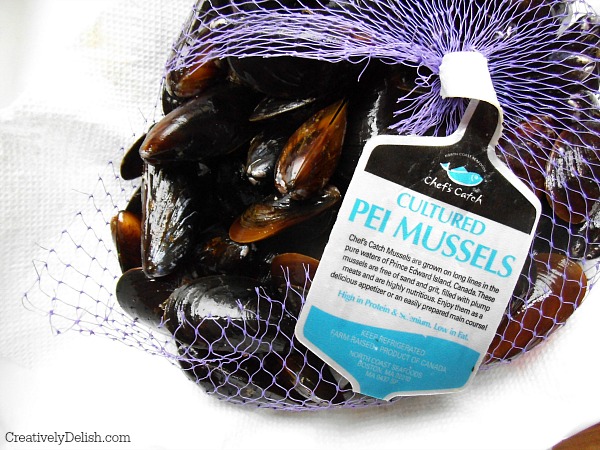 The roasted plum tomato broth was inspired to me by my Mom who just about raved how flavorful roasting tomatoes can be.  Most mussel broths are done in a simple white wine, butter and cream broth, so I decided I'd take a healthier spin on it with fresh tomatoes to give it flavor instead of all the butter.
Be sure to set aside some time to roast the tomatoes - they take about 1-2 hours to properly roast.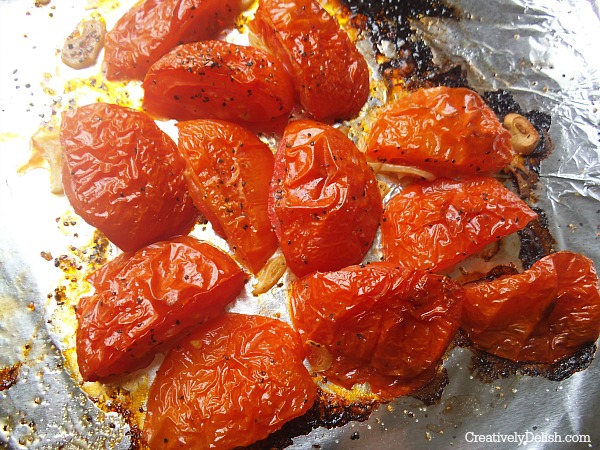 Once the tomatoes are roasted, roughly chop them and add them to your broth to simmer down.  It's so heavenly to find tomatoes, onions and garlic mixed in to the broth, especially for when you start dipping the french bread in.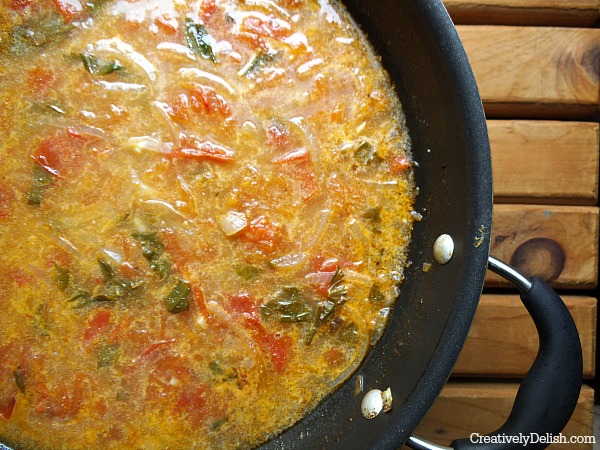 I use an entire bottle of white wine so I have more broth to dip the bread in to later, and if you are like me and love that, be sure to add some extra time in to let it simmer down, otherwise you'll be a drunk mess trying to pick apart the mussels.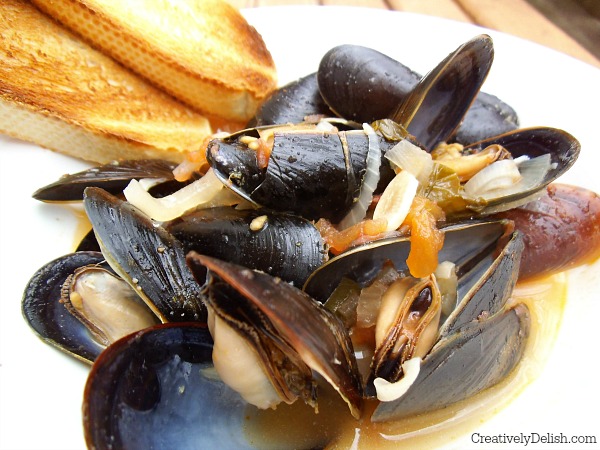 Goodness gracious that is one fine meal!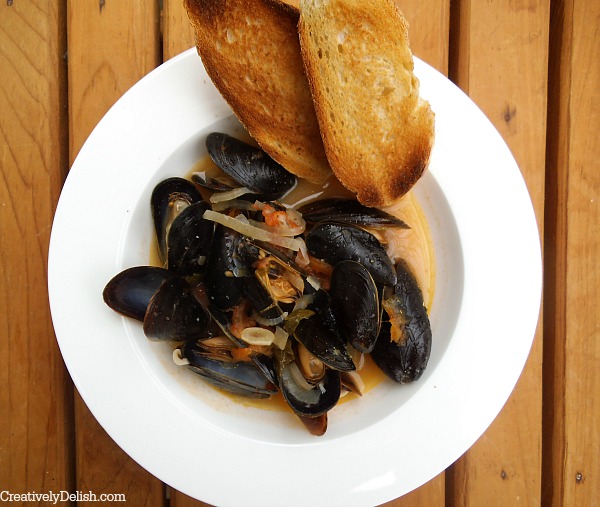 Mussels with Roasted Plum Tomatoes & White Wine
Prep time:
Cook time:
Total time:
Ingredients
1 lb washed and uncooked PEI mussels
3 plum tomatoes roasted with olive oil and s&p for 45mins at 400
2 cloves garlic
4 shallots minced
1/2 large onion, thinly sliced
olive oil
fresh torn basil leaves
750mL bottle pinot grigio
1/2 TBS butter
1/4 C light cream
Instructions
Roast the tomatoes and let cool, then chop and remove as much of the seeds as you can - don't peel the tomatoes either!
In a large saucepan, combine garlic and shallots with olive oil and cook over medium heat until fragrant. Add half the bottle of wine, onions and butter and let it simmer for 10 minutes.
Once the sauce has simmered, add the remaining wine and cream, then let that simmer another 15 minutes.
Add the mussels and cover to let them steam for 2-5 minutes, or until opened. Stir the sauce into the mussels to combine then serve with toasted thin sliced french bread.