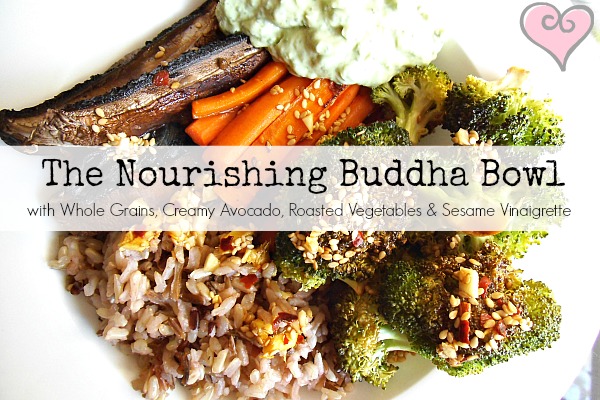 The Nourishing Buddha Bowl
Buddha bowls are popular in the yoga world and always vary depending on who is making them.  Buddha bowls provide a complete and nourishing meal all in one, containing ingredients that make you feel good.  So here is my version!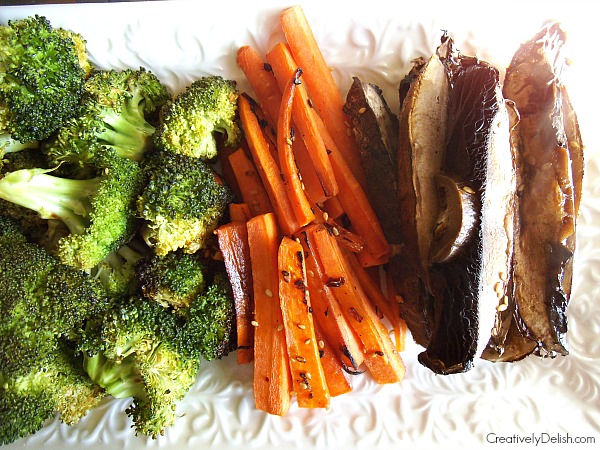 A lot of Buddha bowls start with a lot of mixed greens or whole grains.  I chose whole grains for a more filling dinner, however kale or spinach would be great in this.
I've been on an avocado kick recently and thinking of any way possible to enjoy them.  Anything from smoothies blended with avocado to dicing them in to salads to pureeing them into a rich and creamy spread perfect for this bowl.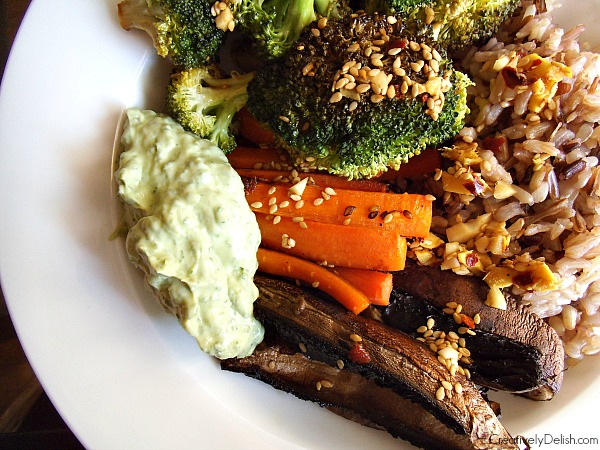 When building your Buddha bowl, it's important to use only whole foods - nothing processed.  The point is to focus on health, wealth and well-being when sitting down to a Buddha bowl.
I decided on carrots, broccoli and portobellos for their obvious health benefits, however just about any vegetable will work.  Try Brussels sprouts, peppers and beets or add asparagus or whatever else you like!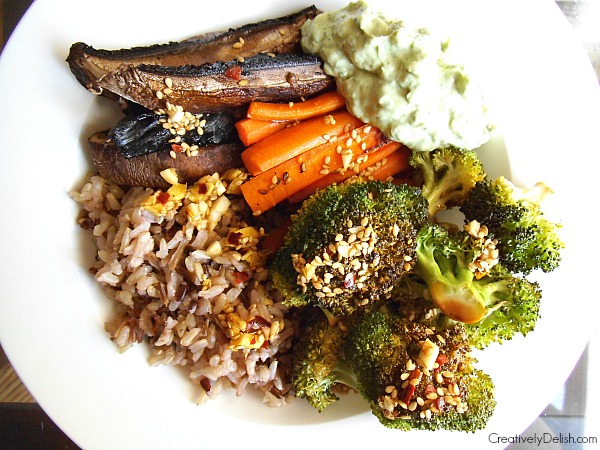 The sesame vinaigrette contains fresh garlic and ginger along with spicy red pepper flakes, heart healthy sesame seeds and a delicious blend of sauces to create the perfect sauce.  It combines so well with the creamy avocado which quickly cools down the spiciness of this dish.
Once you assemble your bowl, reflect on what you are about to enjoy, then mix it all together and enjoy!

The Nourishing Buddha Bowl
Ingredients
1 avocado
6oz plain nonfat greek yogurt
juice of 1 lime, divided
sea salt
1 bunch of cilantro
4 TBS low sodium soy sauce, divided
2 TBS rice vinegar, divided
2 garlic cloves minced and divided
2 inches fresh ginger, minced and divided
2 TBS sesame oil, divided
2 TBS sesame seeds, divided
1 TBS red pepper flakes, divided
3 large portobello mushroom caps, tops cleaned and sliced into thin strips
5 carrots, peeled, cut in half then halved lengthwise again
2 small broccoli heads, florets separated
1 C uncooked wild rice - cooked according to package directions
Instructions
Preheat the oven to 400 and line a baking sheet with tin foil.
In a cusinart food processor, blend avocado, yogurt, juice of half of the lime, cilantro, and a pinch of sea salt. Add more salt to taste, then set aside.
In two bowls, combine the soy sauce, rice vinegar, garlic, ginger, juice of the other half of the lime squeezed evenly into both bowls, sesame oil, sesame seeds, and red pepper flakes.
In a single layer, spread veggies across the baking sheet and pour one of the bowls of sesame vinaigrette over the veggies, stirring to be sure all veggies are lightly coated. Roast veggies for 20 minutes - watching the broccoli (they may need to come out a little earlier so they don't burn. Stir once halfway through roasted process. Once they veggies are done, pour the second bowl over the veggies - this isn't necessary, you could do this or just spoon a small amount of the vinaigrette into your bowl.
In a bowl, combine ¼ cup wild rice, a heaping portion of veggies and a giant spoonful of the avocado mix.
Enjoy!