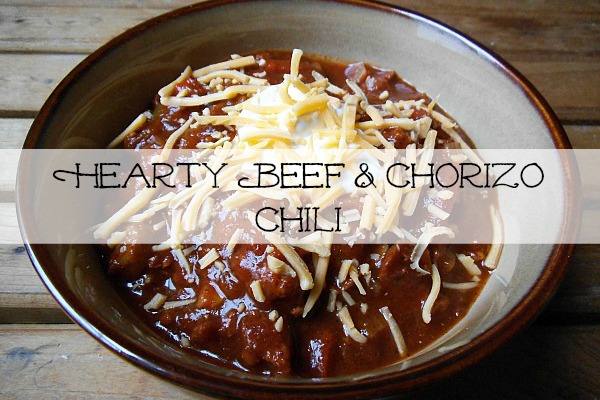 Hearty Beef & Chorizo Chili
This is certainly a spicy chili.  Seeds are left in the jalepenos, chili powder and chorizo are thrown in, and don't forget the green bell peppers, cumin and onion to let the flavors come together.  I would also recommend cooking it a day ahead, then letting it sit in the fridge for a night so you can trim the fat off the top for a slightly healthier chili (lovely isn't it!).  There are no beans in this recipe but go for it if you so desire!
Chili has been a staple in my house for as long as I can remember.  The nostalgic smells of it wafting through my apartment are reminding me of snow days and fires in the fireplace.  Served with cornbread and topped with cheese and sour cream, you can't go wrong.  My Mom would make huge batches of it for us to have all winter, and it was always exciting to see a frozen container of it defrosting for the dinner ahead of us.  It has a ton of fresh vegetables, seasoned beef, turkey and chorizo.
Serve it with some cornbread, sour cream and shredded cheese for the ultimate chili experience.
Only the Best Chili Ever
Prep time:
Cook time:
Total time:
Ingredients
1/4 C olive oil
2 med onions, diced
2 med green bell peppers, seeded and diced
2 jalepeno peppers, sliced then cut in half, leave seeds in for extra spice
1/2 lb lean ground beef
1/2 lb lean ground turkey
1 choizo link, skin removed and diced
1 24oz can stewed tomatoes
1 16oz can tomato sauce
1 pkg fresh mushrooms, sliced
6oz tomato paste
1-2 3oz bottles chili powder
1 1/2 C water
1/2 C beer
3 bay leaves
1 TBS hot pepper sauce
2 tsp cumin
2 tsp smoked paprika
garlic salt & pepper to taste
Instructions
Cook meats in a pan, then drain fat.
In a large stock pot, combine all ingredients, bring to a low boil, then simmer for about 3-4 hours, stirring occasionally.
Recommended - cook a day ahead, put in the fridge, then trim the fat off the top. However if you cook the meats seperately, you probably won't have this problem.