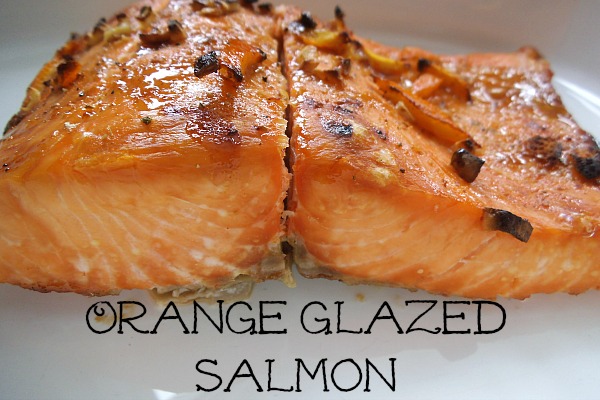 Orange Glazed Salmon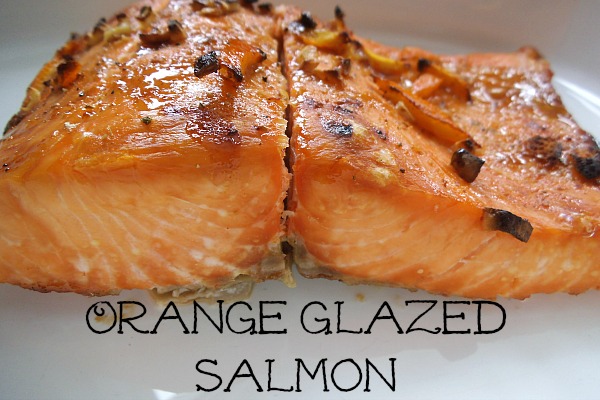 A sweet and tangy sauce get's drizzled on salmon, then broiled for a perfectly caramelized outer crust with a punch of flavor seeped right in to the salmon.
It's perfect on it's own or served over a bed of greens.  I served this with my Bacon, Corn & Asparagus Saute for a delicious flavor combination.
The citrus and maple syrup in the sauce deliver that sweet and sticky coating everyone always adores, while the dijon keeps it a little tangy with a hint of spice.  Just be careful to keep an eye on this as it broils away - the garlic can easily burn.  I placed the salmon on the middle rack to let the salmon cook evenly without letting anything get charred.  A little brown and crunchy is good, just maybe not burned to a crsip!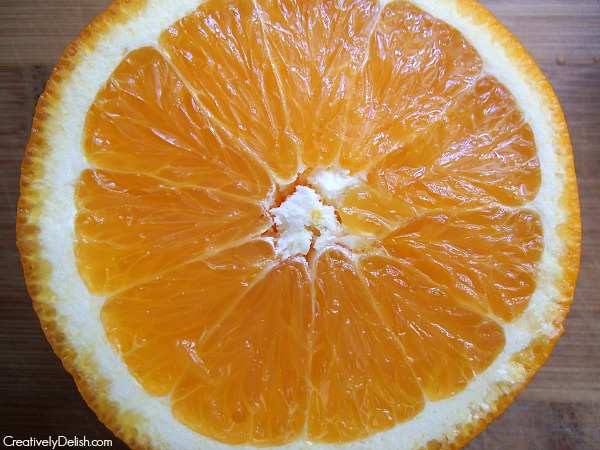 We like to try and add at least one meal a week dedicated to either salmon or another hearty-style fish like swordfish, mahi, striped bass or even shrimp.  It is a leaner protein with essential heart healthy omega-3's which are basically just healthy fats.  The benefits of consuming wild caught salmon are endless.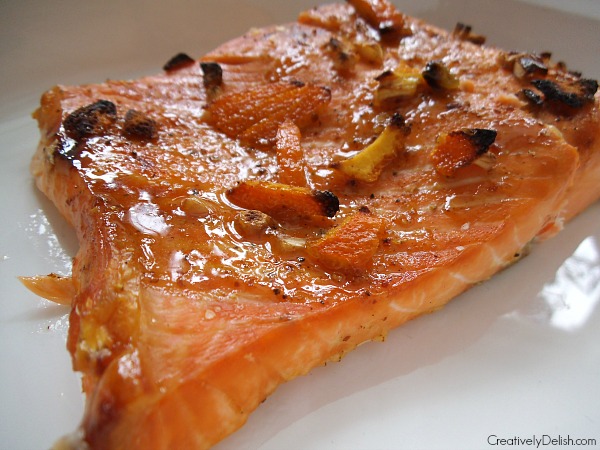 I always look for wild-caught salmon.  It will have a fresher taste versus farm raised salmon which can be given foods not commonly found in their regular diets.
Be sure to cook the salmon no longer than two days after purchase to ensure the best quality.  Another tip is to cook the fish skin side down on a baking sheet lined with tin foil.  This will cut down on cleanup and once the fish is cooked, the salmon will just slide right off of the skin with the skin sticking to the foil, so all you have to do is ball up the foil and throw it out.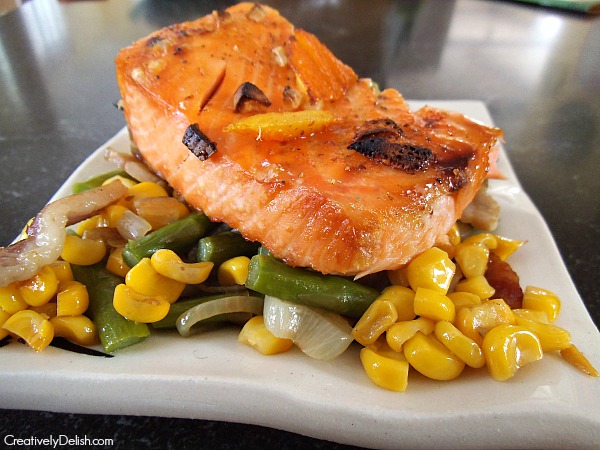 Orange Glazed Salmon
Prep time:
Cook time:
Total time:
1 pound will easily feed two people - Ryan will eat his whole half and I usually split mine in two and save the other half for lunch the next day.
Ingredients
1 lb wild caught salmon fillets
1 TBS maple syrup
1 tsp Dijon mustard
1 garlic clove minced
1 TBS fresh squeeze orange juice
1 TBS sliced orange rind (or zested if you have a zester)
1 tsp black pepper
Instructions
Preheat the broiler and line a baking sheet with tin foil and place the salmon on the baking sheet skin side down.
In a small bowl, combine syrup, mustard, garlic, juice and rind and black pepper, then pour over salmon fillets.
Cook the salmon on the middle rack to slowly cook and caramelize the salmon without burning. This should take about 15 minutes, but check every 5 minutes to be sure.
Remove from the oven and let them cool slightly before serving.